How to Get Shiny Meltan In Pokémon GO
It's currently possible to catch a shiny Meltan in Pokemon GO, but only for a limited time. The creature was first introduced near the tail-end of last year in order to promote Pokemon Let's Go, Eevee and Pikachu on the Nintendo Switch. Meltan quickly became a favorite among players as a bonus for linking Pokemon Let's Go to Pokemon GO, allowing users to transfer Pocket Monsters as they saw fit and making it a desirable beast in the process.
This transfer feature was made especially appealing as a result of the version exclusive creatures in Pokemon Let's Go, Pikachu and Eevee – allowing those with the mobile game to round out their Pokedex. It just so happened that the brand-new Meltan and its evolved form Melmetal were the cherries on top for fans at the time, but now The Pokemon Company is giving players a shinier reason to get excited about the aforementioned transfer feature.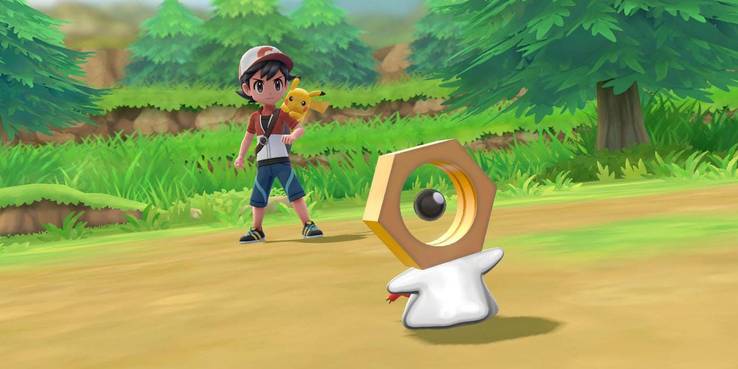 The Pokemon Company announced today that players will have a limited window to secure a shiny Meltan. Players have from Tuesday, February 5 through Monday, March 4, 2019 to catch the shiny variant. Unfortunately, if you've already completed Meltan Research tasks in Pokemon GO, this can only be done for those that have a copy of the aforementioned and compatible Pokemon Let's Go games on Nintendo Switch. Provided that this is the case, there's a very simple process to follow in order to secure Meltan.
Upon successfully pairing the Switch and mobile games and transferring a Pokemon, players will be gifted a "Mystery Box" within Pokemon GO. This box can be obtained once every real-world week, and once used it will spawn Meltan near the player for a total of 30 minutes. Odds aren't currently available to indicate how rare the creature is from this point, but a shiny Meltan has potential to spawn within Pokemon GO during this time. All in all, players can earn a maximum of five Mystery Boxes that summon Meltan within the dates set by The Pokemon Company for a total of two and a half hours of spawn time – and that's it.
Shiny Pokemon, for those that aren't already aware, are albino-inspired variants that are much more challenging to find. Shiny Pokemon in Pokemon Let's Go are a little easier to track down thanks to various strategies, but overall the meta of "shiny hunting" is a sport in and of itself among fans. Meltan's shiny variant in particular features a blue tail instead of its traditional red one, as well as a more copper-colored head than the standard gold.