If you are a fan of low-budget tablets that will give you similar possibilities as high-tech ones, but for an affordable price, then Lenovo TAB 10 TB is the one for you. It is considered as one of the most popular ones in China and other parts of Asia, because of its amazing performance in combination with great price.
The performance is good enough to provide you with the possibility to enjoy with all its features and to stand within a budget in the market. This device is made for media consumption, which means that you can easily watch movies and listen to music because it contains a multi-speaker sound bar made by Dolby Atmos.
Sound Performance
As we have mentioned above, you will get a tablet with overhead speakers that can position sound 360 degrees around your head. You have to know that the main idea is to provide you the feeling from home theatre or cinema. Even though the positional sound is difficult to understand, speakers are loud enough to provide you perfect satisfaction and comfort, and much more sound detail than other, more expensive tablets.
In the same time, feeling when you have headphones is different, which means that it is much better, especially because you have the possibility for positional sound effects
Operational System and Specifications
The Lenovo TAB 10 TB runs on Android 6.0, which means that you can easily install the latest apps without any additional problem. It is upgraded version when compared to previous one, and you should always check for its performance.
When it comes to speed, we have to mention Qualcomm Snapdragon 210 Quad-Core Processor which will give you amazing speed and there are no lags when you open the app, which was the problem with previous versions of Lenovo. You will be able to watch and play the most demanding games on Play Store without any additional problem. It contains DDR3 1GB RAM which is quite enough if you want to use it for basic things and apps, as well as playing games and enjoying movies.
It comes with 4.0 Bluetooth and 16 GB of storage, but you can add Micro SD card in order to boost the internal memory with additional 64 GB.
The camera is not that good but still, you will get the 5 megapixels of rear camera and 2 megapixels of front camera that will give you the possibility to capture amazing moments when you are with your friends and enjoy. You cannot expect the high-tech camera, but still, it is modest because Lenovo isn't made to give you the possibility to picture around, their smartphones are better for that. This tablet is specifically made to give you entertainment and possibility to keep your business records next to you all the way.
Battery
The battery is quite efficient and you will be able to use it for hours without charging. It can last up to 10 hours of constant use, which is very convenient when you have in mind all other features that you will get with it. You can easily watch a few feature films or an entire season of a TV show before it shows you the red mark on battery efficiency.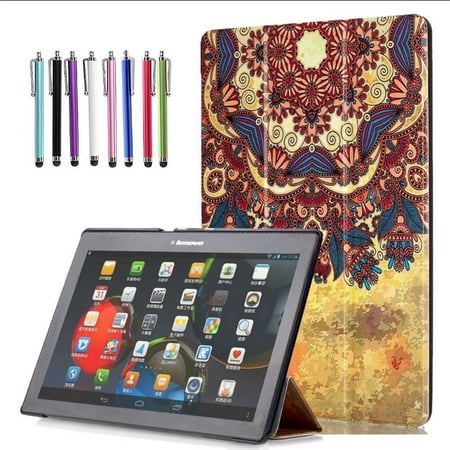 Pros & Cons
Pros:
The size of the display is massive and resolution is great, which is convenient for watching movies or TV shows while you are travelling or at home.
Specifications are modest and with a combination of 1 GB RAM and quad-core processor, you will get a fast machine for the affordable price.
The software is Android 6.0 which is far more convenient if you are a fan of Play Store apps and games.
Cons:
The camera is not that good, especially when you have in mind 5 megapixels, but still, it is efficient enough. Lenovo tablets are not made to provide you the satisfaction of taking photos. For that purposes, try to choose their smartphones