The  Asus Republic of Gamers (ROG) Zephyrus GX501 had us at "GTX 1080 graphics in a five-pound laptop that's almost as thin as a MacBook Pro 15." Pound for pound, this is the most powerful portable gaming laptop on earth today. But to get this much performance in a laptop this portable, some big compromises have been made.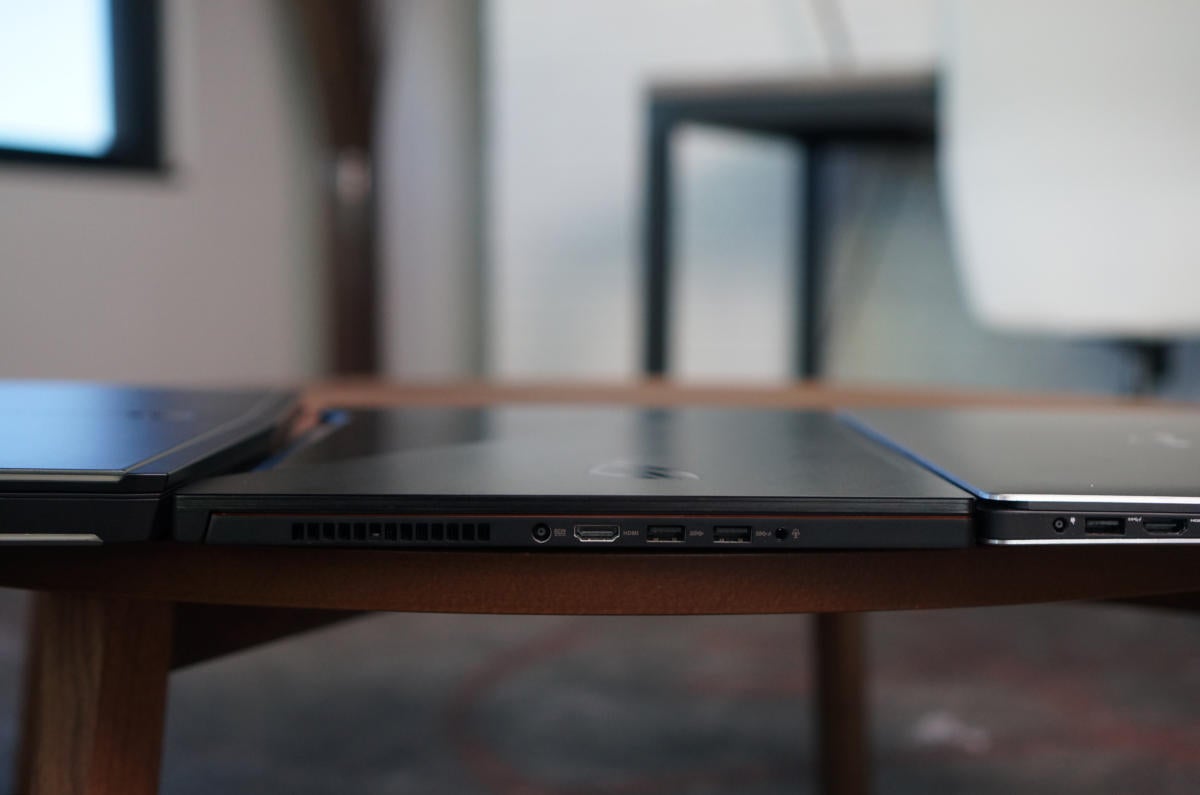 What's inside
Inside the GX501 is none other than Intel's 7th gen Core i7-7700HQ. For RAM, Asus equipped our review unit with 24GB of DDR4/2400, but note that U.S. versions will actually max out at 16GB of RAM.
The highlight of the GX501 is the GPU: Nvidia's GeForce GTX 1080 with Max-Q technology. Max-Q technology, which Nvidia introduced at Computex, is made to wring more performance out of its laptop GPUs with less heat and power output, thanks to careful software  and hardware tuning. A GeForce GTX 1080 with Max-Q has a TDP as low as 90 to 110 watts, for instance, while a standard GeForce GTX 1080 can put out up to 150 watts of heat. That's a serious reduction in the heat output (and power consumption).
More improvement comes from design features such as a bottom panel that opens up when the lid is opened. This allows more cool air to be sucked into the laptop without impacting port placement.
We should mention that as much as some will dismiss the tilt-out bottom as a gimmick, the GX501 is an exceptionally quiet laptop for the amount of performance it packs, even under GPU loads. If WhisperMode (which Nvidia also announced at Computex) makes it into the GX501, it should be even quieter.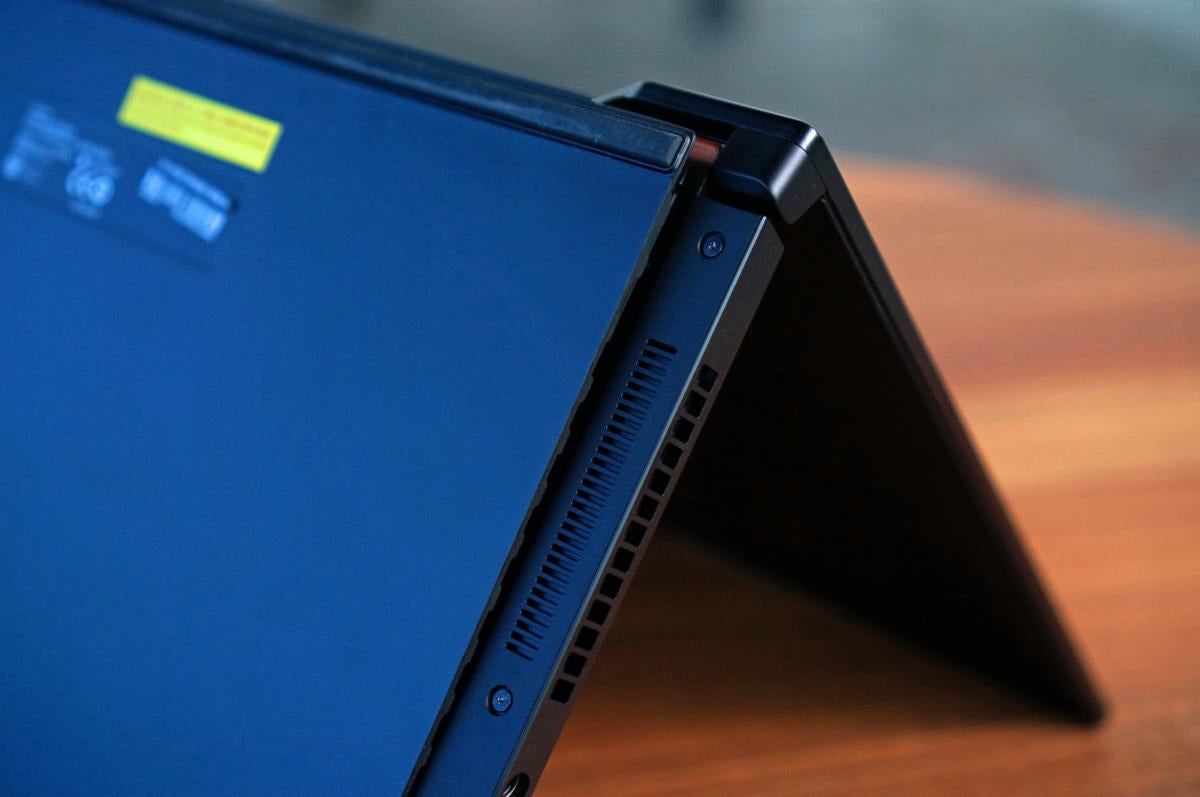 You don't just put a GeForce GTX 1080 into an 18mm-thick frame without a compromise, though, and Max-Q imposes a pretty steep one up front: clock speeds.
A standard GTX 1080 will typically features a base clock speed of 1,556MHz with a boost clock up to 1,773MHz. A GTX 1080 with Max-Q has a base clock of 1,101MHz to 1,290MHz.

Nvidia's boost clocks may just be guidelines, though. We found that under light loads, the GX501 could actually hit the same clocks as a standard GTX 1080. Under far heavier loads, though, the boost topped out below its max at 1,290MHz.
It's this variable clock speed that may confuse buyers of Max-Q laptops, as performance will vary too. We'll cover this later in the performance section.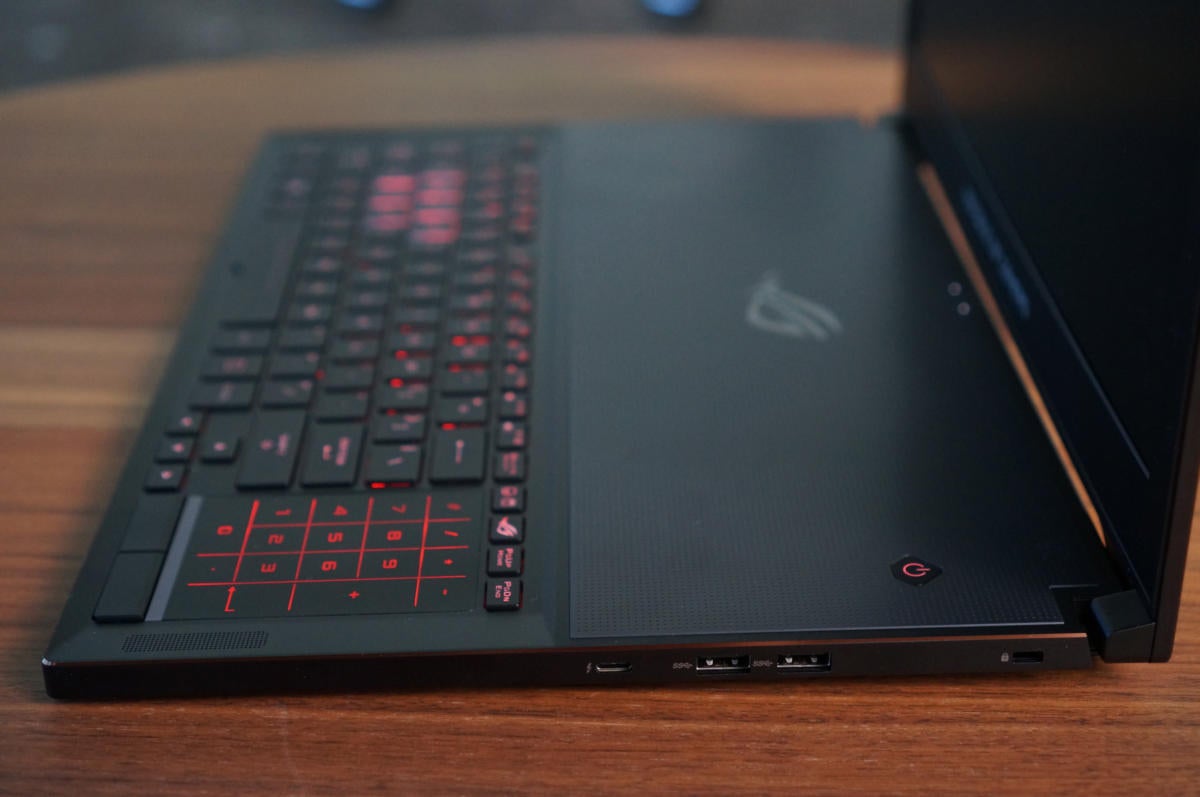 The screen itself is 1920×1080, a perfectly good resolution that's looking ho-hum only because of the constant one-upping of display resolutions at the high end—at the cost of performance and battery life, it must be said. The GX501's display is fine for most uses and has decent off-axis viewing, better than what we saw with the Alienware 15 R4's panel. The GX501's brightness disappointed us slightly, though, hitting a maximum of only 284 nits. What's probably important to gamers is the panel's support for G-Sync—and not a yawner 75GHz G-Sync panel, but an eye-catching 120Hz G-sync model.
One pain point: The GX501 features just one M.2 slot, so buy the largest SSD option for the GX501 that you can afford. Our review unit came with with a Samsung 512GB SM961 drive, which gave us reads in the 3.4GB/s range and writes in the 1.6GB/s range in Crystal Disk Mark.
A final, important design note: Opening the GX501 isn't for the faint of heart. To get inside, you first remove a bottom by unscrewing four screws. You'll then have to remove another 10 or so Torx screws. At this point, we actually chickened out with our disassembly because we were greeted by at least three ribbon cables and the motherboard mounted directly to the bottom plate we had just pulled out. Let's just say serviceability of the GX501 ain't great.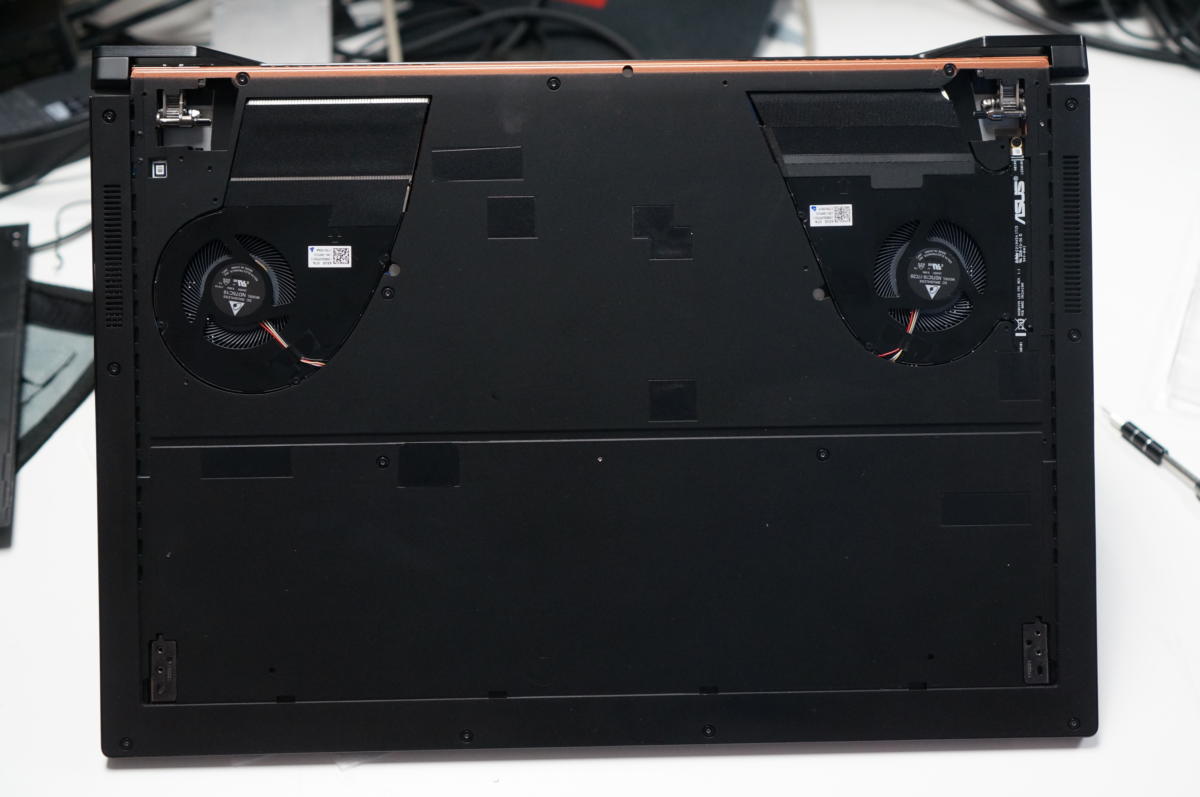 Ports
The GX501's port selection is decent. There's a total of four USB 3.0 Type A ports on the each side, plus an analog combo audio jack, full-size HDMI 2.0 and a 40GBps Thunderbolt 3 port, plus a Kensington lock.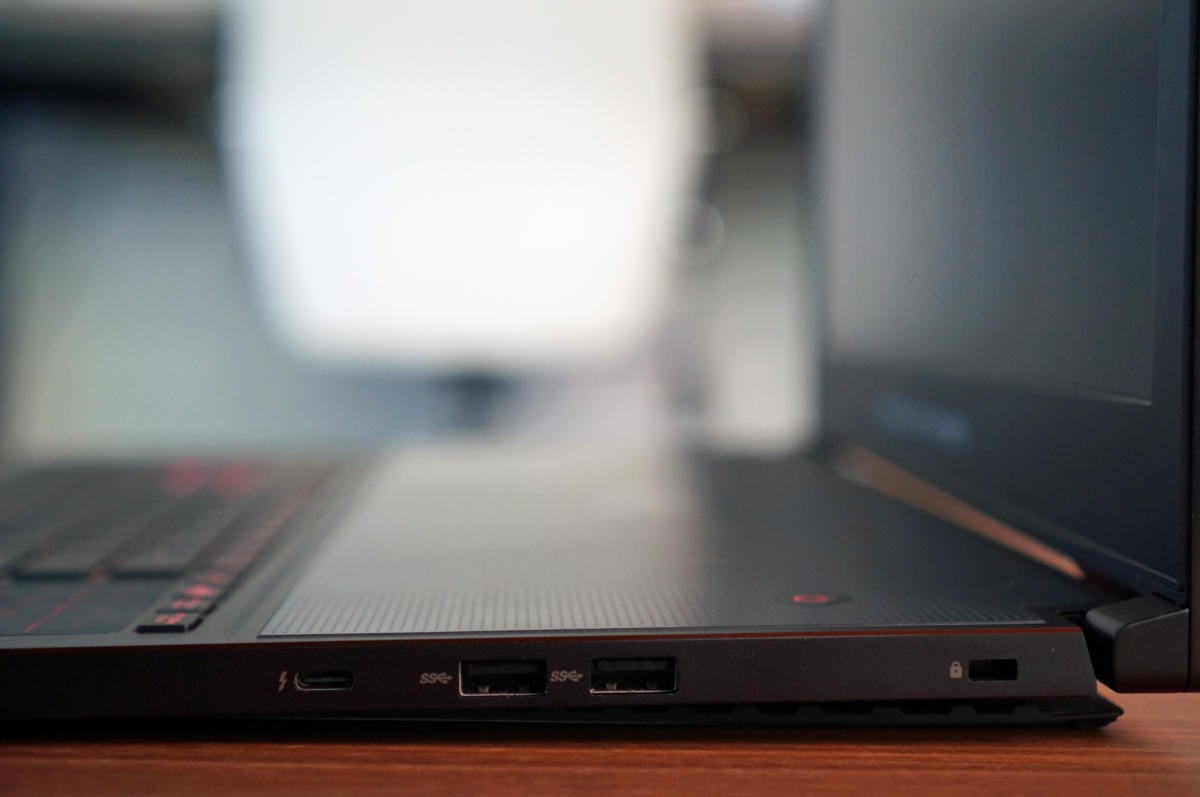 Keyboard and mouse
The GX501 features a Chiclet-style keyboard that's a little on the mushy side. The location of the keyboard is sure to cause a stir, as it's been moved to the front of the laptop to make space. Old-timers will recognize this as something all laptops used to do in the 1980s. Asus is aware of the lack of a wrist-rest, so it includes a small one in the box.
The lack of per-key lighting, while not a deal-breaker, is a bit of a buzz-kill. In the good column though, this means there's nothing warm under your wrists, and the trackpad to the right of the keyboard offers excellent palm rejection.
The trackpad location isn't new, of course. Razer as well as MSI have done this before. As a last-resort method to play games it suffices, but nothing can replace a good mouse. The trackpad also features a virtual 10-key feature that seemed pretty neat initially, but real bean-counters will never use it.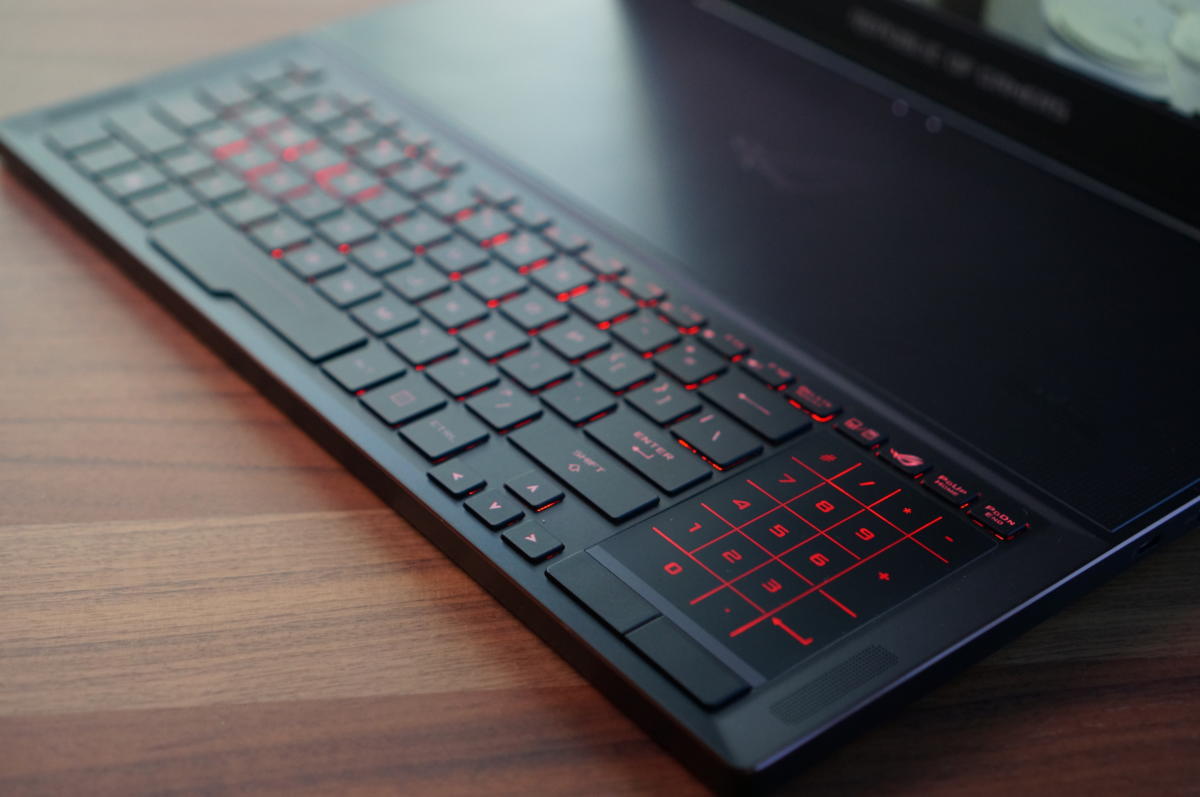 Performance
The ROG Zephyrus GX501 is our first chance to see whether Nvidia's Max-Q technology can help this five-pound, super-thin laptop hang with traditionally designed (larger, fatter) gaming laptops. To find out, we ran it through a gauntlet of tests.