The Huawei MediaPad T3 10 impresses with a quite high processor performance for lower mid-range tablets, but still cannot convince in terms of overall performance. How it manages to do this, you can find out in our test.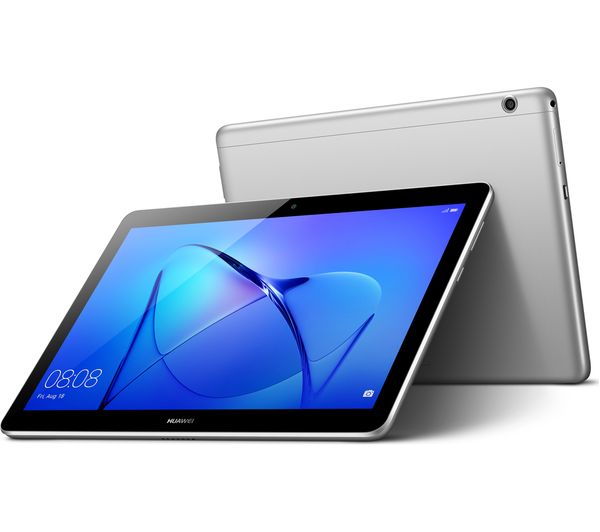 Case
The back is made from one piece of anodized aluminum, a feature made fashionable by Apple's iPad. Huawei also builds its tablet in this way, making it available in space gray or a luxurious golden color. However, on the Internet you can currently only find offerings of the gray model with a black front. The case is cleanly built and due to its rounded edges, it fits in the hand nicely. But the screen is not 100% protected: a medium amount of pressure from the back and front will be reflected in the liquid crystal display. The tablet can be twisted minimally and also shows this through colored traces on the screen. Overall the stability is okay, especially for this price range.
The 16:10 screen format makes the tablet slightly more square than most of the comparison devices with a 16:9 screen. The MediaPad T3 10 is quite compact and also quite slim at 8 mm (~0.3 in). Moreover, at 460 grams (~1 lb) is lighter than all the comparison devices. The test unit has a SIM slot on the left side, so the case cannot be opened which would, however, be very unusual for tablets.
Features
We looked in vain for a brightness sensor for the screen. Only a pedometer, gyroscope, and acceleration sensor are integrated.




With 16 GB of storage and 2 GB of working memory, the MediaPad T3 10 is on the standard level for this price class, but the Asus ZenPad 10.0 shows, that you could also build in 32 GB of data storage. Thus, you will have to make do with not less than 10 GB of available storage. In times of streaming and the cloud, this is bearable for a tablet, especially since the storage can be extended via microSD card. It can be formatted as internal or external storage and you can even install apps on the microSD. Huawei does not specify the maximum size of the storage card, but our 64 GB reference card is recognized, so there should not be any problems up to that size. The USB port only operates at USB-2.0 speeds. On the other hand, there is a USB-OTG, so you can connect external data storage.
Software
The operating system is based on Android 7.0. On top of that is Huawei's own EMUI 5.1 user interface, which does not change the android operating principles, but rather extends them. For example, swiping from the bottom edge upward on the quick glance screen will offer some quick access features, and the settings look marginally different and are slightly extended. The "Intelligent Support" menu item contains options for turning the device on or off automatically, for example when you are not home. There are also options to display the quick access menu, or to call a specific contact via voice command. There is a built-in virus scanner and a data locker that can protect important documents.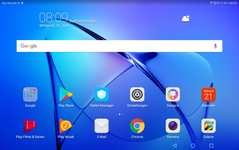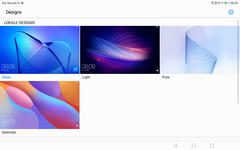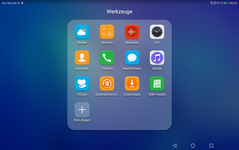 Huawei has pre-installed Microsoft's Office suite that according to media reports give them some reduction in terms of license fees from the company. Furthermore, there are advertising links to Facebook and various pre-installed apps by Huawei itself, such as the HiCare support app or the HiGame in-house game shop. A file explorer and a tablet manager that can clean up and manage the tablet are also pre-installed. 
Telephone and Call Quality
The calling function can either be used via the built-in speaker, or you can connect a headset. Through the internal speaker, the conversation partner sounds actually quite good and is clearly understandable without noise interference. Through the microphone, we also reach the conversation partner quite well, even if we are sitting a little further away from the device.
Accessories and Warranty
Besides a charger and a USB cable, the package also includes a SIM tool and quick start instructions. There are no specific accessories for our test device on Huawei's website. Huawei offers a 24-month warranty on the tablet and 6 months on the battery and charger.
Screen Flickering / PWM (Pulse-Width Modulation)
To dim the screen, some notebooks will simply cycle the backlight on and off in rapid succession – a method called Pulse Width Modulation (PWM) . This cycling frequency should ideally be undetectable to the human eye. If said frequency is too low, users with sensitive eyes may experience strain or headaches or even notice the flickering altogether.
Display Response Times
Display response times show how fast the screen is able to change from one color to the next. Slow response times can lead to afterimages and can cause moving objects to appear blurry (ghosting). Gamers of fast-paced 3D titles should pay special attention to fast response times.
Games
Subjectively, games do not take any longer to load than on other similarly priced tablets. The graphics power is insufficient for high settings or demanding games, and in "Asphalt 8" playable frame rates are barely achieved, even in the low settings.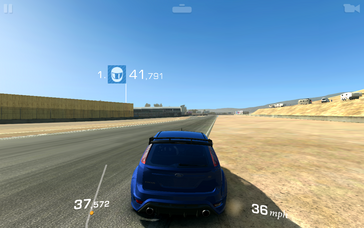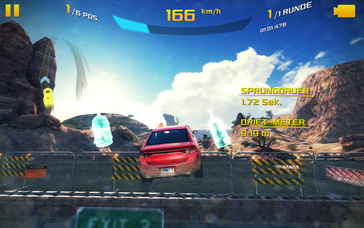 The operation via position sensor and touchscreen works well. You can mainly only use it in simpler games such as "Angry Birds" which run without problems.