Xiaomi Mi Pad 4 (LTE) Tablet
The Xiaomi Mi Pad 4 offers attractive fourth generation technology at an affordable price with only a few weaknesses.
Xiaomi's Mi Pad series has now reached its fourth generation. The 8-inch Android tablet is available in three variants: 3 GB of RAM and 32 GB of storage, 4 GB of RAM and 64 GB of storage, or the second option but with LTE and GPS modules too.
A Qualcomm Snapdragon 660 SoC powers all variants and integrates both a Qualcomm Kyro 260 CPU and a Qualcomm Adreno 512 GPU. The Mi Pad 4 is also equipped with 13 MP rear-facing and 8 MP front-facing cameras, the latter of which can unlock the device with AI-based facial recognition technology. The Mi Pad 4 is the first device in the Mi Pad series that supports this feature.
The Mi Pad 4 has an 8-inch IPS display with a 16:10 aspect ratio that runs at a native 1,920×1,080 resolution. The device is also equipped with dual-band Wi-Fi, Bluetooth 5.0, a 6,000 mAh battery, a USB Type-C port and a 3.5 mm jack.
In mid-August Xiaomi also released a Mi Pad 4 Plus with a 10.1-inch display. Both devices share many of the same components except that the Plus version has a larger display and an 8,620 mAh battery.
Xiaomi Mi Pad 4 (MiPad Series)
Processor : Qualcomm Snapdragon 660
Graphics : adapter Qualcomm Adreno 51
Memory : 3072 MB  , 3GB or 4GB (LTE version)
Storage :64 GB eMMC Flash, 64 GB  , 32GB or 64GB (LTE version), 51 GB free
Weight : 342.5 g ( = 12.08 oz / 0.76 pounds), Power Supply: 59 g ( = 2.08 oz / 0.13 pounds)
Connectivity
Our test device is equipped with 64 GB of eMMC 5.1 memory, of which 51 GB remains once the OS has been installed. The Mi Pad 4 supports microSD card expansion should you need more storage. Alternatively, you could opt for the Mi Pad 4 Plus which comes with up to 128 GB of storage.
Moreover, you could connect a memory stick via the USB Type-C port for temporary additional storage. However, you will need to purchase an appropriate adapter as Xiaomi does not include any Type-C adapters with the Mi Pad 4. Equally, you could also connect other peripherals such as external keyboards or mice if you have the corresponding Type-C adapter.
The Mi Pad 4 supports screen sharing via Miracast, which worked well during our tests.



Software
The Mi Pad 4 ships with MIUI 9, a Xiaomi customized version of Android Oreo 8.1. Our test device came pre-installed with Android security patch level 1 August 2018 and MIUI version 9.8.8.23 BETA, the latter of which we have already seen running on the Xiaomi Mi 6X and the Xiaomi Redmi 6 Pro. An update to MIUI 10 is currently available in Xiaomi's BETA branch too.
MIUI is a highly-customized version of Android whose UI looks more like iOS than it does stock Android. MIUI 9 brings a wealth of new settings options and visual updates over its predecessor.
Please see our guide on installing the Google Play Store for devices without Google Services should you buy a Mi Pad 4 running a Chinese ROM.
Input Devices & Operation
Our test device comes with a Xiaomi keyboard pre-installed that is configured to Chinese Pinyin, a keyboard with Chinese characters. This can be replaced with other keyboard apps such as those from the Google Play Store if you have installed the Google Play Store and other Google Services first of course. Please see the Software section of the review for further information about installing the Google Play Store on the Mi Pad 4.
Display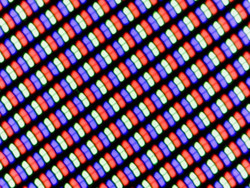 The Mi Pad 4 has an 8-inch IPS display with a 1,920×1,200 native resolution and a pixel density of 283 PPI. According to X-Rite i1Pro 2, our test device has an 83% uniformly bright display, which is around ten per cent less uniform than most of our comparison devices. This means that large blocks of color will look less uniformly lit than our Huawei-made comparison devices, but the margins are so small that we doubt that many users would notice the difference in practice. The Mi Pad 4 has an ambient light sensor too, which allows the device to adjust display brightness automatically according to ambient lighting conditions.
Display Response Times
Display response times show how fast the screen is able to change from one color to the next. Slow response times can lead to afterimages and can cause moving objects to appear blurry (ghosting). Gamers of fast-paced 3D titles should pay special attention to fast response times.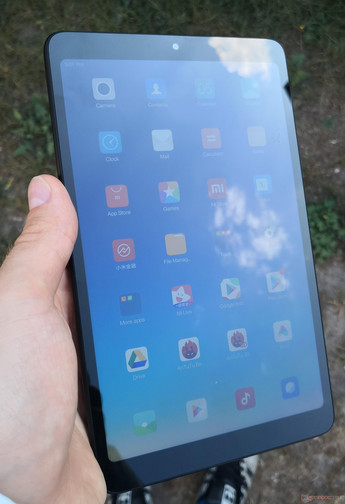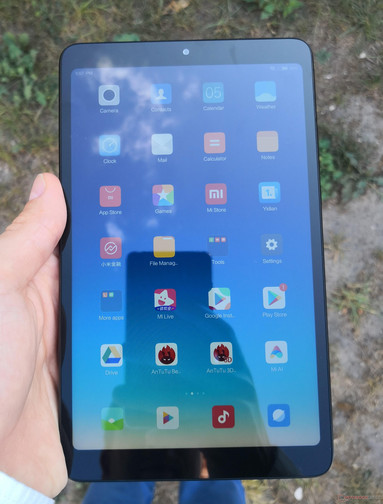 Our test device is usable in direct sunlight thanks to its high maximum brightness. Content remains readable even with the device's relatively low contrast ratio.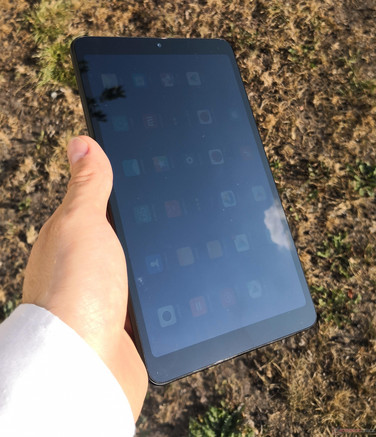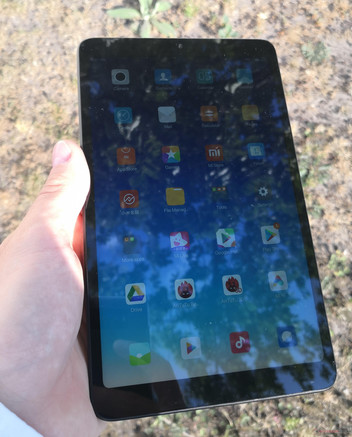 The Mi Pad 4 has strong viewing angles thanks to its IPS display. Our test device experiences only minor drops in brightness at acute viewing angles, but we noticed no colour distortions from any angle.