Huawei Mate X: Another True Foldable OLED Phone
As promised ahead of the MWC show, Huawei launched the Huawei Mate X, its first foldable phone. It comes just days after Samsung launched its Galaxy Fold (watch the video) which we saw in San Francisco on Wednesday.
Huawei takes a radically different approach from Samsung by having the OLED display facing outwards, while Samsung's is facing inward. There are pro and cons to this technique:
By facing outwards, the screen may be in contact with abrasive materials such as dust or sand that may be in one's pocket. It's not clear if the flexible protective surface can be as tough as glass. Also, any drop is a drop on the screen, so durability will be under scrutiny.
The second drawback is that once unfolded the screen isn't perfectly flat. I'm not sure how much of a problem that really is (I don't care much for now), but some people may dislike it.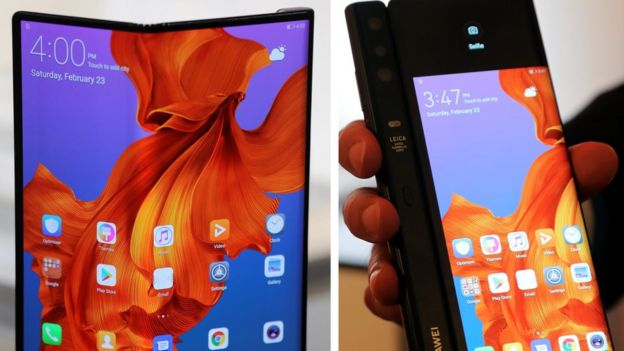 FEELS LIKE A REGULAR PHONE
But the reward for this decision is to have a much thinner industrial design, and that seems critical to the user experience. At only 11mm thick, it feels like a regular phone.
By facing outwards, Huawei also solved the issue of the OLED folding by not having a very narrow folding point. Instead, the folding can happen across the 11mm thickness, avoiding a delicate issue that Samsung must contend with. Huawei says that it has tested the folding with 100,000 folds in its QA lab.
Looking at the hinge from the side, it looks a little bit like the Lenovo Watchband hinge on the holdable laptops. A solid design, very rigid against sheering forces.
When open, there's a grip area on the right edge, and that's where a lot of electronics is: cameras, fingerprint scanner, etc. It's a smart design that merges functionality and ergonomics. I use my phone with my left hand, and the good news is that the screen will flip. Also, this is when you can see the full 8" of display (almost square).
As you open the Huawei Mate X, the current app will automatically be extended to occupy all the large screen's surface, just like on the Galaxy Fold. In theory, this is an Android functionality that was added by Google in partnership with OEMs. We learned about this during Samsung's SDC developer conference in October.
Upon closing it, you find yourself with an almost regular phone form-factor that has a screen in the back. You can take selfies with the main camera with it, and there are probably a few cool use cases that need to be explored.
There are four cameras (the MWC prototype has only three), so there's no compromise with current phones like the Mate 20 Pro, which ranks as the most powerful camera as of publishing time, with an Uber-G Camera IQ score of 167 (read our full Mate 20 Pro camera review).
NO COMPROMISE
Inside, the Mate X is powered by the Kirin 980 processor which we know from the Mate 20 Pro (don't miss our Mate 20 Pro phone review) and can receive 8GB of RAM and 512GB of storage.
The battery is 4500 mAh, which is very impressive and what's crazier is that is has a 55W fast-charging capability, which means that it can go from 0% to 80% in ~30mn. It seems poised to beat fast-charging records in our testing lab. We haven't seen any indication of wireless charging, which would make sense for an all-screen device.
The fingerprint sensor is on the power button, which is not as luxurious as an in-screen one, but a practical solution to the current technical challenge.
Finally, this is a 5G phone that is powered by Huawei's own modem
Conclusion
The Huawei Mate X is a stunning foldable phone that is built around an excellent industrial design concept that makes it possible to build an incredible 8" phone that folds down into an almost-normal size handset with a functional rear-display.
A STUNNING FOLDABLE PHONE
The uses cases have been thought out carefully, from the ambidextrous usage to the main camera used as a powerful Selfie camera. And there's no compromise on the performance and capabilities when compared to today's best Huawei phones.
Now, what's left is to put it to the test to see how well it performs in the real world. From there we will be able to emit a final opinion and recommendation.