Corsair Harpoon RGB Wireless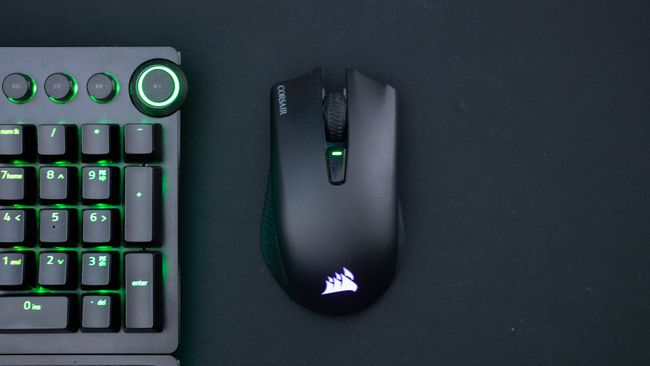 The Corsair Harpoon is a gaming mouse available in both wired and wireless variants, with the latter entitled the Corsair Harpoon RGB Wireless and coming in at roughly double the price.
Boasting a small, comfortable form factor and a satisfactory set of features for the low cost, Corsair has introduced a gaming mouse that's easy to recommend, surprisingly lacking in the shortcomings you'd expect from a wireless peripheral. It also looks really snazzy.
Design
The Corsair Harpoon RGB Wireless features a seamless, minimalistic design that we really dig. The entire top piece is made of one contiguous piece of plastic that starts from the back of the mouse, slopes over and flows out to two distinct mouse buttons without interruption. Meanwhile, the sides feature a diamond-texture, rubber material for added grip.

This gives the overall mouse an almost perfectly uniform look. In fact, basically won't find any gaps on this mouse except for the prominent fork where the scroll wheel sits suspended between the separated mouse buttons.
Although this large gap gives the Harpoon RGB Wireless a very cool silhouette, we're not crazy about the way it also pushes its micro USB charging port into the middle of the mouse. Unfortunately, this design means you'll always have to charge the mouse with its included cable, whereas we'd much rather be able to plug in any odd micro USB we have lying around.
The side buttons are also elevated perfectly to stay out of the way as we're moving around and be accessible when we need them. Underneath the mouse, you'll find a switch to swap the between operating on 2.4GHz or Bluetooth LE 4.2 wireless modes and a small compartment that holds the wireless receiver – which is a feature we always want with every wireless mouse.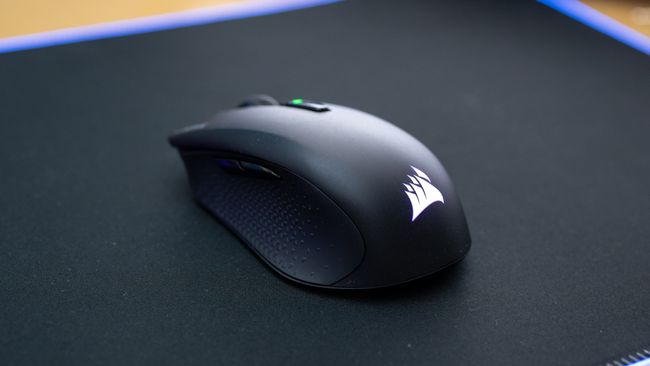 Final verdict
This would have been an incredible wired mouse for its price, but the fact that it's also wireless and therefore infinitely more complicated from an engineering standpoint (read: normally expensive) makes it that much better. If you've been chomping at the bit to buy a wireless gaming mouse, but just couldn't stomach the higher price tags, the Corsair Harpoon RGB Wireless is a perfectly affordable way to experience freedom from wires.