How to pick the graphics card that's right for you
It's time to upgrade your graphics card. If you've been waiting a while, either for prices to drop or for the GPU with the right specs to release, you have a lot of options now. There are expensive graphics cards, like Nvidia's powerful RTX 2080 and RTX 2080 Ti and the AMD Radeon VII, and there are budget-friendly cards, like the Nvidia GTX 1660 and the AMD RX 580. A modest improvement over your current setup won't cost you too much, but the price ceiling is pretty high if you've got cash to spend.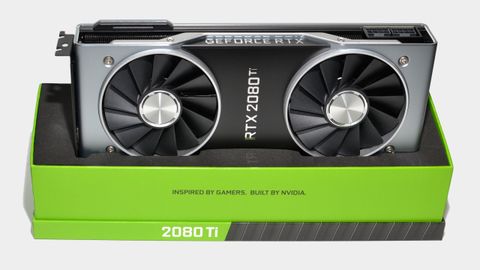 Before cheaper RTX 20-series GPUs, like the RTX 2060, became available, searching for a better deal on a GTX graphics card that was roughly equivalent in power was encouraged, but that's no longer the case — even if they can technically dabble in ray tracing. They have since been discontinued, and unless you want to save some money by taking a gamble on a refurbished model, they aren't worth chasing.
Finding the right graphics card is still a tricky process, but the decision of what and when to buy is much easier than it was a few months ago. Considering these factors will help you narrow things down even further.
Set a budget, and don't settle for less
Graphics cards are usually the most expensive component in a PC build. Thankfully, you don't need to replace them frequently (or at least you shouldn't if you're shopping smart).
If you haven't bought a graphics card yet, you're in a really good position to save some money or get a better value than you could a few months ago. If you want to save money above all else, consider checking out the $219 Nvidia GTX 1660 or the $279 GTX 1660 Ti. These are currently the most affordable Nvidia current-gen GPUs, and they both bring a decent performance boost over the GTX 1060, though the gains are much larger over older models from the 9-series. If you have more money to spend, it might be worth saving up for cards like the RTX 2060 or RTX 2070 instead.
Taking the time to save up for the graphics card that you want (not to be confused with the GPU you can afford) is worth it. It's something that I wish I'd done a few years ago. I had a GTX 970 in my PC, but that upgrade came after (regrettably) buying the GTX 960 because of its cheaper price. The cost of both graphics cards together could have gone toward a better card at the time, like the GTX 980 Ti or even a GTX 1070, but I couldn't afford to upgrade again with that much money down the drain
What do you want to do with it?
Few applications require the power that today's high-end graphics cards can readily provide, so it may not be totally necessary for you to invest a lot into a new GPU that's out of your budget. Popular games like League of Legends, Fortnite, Dota 2, Cuphead, and Overwatch can run (albeit with mixed results) on many processors' integrated graphics alone, so even buying a low-end graphics card will vastly improve the experience.
The Nvidia GeForce GTX 1050 or AMD's Radeon RX 560 should be sufficient if you get into casual gaming and don't want to spend over $150 on a graphics card. Keep in mind that these likely won't be able to run demanding games above low to medium settings or do so smoothly at 1080p resolution.
The GTX 1660 and RX 580 are the next steps up, and both are capable GPUs around $200 that can run most of today's games in medium to high graphics settings with a few compromises. If you're planning to spend this much, you've found yourself at a crossroads: should you take the plunge now or save up for a few more months for the sub-$400 RTX 2060 and sub-$500 RTX 2070? The latter options will provide sizable leaps in performance cheaper GPUs, and they will fare better in the future as new waves of graphically demanding games are released.
If you are looking for the absolute best in detail and high frame rates, be prepared to pay for it. The $699 RTX 2080 is among the best cards in this class, though it's not alone. AMD's Radeon VII eclipses the 2080 in terms of the amount of video RAM inside (16GB versus 8GB), and, as you may have guessed, it's another capable choice if you're interested in gaming on a 4K monitor. However, similar to how the RTX's ray-tracing capability is yet to be a proven feature, AMD's high-end graphics card, with its massive amount of video memory, doesn't yet result in a markedly better experience. If money is no object, you'll want to direct your attention to the RTX 2080 Ti, Nvidia's most powerful — and expensive — graphics card. It will cost you $1,199 for the Founders Edition.
For those hoping to save a bit of money on an RTX 20-series card (or really, any of the cards mentioned above), manufacturers like Asus, EVGA, and Zotac have released their own respective versions that are usually a bit cheaper than those manufactured by Nvidia or AMD. Prices can dip as low as $100 cheaper, though some will cost a bit more, accounting for various improvements made to each card's design, fan count, and clock speed.
What kind of screen will you use?
The benefits and limitations of enthusiast graphics cards aren't as noticeable on a 1080p monitor as they are on a 1440p or 4K monitor. So, if you think at any point during the lifespan of your GPU that you'll buy a high-spec monitor with high refresh rates, that should drive the decision you make for a GPU. The RTX 2060 and RTX 2070 is currently a decent fit for 1440p gaming at a relatively smooth frame rate, but going above will yield better results down the road, and thus be a better value. The new RTX 20-series will be a better fit if a 4K display is in your future.
Fortunately, it has become more affordable to pick up a capable gaming monitor. At the time of this update, Nvidia has added aftermarket G-Sync support to 15 FreeSync monitors by way of a driver update. You'll need either a GTX 10 or RTX 20-series GPU to take advantage of the feature, and, according to our testing, you should expect some pretty good results. Nvidia insists that pricier G-Sync monitors with its processors built in are better, but if you're on a budget, buying a decent monitor doesn't have to drain your account. You may even have positive results activating G-Sync on an unsupported FreeSync monitor.