These Futuristic Audio Frames from Bose May Replace Your Headphones
Audio giant Bose has released a pair of seemingly stylish specs — but there's more to these sunnies than meets the eye. They have a built-in audio augmented reality platform, allowing wearers to stream tunes, listen to podcasts, make calls, and even access your virtual assistant. The best part, and most mind-boggling? That the audio is meant for your ears only and does not disturb anyone around you.
Fashionable Design
In the looks department, Bose definitely succeeds. We found the shades to be quite stylish. They look just like normal sunglasses, not some crazy tech gadget. We appreciate that there is no noticeable branding on the exterior, and were impressed that despite holding a battery, a Bluetooth module, and speakers, the temples remain quite thin.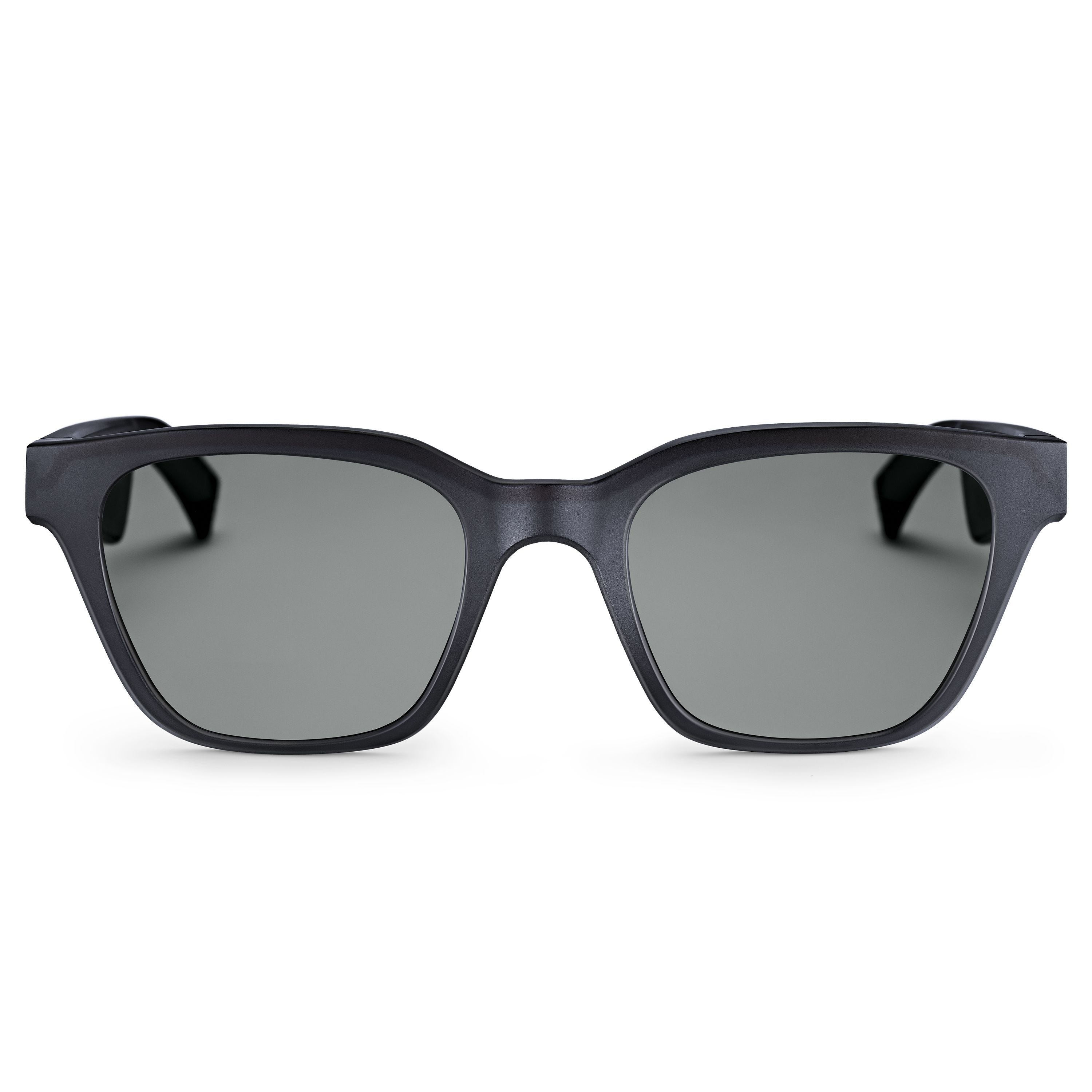 You have two distinct frame styles to choose from — Alto and Rondo. The rectangular Alto pair is noticeably larger, with 52-millimeter lenses compared to the Rondo's 49.5-millimeter rounded ones. For additional context, Ray-Ban's Original Wayfarer glasses have 50-millimeter lenses, so the Alto lenses seem quite large. Both pairs are only sold in matte black, with darkened lenses and gold-plated steel hinges. We would have liked to have seen a tortoiseshell-and-tan lens combination, and hope Bose releases more colors in the future.
Weighing in at just 45 grams, the glasses feel lightweight — however, they aren't as durable or premium-feeling as Maui Jim or Ray-Ban sunglasses are. On the plus side, Bose says its glasses are scratch- and shatter-resistant. Since they have tech on board, you definitely wouldn't want to wear them in the pool. Fortunately, they can handle a little rain without succumbing to water damage.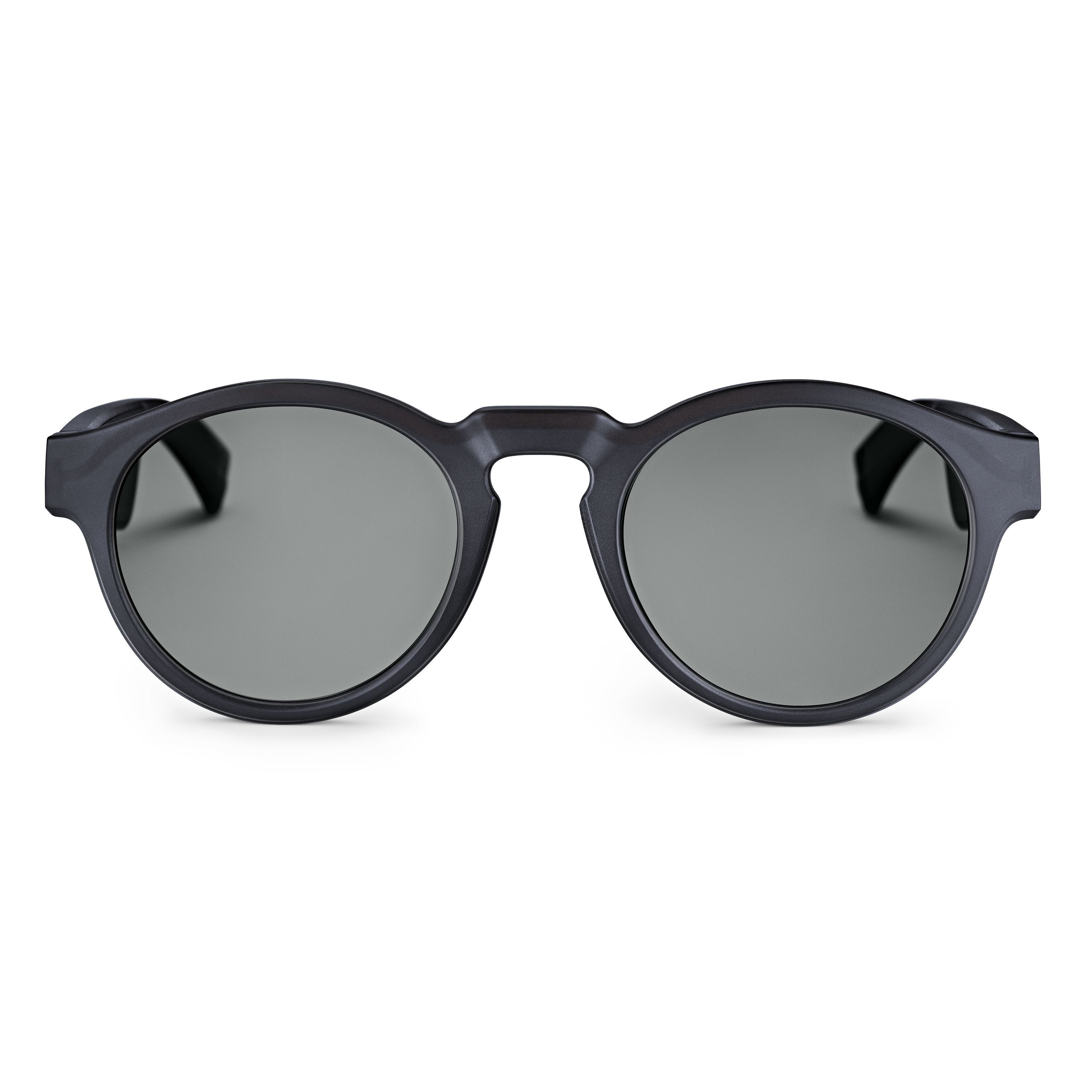 Bose told us that the glasses block up to 99% of UVA/UVB rays, but as someone who owns four pairs of Maui Jim sunglasses, I wasn't very impressed with the Frames' lenses when I wore them on a sunny day in Austin, Texas. The dark gray uniform tint is strong enough that people can't see through the lenses. However, they aren't polarized, and it seems like the lens choice was an afterthought by Bose. If you rely on prescription sunglasses, third-party and prescription lenses are not supported at this time, either.
Strong Audio
What sets the Frames apart is less optical and more acoustic, though. On each temple there are two speakers that produce earbud-quality sound without needing you to put anything in your ear. It truly seems magical how the music comes out so clearly but discreetly, without disrupting those around you. Bystanders can only hear the music slightly if it is on full volume, and we never felt the need to turn the volume past 60%.
Sound quality is surprisingly strong, but as you'd expect with no seal, bass is slightly lacking, and the Frames don't cancel out background noise completely — which actually is a good thing, since you'll be wearing them outside and want to be tuned into your surroundings.

Marginal Microphone Quality
Although music and podcasts sound great, we wouldn't recommend relying on the Frames for phone calls — especially since you'd be using them outside where it is typically noisy. They are sunglasses, after all. During our tests, the person on the other line could barely hear us — especially when we were outside with the wind. They said the call was muffled and asked us to call back. When we did, we called using AirPods, and they didn't complain about call quality again.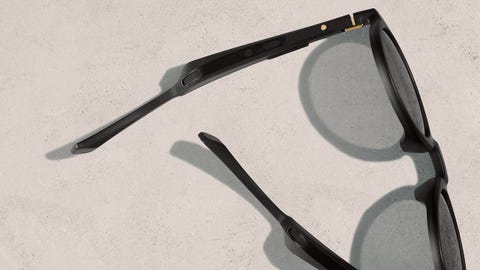 Intuitive Setup
Setup is a complete breeze. The Frames pair to your iPhone or Android phone instantly with a free companion app, the glasses take 2 hours to recharge with the included magnetic cable, and the battery lasts for 3.5 hours while playing music. They work just like a Bluetooth speaker, and can play music that's stored on your phone or streamed through an app like Spotify. We were happy to see that Bose included a carrying case, and a cloth bag for holding the charging cable and cleaning the glasses, but would have liked the sunglasses to charge over USB-C or in the carrying case.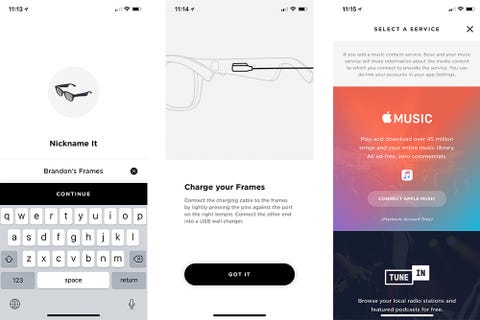 We found the Bose glasses to be intuitive and easy to use. There's a tiny gold button on the right temple. Press it once to power them on. Press it again to play or pause music, twice to skip a track, or three times to go to the previous track. Hold it in if you want to trigger Siri or the Google Assistant.

Although we wish you could pause music just by taking the Frames off, similar to how the music stops when you remove an AirPod, this feature doesn't exist. There's also no way to adjust volume directly from them — but you can power the glasses off by flipping them upside-down, which is kinda cool.