The best headphones for 2019
Throw away those EarPods — we dug up the best headphones in every style
Whether your trusty cans just bit the dust or you're tired of listening to the tinny plastic in-ears that came with your phone, we've all been there: You need a new pair of headphones, and you need to know what's good right now.
Don't fret. Whether you're a new iPhone or Google Pixel 3 owner who needs a set of excellent wireless cans (i.e., not the Pixel Buds), a frequent traveler looking to block the outside world, a runner in need of a sweatproof option, or just a music lover that wants great-sounding over-ears to enjoy your favorite tunes, we have you covered.
We've scoured the market — and spent hundreds of hours testing — to find the best options available for everyone. The headphones on this list are the ringers. The value picks. The top guns.
So stop tearing your hair out and peruse our curated collection of the absolute best headphones for you, your ears, and your wallet.
The Sony WH-1000XM3 headphones won our award for the best products of 2018. Make sure and check out all our other selections for Best Products of 2018.
Sony WH-1000xM3
The best
Why you should buy them: Beautiful wireless sound, plush comfort, and excellent noise canceling.
Who they're for: Anyone who wants a top-tier wireless experience, and loves silencing the world around them.
How much they cost: $350
Why we picked the Sony WH-1000xM3:
Sony's technologically advanced WH-1000xM3 are the third generation of Sony's flagship wireless noise-canceling headphones (following the excellent WH-1000xM2 and MDR-1000x models) that offer top-tier noise canceling, excellent quality wireless audio, and plush comfort. This enticing combination earned the model a rare five-star rating in our review, and — thanks to a few notable improvements — makes the latest version the best headphones you can buy.
At the heart of the WH-1000xM3 is outstanding wireless sound. Sony's LDAC technology delivers a wireless signal at what the company claims is three times the quality of standard Bluetooth streaming, and the headphones also support the latest aptX HD codec (with supported devices). The 1000xM3 even "upscale" wireless music from high-resolution audio devices using a special chip, helping to make music sound dynamic and beautiful, with authoritative bass and clear treble response held together by a well-rounded midrange.
The WH-1000xM3's excellent noise-canceling technology ranks second only to the new Bose QC35 II, from the brand that has long dominated the market in terms of sheer noise-blocking abilities. That said, the Sony cans sound much better than the new bass-forward Bose option, and offer numerous features that help to create a much better overall experience.
The WH-1000xM3's advanced control systems allow you to let in various levels of ambient sound, with advanced features like voice-only mode, which helps filter through vocal frequencies so you can hear your music and the voices around you while blocking out other sounds. Responsive touch controls let you navigate volume, make calls, and play and pause music with ease, all while helping to maintain a clean aesthetic. Best of all, the WH-1000xM3 offer a staggering 30 hours of battery life, providing even heavy users with days of use from a single charge, and offering a quick charge feature that allows you to enjoy 5 hours of listening after just 15 minutes of charging.
If you're looking for a pair of extremely comfortable wireless over-ears with great sound and a massive number of features, these are the best you'll find.
Audeze Sine
The best on-ear headphones
Why you should buy them: Supreme clarity, durable design, and an optional Lightning connection.
Who they're for: Anyone who wants the best on-ears money can buy — especially Apple fans.
How much they cost: $449, $499 with Lightning cable (we know, we know)
Why we picked the Audeze Sine:
The Sine don't come cheap, but as pricey as they are, you're still getting a bargain. That's because Audeze has done something incredible with the Sine, leveraging technology from its pricier (and bulkier) EL-8 headphones to create a pair of planar magnetic drivers that fold down to offer a size and efficiency unimaginable just a few short years ago.
Like Oppo, whose PM-3 over-ears also make our best-of list, Audeze has helped push planar magnetic headphone tech by leaps and bounds in recent years, letting you take a highly sophisticated mechanism out of the audio lab and into the real world, and the Sine are the company's tour de force on this front.
Pushing that technology further (iPhone folks, take note here), the Sine can also be equipped with a $50 Lightning cable that receives digital audio directly from your iPhone and transfers it into pristine analog sound. That's accomplished by a DAC (digital-to-analog converter) that doubles as a three-button iOS mic piece. The design also allows for a digital equalization through Audeze's app, which allows you to sculpt the sound as you see fit. Even if you don't roll with Apple, the Sine's low impedance, cushy yet robust design, and minimalist design make them an obvious choice for audio nuts who want to bring fantastic sound everywhere.
With a crystal-clear soundstage and insane separation between instruments, the Audeze Sine will enable you to hear things in your favorite songs that you never have before — providing a truly audiophile-grade listening experience on the go.
V-Moda Forza
The best in-ear (earbuds)
Why should you buy them: A near-perfect blend of comfort, sound, and portability.
Who they're for: The active everyday listener who wants great fidelity in a small package.
How much they cost: $73 to $100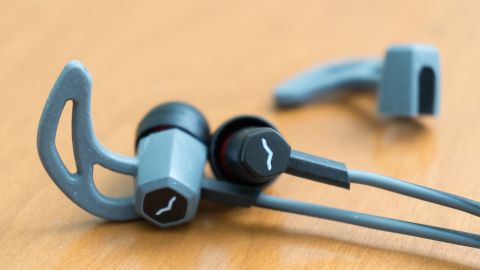 Why we picked the V-Moda Forza:
V-Moda's excellent Forza in-ears offer the perfect blend of fidelity, affordability, and sport-ready performance for any audio adventure.
The water-resistant V-Moda Forza are a no-frills pair of earbuds that put excellent sound quality at the forefront, with a round and warm sound signature that pairs well with virtually all genres. A wide assortment of sport fins and tips means that almost any listener will find a perfect seal, and they're made from a soft rubber compound that ranks them among the most comfortable in-ears we have ever encountered.
Because the earbuds are designed to resist the elements, they are a perfect companion for workouts, rainy commutes, or any other outdoor activities that beg for a crisp and clear soundtrack. We've used them both in office and on long, rainy runs around Portland, Oregon, and they've never let us down.
If you're looking for a pair of headphones that will go with you everywhere and never disappoint, there isn't a better pair of headphones for $100 or less.