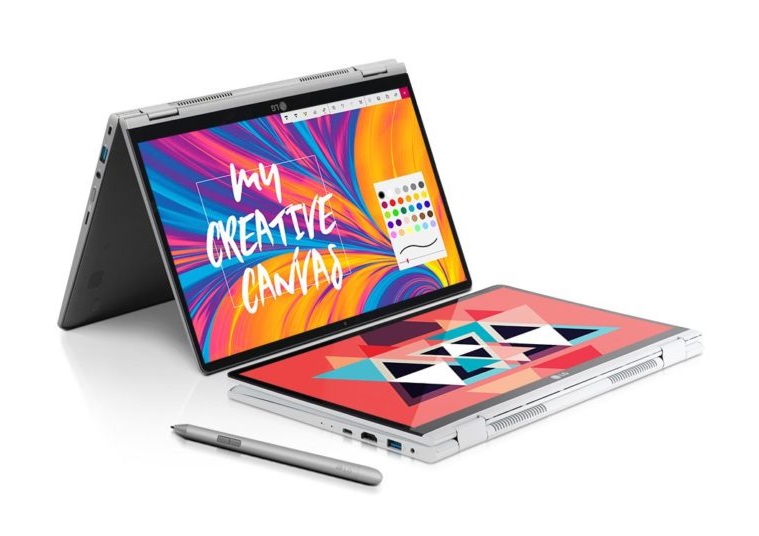 Now that the LG Gram series of laptops is available in the we feel we can get legitimately excited about this, a 2-in-1 version of the 14-inch LG Gram launched somewhat quietly here at CES 2019.
Design
Same matte grey finish as other Gram laptops
Slightly thicker and heavier due to hinges and convertible screen
The latest Gram retains the simple yet finessed grey design of its sister laptops, but there's now the 360-degree screen thanks to the flexible hinges we're seeing in a lot of laptops now.
Unfortunately, that means a bit of thickness and weight has been added – around 180g in weight. Mind you, 1.15kg – the new weight – is still pretty light and better than many true ultraportables.
I barely felt the Gram 14 2-in-1 in my backpack during the commute to and from work. As someone used to lugging home 17-inch gaming laptops, this lightweight machine was a welcome change.
Supreme lightness aside, the slate-gray notebook doesn't stand out in the crowd. That's not a bad thing, especially if you're working in a buttoned-up type of atmosphere. With its rounded corners and the Gram logo stamped in the middle of the lid, the laptop's stately design will fit into any environment.
Opening the lid, which was cool to the touch, reveals more unassuming gray magnesium alloy. Instead of a demarcated depression, the keyboard keys simply reside in the center of the keyboard deck. It's a modern look that makes the keys look like they're floating over a sea of unwavering gray.
Another Gram logo sits directly below the Left Ctrl key, while the touchpad takes its place below, centered beneath the G and H keys. The Power button, which is pulling double duty as the fingerprint reader, hides out in the Function key row, right above the stubby Backspace key
Specs
Seriously powerful new Core i7
Plenty of connectivity options
The 2-in-1 centres around a brand new quad-core Whiskey Lake Core i7, the 8565U clocked at 1.8GHz but with a turbo clock of 4.6Ghz. That's some serious power right there. Also on board is 16GB of DDR4 and a 512GB SSD plus Bluetooth 5.0, one USB-C, a couple of USB-A MicroSD.
The Gram 2-in-1's display is Full HD, powered by Intel's UHD Graphics 620 chip – there doesn't appear to be a 4K version available as yet (we're guessing there won't be one). It is protected by Corning Gorilla Glass 5 – although we are starting to see the even stronger Gorilla Glass 6 appear in other laptops.
First Impressions
Bringing another option to LG's laptop range, a 2-in-1 was an inevitable move for LG as it seeks to gain more of a foothold in the laptop market. We like it a lot, but there are other super laptop options around for the same money or less. If you don't actually need a 2-in-1, then you'll be looking at ultraportables.
Durability
Well here's something I didn't expect: The seemingly frail Gram is tough as nails. It passed seven MIL-SPEC-810G tests, which means the barely there system can withstand drops, shocks and extreme temperature. It also survived several days of traveling in my backpack.
Ports
Although the Gram is fairly slim, it still has sufficient room to house a number of ports. You get a USB 3.1 port on the right along with a headset jack, a microSD card slot, a secure lock slot and a button for sleep.
On the left sits another USB 3.1 port, a USB Type-C port, a full HDMI port and the power jack.
Unfortunately, this 2-in-1 doesn't offer Thunderbolt 3 support, so you won't enjoy the port's faster transfer speeds for docks and other peripherals.
Display
You'll get beautiful color and crisp detail from the Gram's 14-inch touch screen, but it's not as bright as I would have liked. Regina Hall's bright red pants and royal-blue striped shirt popped on the 1920 x 1080 display as I watched the trailer for Little. I could even see Benjamin Franklin's visage on the folded bill Hall held in her hand as she shoved a kid to the ground.
The panel's captivating color comes from its ability to reproduce 128 percent of the sRGB gamut, topping the 117-percent premium laptop average. This screen is also more vibrant than those on the Spectre Folio and C930, which measured 119 and 100 percent, respectively. However, the LG's display was no match for the Surface Laptop 2's screen, which delivered 176 percent.
Keyboard and Touchpad
"Shallow, but not bad." That's what Avram Piltch, our resident keyboard master, had to say about the Gram's island-style keyboard. With this machine's key travel of 1.2 millimeters (between 1.5mm and 2mm is ideal) and actuation of 69 grams (60 g is our minimum), I tend to agree.
The keys definitely bottomed out as I typed the review. However, after more than 2 hours of typing, my fingertips weren't sore, as I've experience on other laptops. And I easily hit my usual 70 words per minute on the 10fastfingers typing test.
Webcam
The Gram's 720p webcam is surprisingly sharp, as evidenced by its ability to capture the individual locs making up my various-sized braids.
The color, unfortunately, was super washed-out, reducing my beautiful hot-pink turtleneck to a bright, but not accurate dusty rose.