10 Best USB Hubs You Can Buy in 2019
The race to further slim down and reduce the weight of laptops continues and all popular device makers are taking the I/O and connectivity ports to the slaughterhouse. You should expect laptop/ PC makers to only further cut down on the port selection as they are switching to USB Type-C. With this new development, every PC and Mac user now requires a good USB hub if they want to be able to connect accessories and peripherals to their laptop. With regards to it, we've gone ahead and compiled a list of the 10 best USB hubs (including USB C hubs) that you can buy right now:
10 Best USB Hubs Available Online
Sabrent 4-Port USB 3.0 Hub
If you're just looking to expand on the number of USB ports on your laptop, then Sabrent has this perfect little 4-port USB hub that should meet your requirements. It is fairly easy to use as it works by simply plugging into a USB-A port, preferably USB 3.0, and is not a pain to carry around because of its compact construction.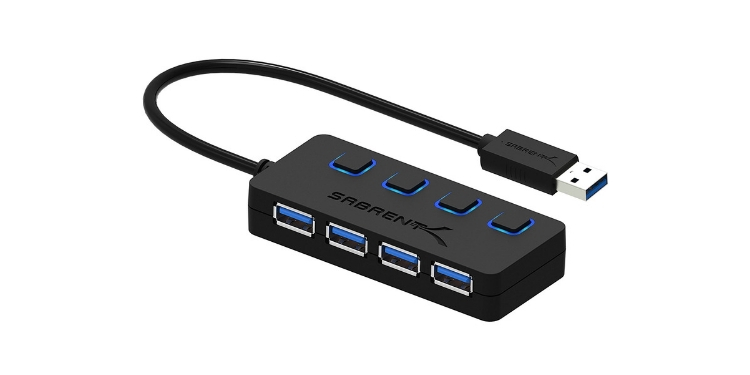 The highlight here has to be the availability of a blue LED indicator and power switch for each USB port. The USB 2.0 standard being quite an old one, all the hubs you'll see listed here are USB 3.0 hubs and offer transfer speeds of up to 5Gbps. Sabrent makes its USB 3.0 hub available at a reasonable price and is rated 4.3 on Amazon with over 10,000 reviews under its belt.
TP-Link 7-Port USB 3.0 Ultra Slim Hub
If four ports aren't enough for handling your daily workload, then this 7-port TP-Link USB hub suggested by one of our readers could be what you're looking for. It can help expand the number of USB ports available on your PC, Play Station, Xbox, and other devices with all 7 offering data transfer functionality. And three out of these are dedicated BC 1.2 charging ports (5V, 1.5A) that will enable you to charge your smartphones on the fly.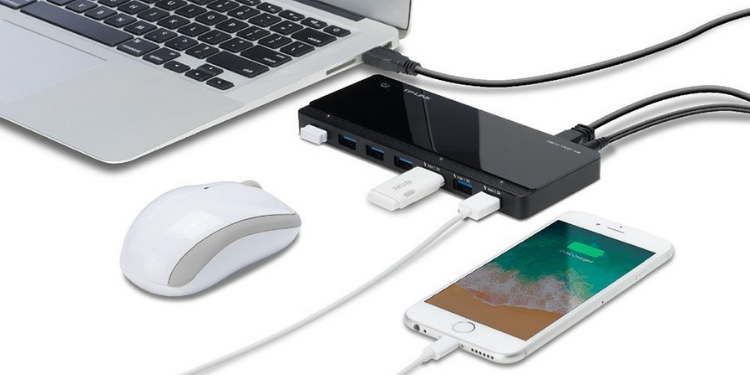 You can use all seven USB ports on this hub simultaneously, thanks to a dedicated power supply to maintain a steady operation and a Realtek chipset on board for a stable connection with the plethora of devices you're planning to connect with it. The TP-Link 7-port USB hub here features built-in surge protection (up to 4A combined) to prevent the dock from overheating or damaging your laptop.
Anker 10 Port 60W Data Hub
We went from four ports to seven, and now here's a 10-port USB hub from Anker that is going to be a Godsend if you're someone who connects a lot of external storage devices and accessories to your laptop. This USB 3.0 hub offers a 60W output and will also be a boon for you if you're planning to charge a number of devices on the move.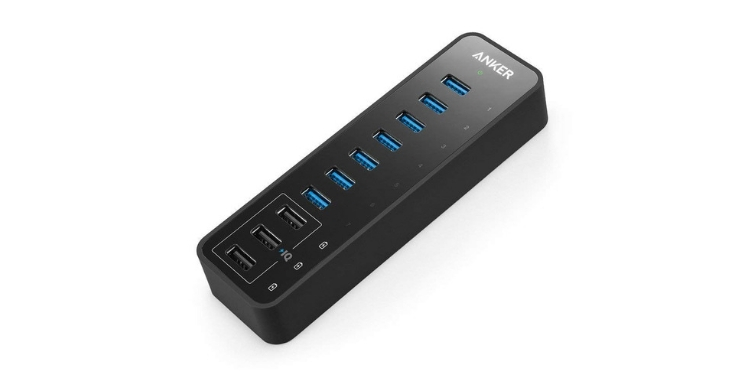 Seven out of the ten ports here are USB 3.0 ports and are dedicated for data transferring with speeds up to 5Gbps. The remaining three are PowerIQ ports, which means they are designed to automatically detect the required power output for the connected device and render the same. The power output can be up to 2.1A per port or 10A overall, where you can connect anything from an Android or iOS phone to tablets, consoles or cameras.
Sabrent Premium 3-Port Aluminum Mini USB 3.0 Hub
Are 10 ports too much for you? Are you looking for something tiny and compact? Well, we have yet another recommendation from Sabrent for you and it's this 3-port mini USB hub. The lightweight and sturdy build of this USB hub that is inspired by Apple's design, makes it the perfect companion for travelers who like to connect an external HDD or their phones to transfer data at up to 5Gbps. Its use is not restricted to MacBooks.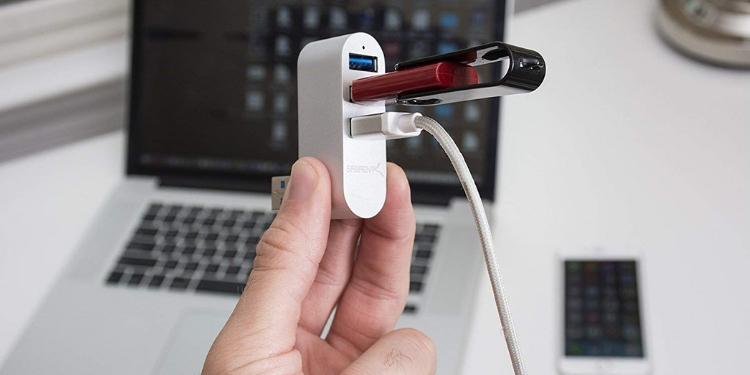 The highlight of this Sabrent USB 3.0 hub will have to be its rotatable design, where you can plug into the hub and rotate it 90-degrees to make it parallel to the screen or rotate it 180-degrees to lay it flat and parallel to the keyboard depending on the space you have. It surely is a handy accessory that travelers should keep on them.
AmazonBasics 7 Port USB 3.0 Hub
If you're looking for something well-built and affordable, but with a number of USB ports, then AmazonBasics has you covered with its 7-port USB 3.0 hub. This compact hub has been backed by both buspower and self-power ports, which the hub you see below can switch between based on the power required – i.e switch to self-power mode when a larger number of devices are connected.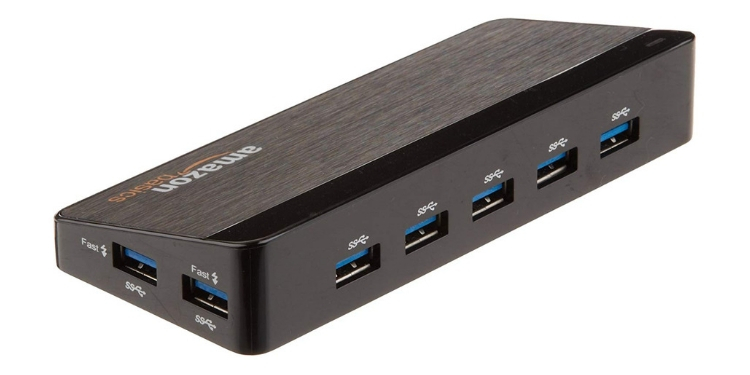 All seven ports here can be used for data transfer, with speeds up to 5Gbps (which is the maximum speed for USB 3.0 ports) but two of the ports (with the Fast tag next to it) can be used for charging devices with maximum current output up to 0.9A. If you are looking for a lesser number of ports, then AmazonBasics also offers you a variety of options and you can pick between them from the link below.
SmartDelux Powered 13-Port USB Hub
Well, if you're a power user (or someone in IT) who needs to have a number of external storage devices and accessories connected to their system at all times, then you need a large number of USB ports. SmartDelux is here to save the day with its 13-port USB 3.0 hub, with 10 USB 3.0 data transfer ports and 3 fast-charging ports on board.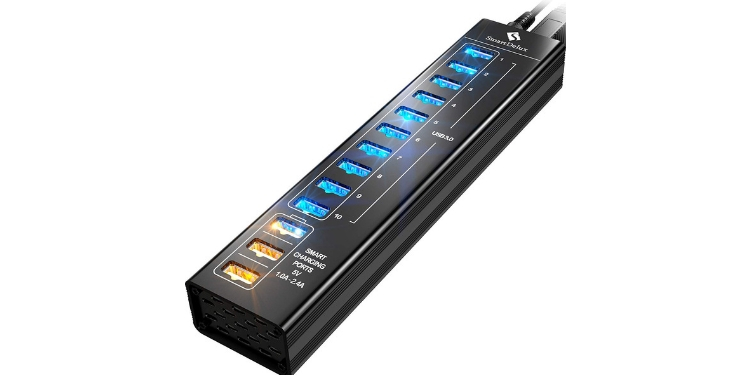 Backed by a self-power bus, the 10 USB 3.0 ports here can transfer data at speeds up to 5Gbps, whereas the 3 remaining ports can be used to charge devices at up to 2.4A each (12W power output). Also, each of the ports here is equipped with an LED indicator of its own, which is a great addition by SmartDelux to help you find the ports at night.
Kokovolta USB Hub 3.0 Vertical Data Hub
If you own a gaming PC, laptop, or a console system where you require to connect more devices, then Kokovolta's vertical hub is designed for gamers in mind. It has a standout design (unlike the bland rectangular shape of USB hubs) that's reminiscent to Alienware CPUs with a blue LED glowing through it.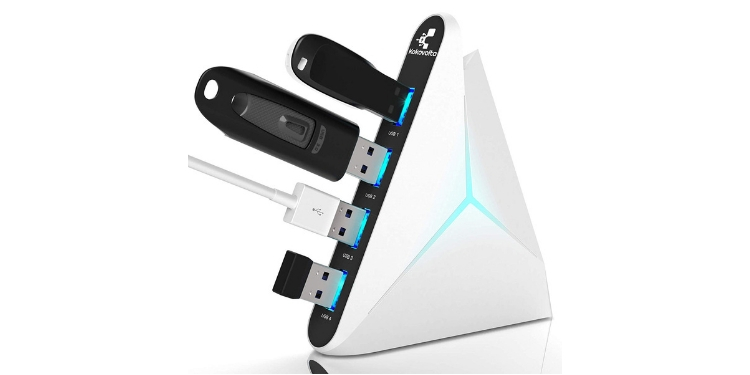 Kokovolta is offering you 4 USB 3.0 ports on the front with transfer speed up to 5Gbps and any of these can be used to charge devices at an output power of 5W. This hub also comes with a sticky bottom, which means you can stick it right next to your PC or console so it doesn't fall when knocked.
EUASOO 10 in 1 Thunderbolt 3 Hub
Up until now, we have talked about USB-A hubs but with laptops ditching I/O ports for a slimmer and lighter design, we can't forget about USB Type-C hubs. Our first suggestion would be a multi-purpose USB hub from Euasoo, that brings all of the necessary ports to your device.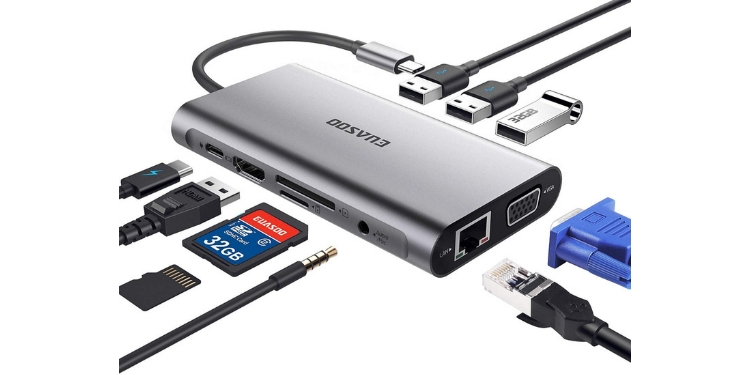 It works simply via the buspower and does not require you to connect a power adapter to get 3 USB 3.0 ports, a single USB C port, 4K HDMI video output (supporting 4K @ 30GHz and 1080p @ 60GHz), RJ45 Gigabit Ethernet, a VGA port, Audio/Mic 2-in-1 port, and SD/ Micro SD card reader in a slim build that fall in line with most modern laptops.
The USB hub supports transfer speeds up to 5Gbps, along with USB Power Delivery 2.0 to make it possible to connect high-current devices and fast-charge your laptop at the same time as well. Euasoo offers a pretty versatile USB C hub to its users.
HyperDrive 8-in-1 USB C Hub Dongle
If you own a latest-gen MacBook Pro or any of your colleague does, then you might have heard them talk about HyperDrive. It's one of the most popular USB C hub makers and it offers you all of the ports necessary to help you continue with your regular tasks without any hiccups. It has a sleek and trendy design that's similar to the current-gen MacBooks.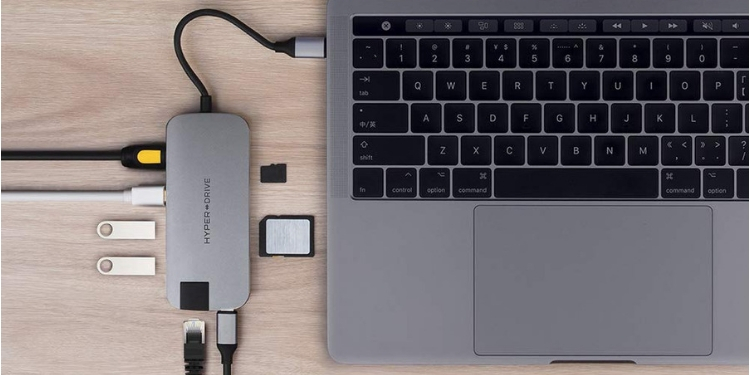 This 8-in-1 USB hub brings along the following ports in tow: 2 USB 3.1 Gen 1 ports, 1 USB C port, HDMI (supporting 1080p @60Hz and 4K @30Hz), a mini display port, RJ45 Gigabit Either port, and SD/ Micro SD card reader. The USB 3.0 ports support transfer speed up to 5Gbps whereas the USB C port allows pass-through charging on most devices including all your ultrabooks, Chromebooks, PC, and more.
However, you will have shell out a little extra for that brand factor, quality, and durability.
Anker 7-in-1 USB C Hub
Finally, if you are not willing to shell out $100 bucks on a USB hub, even though you may be inclined to spending $1000 on a new iPhone XS (burn!), then Anker makes the perfect compact hub that expands the connectivity options for your MacBook Pros, new iPad Pro, Chromebook or Galaxy smartphone.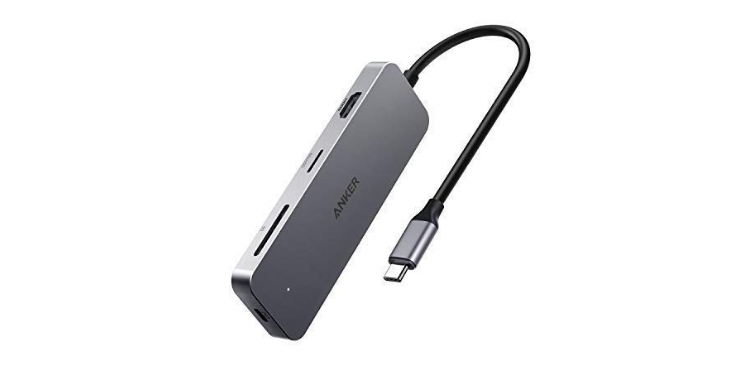 Anker's 7-in1 hub extends to you 3 standard USB 3.0 ports, 1 HDMI port (supports up to 4K@30Ghz), 2 SD card slots (SD/ Micro SD), and USB-C Power Delivery charging port all packed inside this module you see pictured above. This hub can deliver a 49W charge to your laptop on connecting a 60W adapter, which will surely come in handy when all of the other USB Type-C ports are occupied.