7 Best Lock Screen Replacement Apps for Android in 2019
In the past many years, Android has significantly evolved and so have the lock screens on stock and skinned versions. While the lock screen on stock Android is clean and has only the necessary features, skinned interfaces such as Huawei's EMUI or Xiaomi's MIUI allow users to set a carousel of wallpapers to beautify the lock screen. However, neither of these variants of the lock screen lets you customize much, and if you want more options, you can choose from some of the available third-party lock screens apps for Android. Here, we have listed the 7 best lock screen replacement apps for Android which you can try.
Note: Some lock screen replacement apps might not play well with the default lock screen on your Android device. So, you can first disable the default lock options on your device by going to Settings->Security->Screen Lock and then selecting "None".
Best Lock Screen Replacement Apps for Android in 2019
–> Solo Locker
Solo Locker is an elaborate lock screen app for Android which lets you choose from a wide range of wallpapers, which have been segmented by categories like animal, flower, landscape, festival etc. The app also features support for overlays like a Gameboy console or a submarine but these don't seem to available on the Play Store anymore. Besides choosing the background, one can also choose between pattern and PIN code options to apply to the lock screen. The exciting bit about the pattern or PIN code options is that you can choose your own image for each circle, giving the lock screen of your Android device a more personal feel.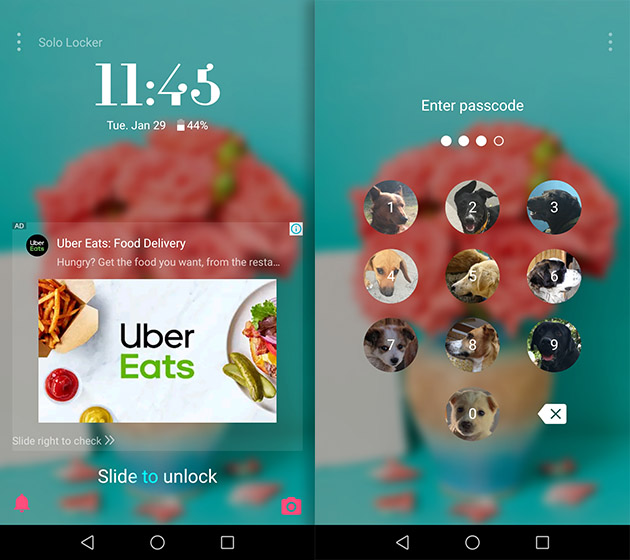 Besides changing the wallpapers, you can adjust the amount of blur over the wallpaper, add and customize the style of time and date or any other custom text. Additionally, you can add direct shortcuts to apps and check the notifications and the weather on a separate screen, and even change the color of the icons to shortcuts such as for the camera app. The only disappointing bit about the locker is that you'll see ads on the lock screen when there's no notification to display. If you can bear with that, Solo Locker gives you a myriad of customization option. It is one of the best lock screen replacement apps on this list.
–> Start
Start locker for Android lets you access notifications, news, weather updates, as well as updates from any selected app of your choice, which can include YouTube, WhatsApp, Gmail, Facebook, and other social media or entertainment apps. Although reminiscent of Windows' Start Menu from its name, the locker features slider menus and swiping left to right on them opens the specific app. Like Solo Locker, you get the ability to modify the wallpaper, and while there's no option to change the font of the clock widget, you can change the font color.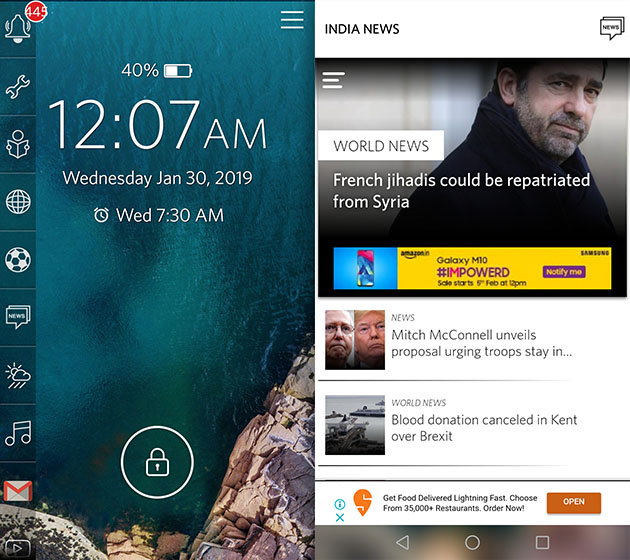 The central ring is primarily meant to unlock the phone but after pressing the icon is when you find that it lets you launch different apps. What is even more surprising is that when you swipe over any icon such as for camera or messaging, it shows the top apps in that category instead launching the default app. Apart from the categorized apps, you can also choose favorite apps which appear when you drag the ring over to the star.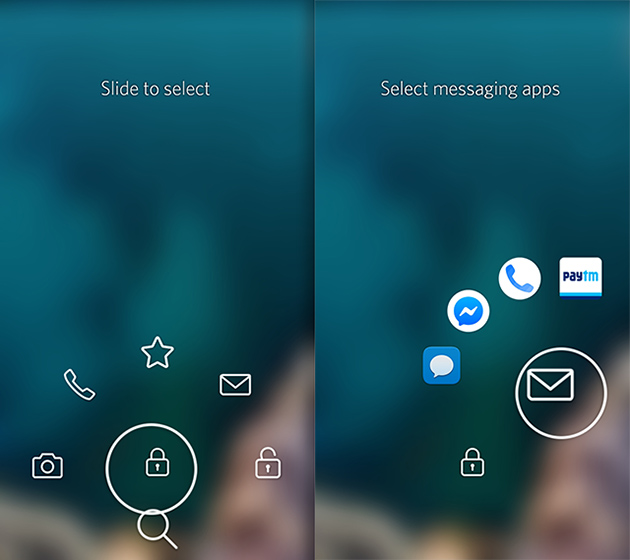 Lastly, while Start is marketed as a lock screen, it is actually a launcher. Besides this, there are basic unlock options such as PIN, pattern, and even fingerprint but if you want, you can continue using your phone's lock mechanism with Start's drag-to-unlock function. However, the ads appear once in a while but these are fullscreen one, which could be annoying. Overall, Start can be excellent if you want to spend less time while randomly fidgeting with your phone and want to accomplish more work.
–> AcDisplay
AcDisplay is the lock screen app to get if you like things minimal. The lock screen brings you notifications in a very intuitive interface and you can jump to apps directly from the lockscreen. Plus, you get various shortcuts on the notification, like you would in the notification center. It also includes an Active Mode, similar to Android's Ambient Display, which detects when the device is picked up or taken out of a pocket and shows you your notifications.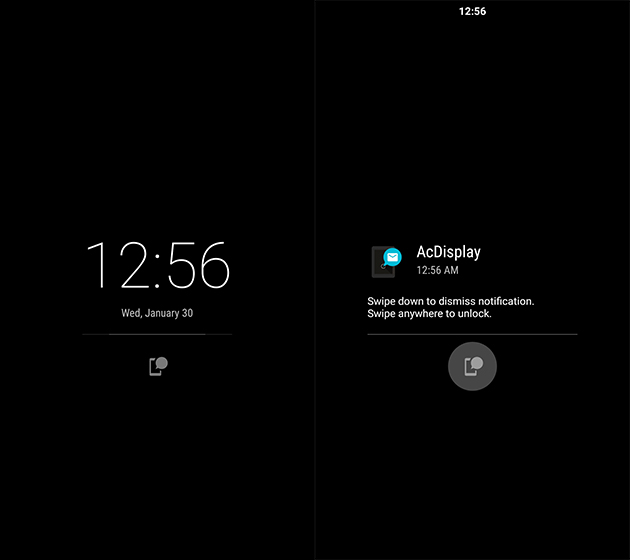 Other features of the app include ability to blacklist apps from sending notifications to lock screen, dynamic background, low priority notifications and more. The app is available for free and like most lock screen apps, there are a lot of customization options.
–> Semper
Semper is a convenient app, which besides being a simple lock screen replacement for Android, also helps you improve your vocabulary or learn something new each time you unlock the smartphone. Powered by Quizlet, a platform for easy card-based and quiz-based learning, Semper lets you add download curated packages for various popularly spoken languages. Besides languages, you can also add questions from topics of common trivia and general knowledge to the lock screen on your Android smartphone with Semper.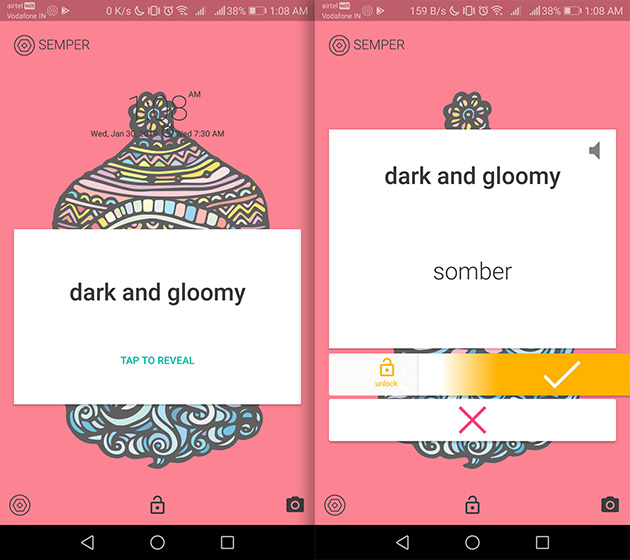 Besides selecting the topics for the trivia, you can set up goals for right answers which you want to achieve with Semper. The lock screen is a part of the app, which you'll have to download separately in the plugins menu after you set up your Quizlet account (or sign in with an existing one) select your interests for learning. You can either unlock the lock screen by swiping right on the correct answer out of the multiple choices or swipe left to challenge your brain with more questions.
Besides offering education, Semper also features the qualities of a standard lock screen app. It lets you set up to four shortcut icons and change the background of the lock screen to a custom one, although you'll have to depend on the inbuilt lock mechanism for the security of your phone.
–> KLCK Kustom Lock Screen Maker
KLCK Kustom Lock Screen Maker, as the name suggests, is a lock screen app for Android which lets you create custom layouts for the replacement lock screen. You can add a variety of items and edit properties like text, font, size, color, etc. individually for each of these elements. By pressing the "+" icon on the top right, you will be able to add more elements.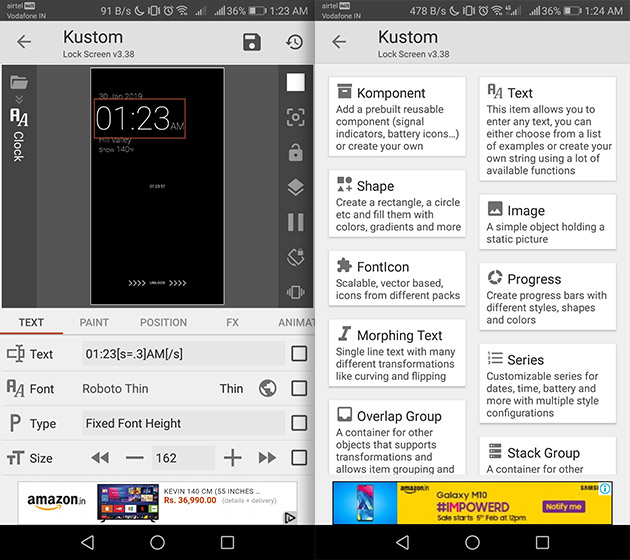 If you want, you can use preset created by other KLCK users while you can even create your own presets and upload them to the Google Play Store using a Kustom Skin Pack maker app by the developer. Besides the display clock widget, notifications, and weather, the lock screen app for Android can also include shortcuts for any app installed on your smartphone.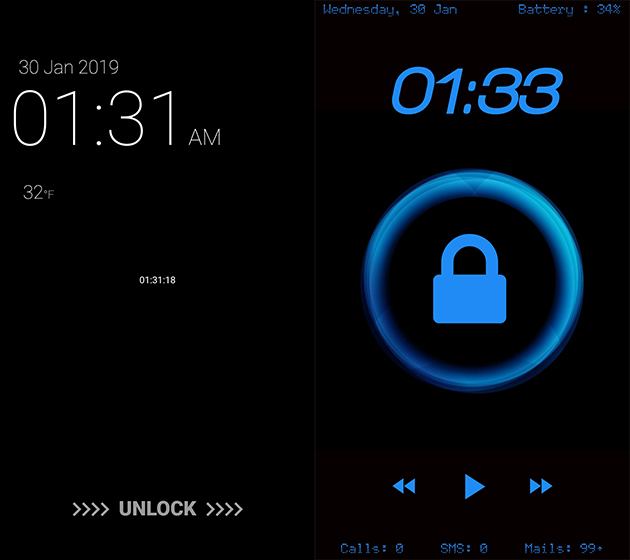 While KLCK will let you take full control of the layout of elements on your Android smartphone's lock screen, it does not feature any security option and you'll be dependent on your phone's specified lock mechanism. Lastly, you can purchase the full version for wider support for presets, Buzz launcher integration, and to remove the ads (although I encountered none in the free version).
–> LokLok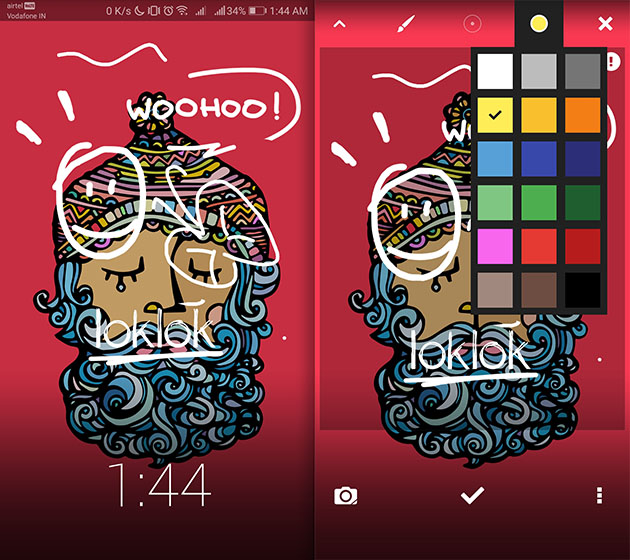 LokLok is essentially a social media app for closet artists or doodlers who can share their ideas through the lock screen itself. You can drag the screen upwards to unlock the smartphone or double tap on the lock screen to doodle with your fingers. Once you're done, you can share the masterpiece with your close friends, significant others, or PUBG squad who can not only view your doodle but also contribute to it. You can start by having a group of three.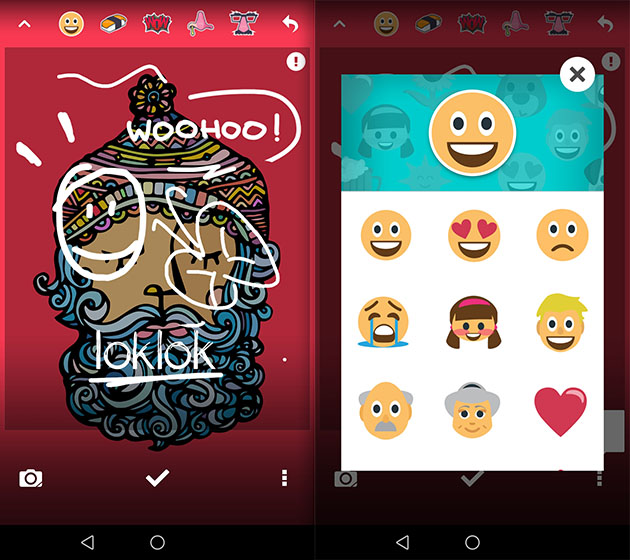 For doodling, you can choose between a pencil nib, a paintbrush, or an eraser (for which you can also use two fingers simultaneously) and select the color of the tip. Besides doodling, you can add text to the canvas or paste stickers from the available packs. There's also an option to buy addition sticker packs. Further, while you cannot set a lock pattern or a lock code, you will be able to change the background of the lock screen and enable notifications for any time someone else updates the drawing on the board.
–> Gesture Lock Screen
The last app on our list is the Gesture Lock Screen and as the name suggests, the app lets you unlock your Android device with a cool gesture. It's simple, really, you can just enable and create a gesture and you are good to go. The simple lock screen brings you app notifications and you can customize the lock screen, change the unlock animation, lock delay, sounds and background. The app is available in a free version with ads and if you want an ad-free version, you should buy the Pro version.