10 Best Free Movie Apps to Legally Stream Movies
We all love watching movies and with the advent of online streaming services, we can watch anything and everything with just a click. However, sadly, most of the online streaming services are paid ones and it gets really expensive having to subscribe to multiple services. But you don't have to worry about spending too much money. We have done our research and found some great movie apps which let you watch movies completely for free. And these apps are absolutely legal to use so there is no question of piracy. Having said that, here are the best free movie apps where you can watch tons of free movies without any issues.
Best Free Movie Apps
In this section, I have shared the 10 best free movie apps. All the mentioned apps are officially available on the Google Play Store and AppStore, so no need to sideload the apps from third-party stores. Also, few apps have a separate premium plan, so if you find the service cheap and interesting, you can subscribe to their paid services to get more content. Now having said that, let's begin with the list.
–> Tubi
Tubi is the best free movie app, hands down. Unlike other free movie apps, it offers recently launched movies free of charge. The reason Tubi has such a wide collection of fresh content is because of its partnership with many big Hollywood studios. Some of them include Paramount, Warner Bros, etc. The great about Tubi is that it's completely free and there is no hidden credit card or subscription requirement. Talking about the content, the collection of movies is simply breathtaking. From different genres to Anime, you have everything at your fingertips. All you have to do is register for a free account and you can watch tons of hours of free content. Just go for it and you will love it to bits.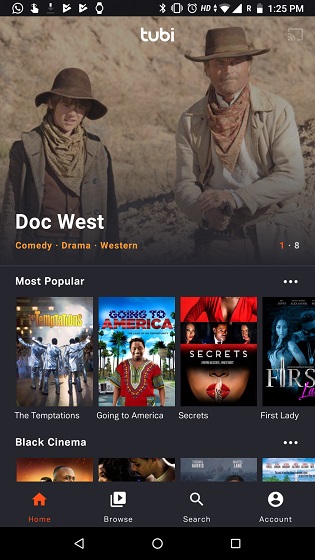 –> Sony Crackle
Sony Crackle is another great app for watching movies for free. Sony Crackle is an online entertainment arm of Sony Pictures so you get access to a ton of free movies along with high-quality original content. Besides that, Sony Crackle also features a good selection of anime movies which makes it a great place for anime lovers. I found Sony Crackle to be best for action and thriller genre of movies. Simply put, you will get access to almost every movie from Sony Pictures studio and that's absolutely great. However, do note that the service is only available to the US and Australia users. Nevertheless, if you are from the said countries, you can get Sony Crackle and enjoy hours of free content.
–> Pluto TV
Pluto TV is an amazing app to watch free movies on the go. You will be surprised to find the vast library of free content available on the app. To start with, you have movies from Hollywood behemoth like Fox Studios, Warner Bros, Paramount and more. Pluto TV is owned by Viacom so naturally, there are tons of popular movies you would not find anywhere. The great part is that you don't need to share your credit card details or register on the app. Just install it and you are all set to watch free movies without any issues. I would highly recommend Pluto TV for its diverse set of movies. Just go for it and you will love it.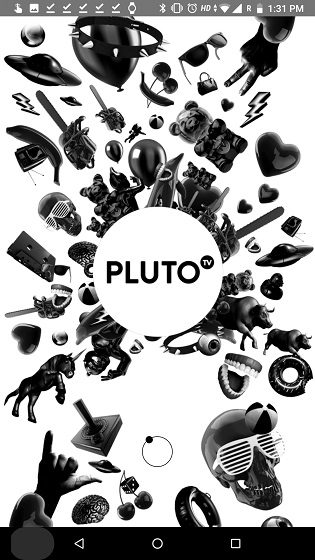 –> Popcornflix
Popcornflix is a great free movie app to consume movies on the go. First of all, it's available to users worldwide unlike Sony Crackle so that's awesome. Secondly, the app has a wide range of movie titles which are absolutely free and you can watch them without any limitation on quality. The great part is that the app performs really well even if you have a slow internet connection. Popcornflix also has a partnership with many Hollywood studios so you will likely get interesting movies as they release. Apart from studios, Popcornflix also features a lot of independent cinema which is great news for indie movie lovers. Overall, Popcornflix is a great app to discover and watch movies for free.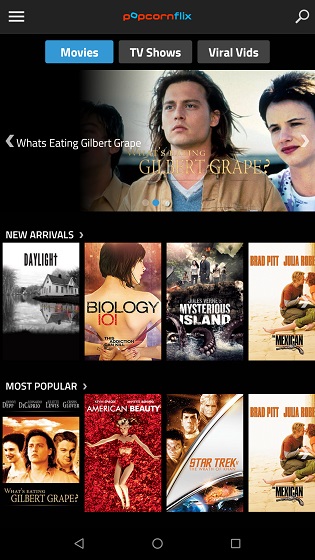 –> Vudu
Vudu is another great app for streaming movies for free. It has some excellent titles and TV shows under its collection. If you are wondering how does Vudu offer so much of content for free then let me explain. The app is ad-supported and you will encounter few video ads before playing movies and TV shows. I feel it's a fair trade-off for accessing the huge library of free content. To give you a sneak peek, you get access to movies such as Rocky, Predator, Undisputed, Warrior, etc. Vudu also features new movies similar to iTunes and Google Play Store, but those are paid ones so choose accordingly. To sum up, if you love movies, Vudu is a great app to access tons of interesting movies.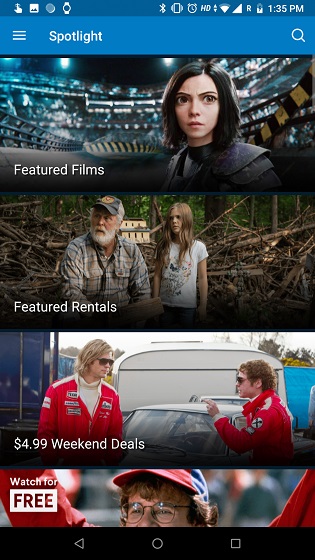 –> Yidio
Yidio is a great app to consume movies and shows from multiple streaming services. Basically, it's an aggregator where you can watch movies from various online streaming services in a single app. It has support for more than 300 services including Netflix, Hulu, Amazon Prime Video, HBO Now, etc. While there are lots of free movies available, you may need to subscribe to premium content providers to access their content. Nevertheless, Yidio has a large collection of movies and I think you will love the content given that it's completely free.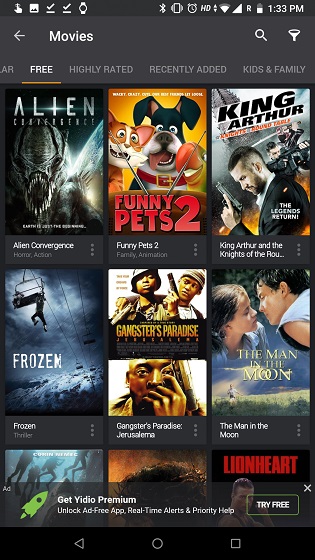 –> SnagFilms
SnagFilms is an awesome free movie app which lets you watch independent films and documentaries without any charge. It has a collection of more than 5000 movies and it keeps on adding new full-length movies regularly. The app has movies from different genres and has a collection of obscure movies which are rarely found on any other platforms. Simply put, If you are someone who loves to watch indie movies, SnagFilms is a treasure trove you were missing in your life. Just install the app and experience movies from different parts of the world.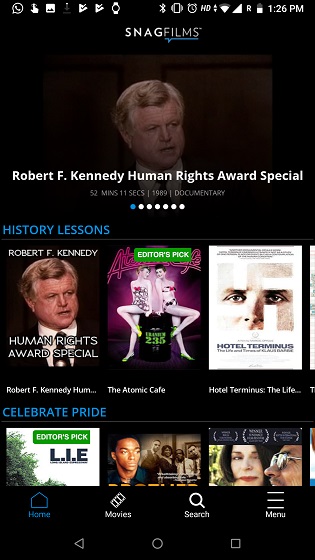 –> Hotstar
Hotstar is a popular free movie app for Indian consumers. It is a paradise for Bollywood and regional movie lovers. Hotstar is owned by Star, which is a subsidiary of Walt Disney Studios. Having such a great studio behind, you get access to almost every new movie you are looking for. It offers a wide selection of movies, both free and paid. While most of the new movies are paid, the free collection of both Bollywood and Hollywood movies are not too bad either. If you opt for the premium plan, you also get access to new international movies, series, and a lot more. All in all, for Indian consumers, Hotstar is a must app to have and you should definitely check it out.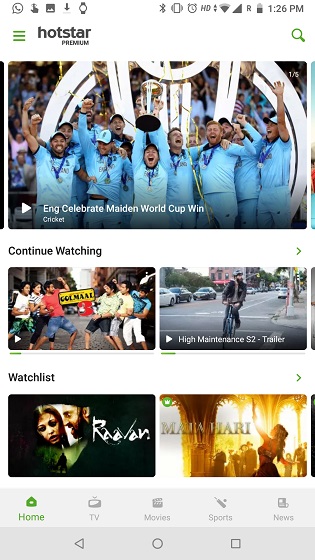 –> SonyLiv
SonyLiv is another great app for watching Indian movies for free, and definitely one of the best free movie apps for regional cinema as well. It offers tons of hours of free movies and TV shows. Apart from Bollywood movies, the service also offers a great selection of Telugu and Tamil movies. There are also some international titles, but those are mostly paid ones. Similar to Hotstar, you can find new and interesting movies just after a few weeks of new releases. However, the streaming quality is not as good as Hotstar. Basically, if you like Hotstar and want something as an alternative, SonyLiv is a great app to have.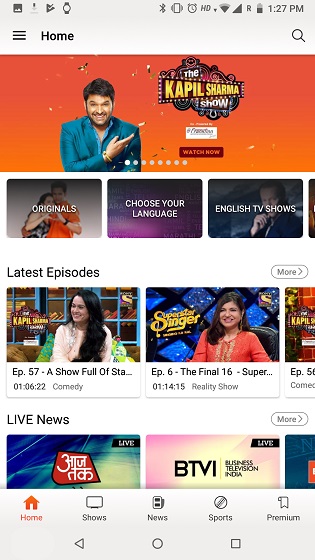 –> Voot
Voot is another great app to watch Indian content free of charge. It's a free movie app including several TV shows, Originals and a lot more. Voot is part of Viacom18 studio so you will find all their library of free movies and TV shows on the app. However, do note that Voot is supported by ads so you will occasionally encounter ads while streaming movies and shows. Talking about the library of content, it has movies from Bollywood to different regional languages. Along with that, you get access to lots of live TV channels which are part of the Network18 group. To sum up, if you are from India, Voot is a great app to watch movies for free and you should definitely check it out.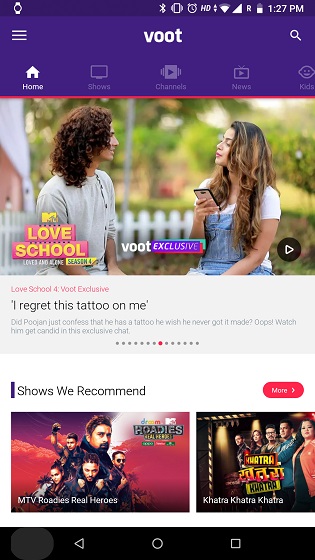 –> Bonus: Kodi
Apart from all these apps, there's one more free movie app that I would like to recommend and that's Kodi. Kodi is basically a media server application which lets you manage your offline media content so that you can access them from any device. Apart from that, Kodi also comes with a library of free Kodi addons and Kodi repositories which lets you stream movies for free. That said, Kodi also makes it possible to stream pirated movies which we don't recommend and you should be careful if you want to remain on the right side of the law. Finally, Kodi is available on the Play Store however there's no official iOS application.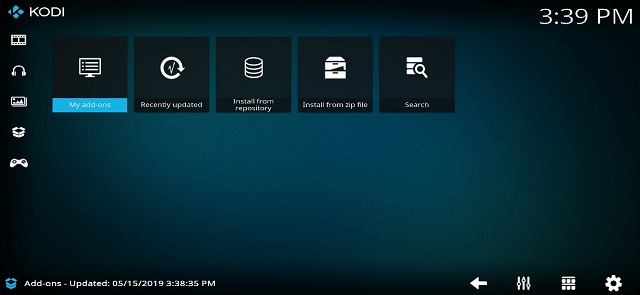 You have to go through a long process to install Kodi on iPhone and that might turn some users off. That said, Kodi is really powerful and once you learn how to use Kodi, this can be a great resource for streaming free movies right on your Android and iOS devices.