Sony A7R IV official: 61MP full-frame beast with a monster price
Sony has revealed its latest full-frame camera, the Sony A7R IV, packing a hefty 61-megapixel sensor and a whopping 15 stops of dynamic range. The new camera is the latest in Sony's series of popular interchangeable lens models, and it debuts the company's – and the world's – first 35mm 61MP BSI sensor.
Sony A7R IV photography and AF
It's a huge step up from what Sony used on the A7R III, which topped out at 42.4-megapixels, and it leaves the A7R IV apparently capable of the same sort of image quality as you might expect from a medium-format camera. In the A7R IV, the sensor is paired with 5-axis optical in-body image stabilization – which Sony claims has a 5.5 step shutter speed advantage – together with a number of focus systems.
There are 567 phase-detection AF points for 74-percent coverage, along with real-time Eye AF for Still, Movie, Human, and Animal. Sony also includes real-time tracking, and there's support for 10fps shooting with full AF and AR tracking for approximately seven seconds. That's in part down to Sony's newest BIONZ X image processor, along with increased buffer memory.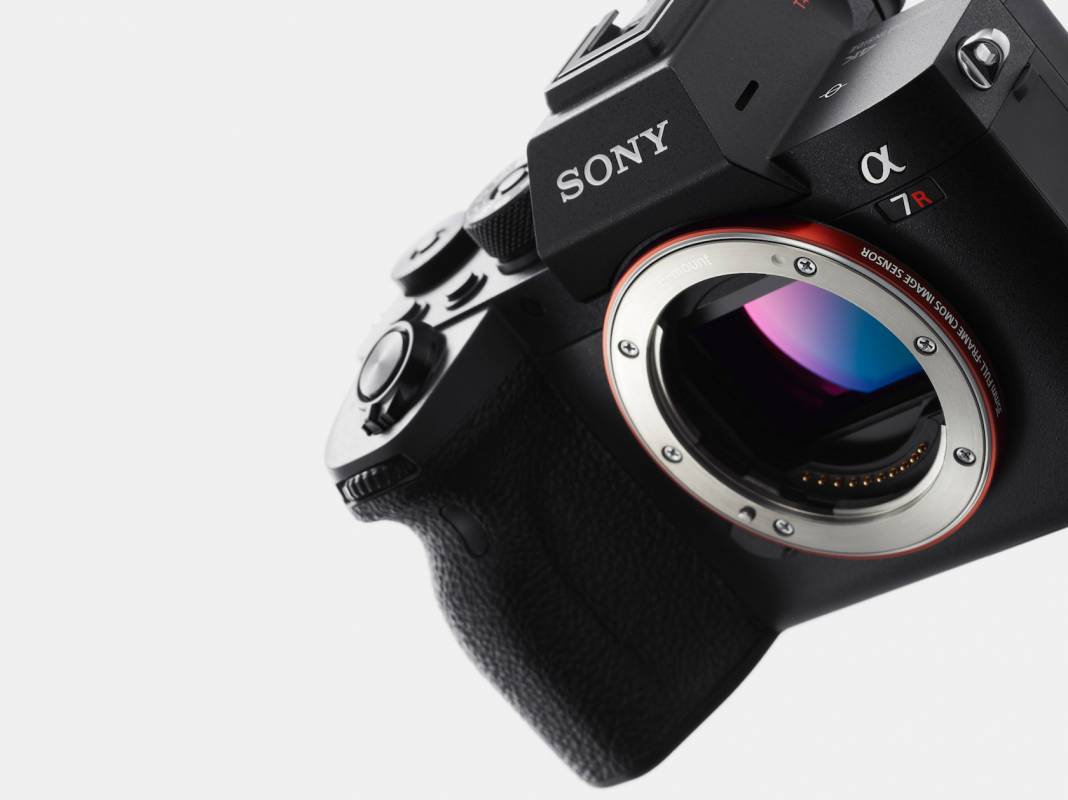 Switch to APS-C mode, meanwhile, and there's a crop mode with 26.2-megapixel stills. In that setting, the A7R IV can shoot roughly three times as many burst images as in full-frame mode. A Pixel Shift Multi Shooting mode now combines up to 16 full-resolution images, automatically shifting the sensor in 1 or 0.5 pixel increments. The total 963.2 million pixels of data are then baked into a single 240.8 megapixel – that's 19,007 x 12,672 – still in Sony's Imaging Edge desktop app.
Sony A7R IV video
On the video side, there's 4K 3840 x 2160 recording support, together with full pixel readout without pixel binning in the Super 35mm mode. S-Log 2 and S-Log 3 are available – the latter with 14-stops of dynamic range – together with HLG Hybrid Log-Gamma for Instant HDR.
First among Sony cameras, the A7R IV can use Real-time Eye AF for movie shooting. That means the camera will fix its focus point on where you're looking. Touch Tracking automatically turns on Eye AF when a human subject is selected. Sony says the camera should be better at dealing with AF even if something temporarily passes in front of your subject, too.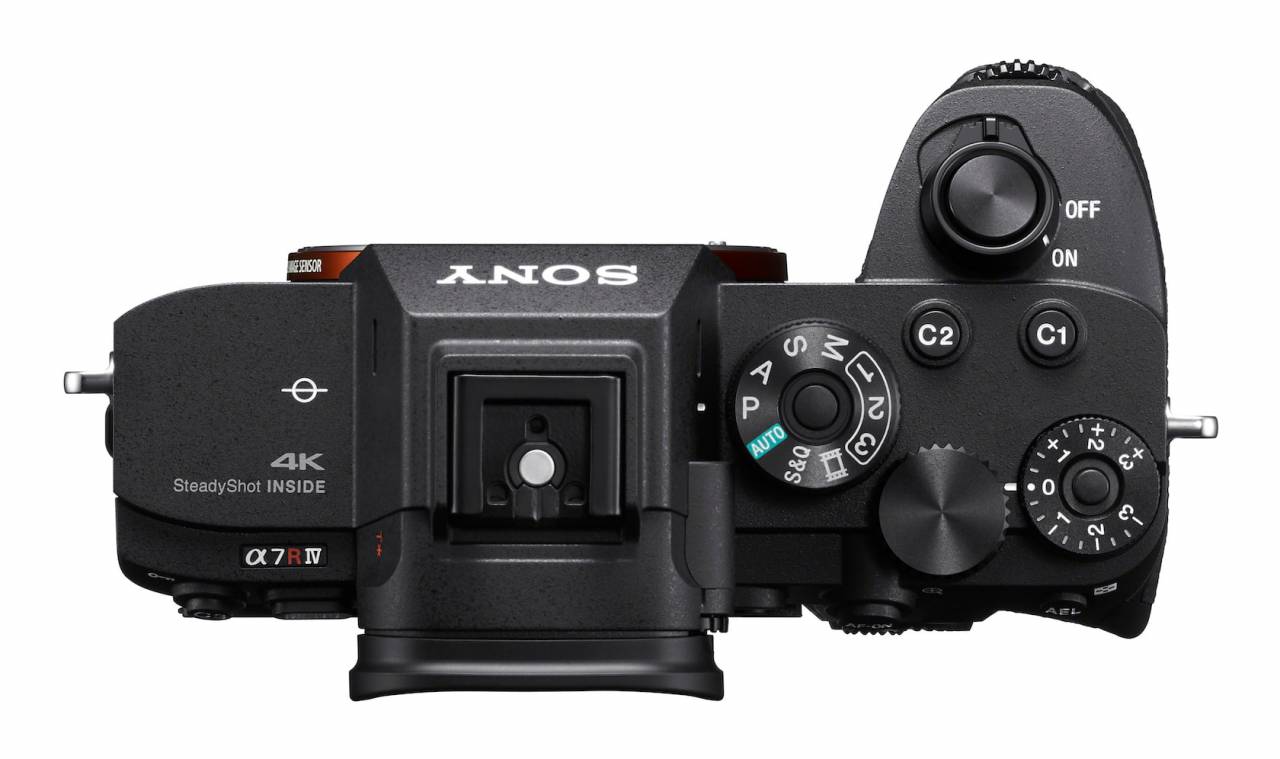 For 2019, Sony has added a digital audio interface to the Multi Interface Shoe. That works with the new ECM-B1M Shotgun Microphone and XLR-K3M XLR Adaptor Kit, for more audio input options. Other options include native time-lapse support, together with 120 fps Full HD recording, Slow, and Quick Motion.
Sony A7R IV design, construction, and connectivity
The magnesium alloy body of the camera has been upgraded for better resistance to dust and moisture, Sony says, and there's an upgraded six screw, extra-firm mount. It tips the scales at approximately 1 pound, 7.5 ounces with a battery and memory card. The grip has been reshaped, and the AF-ON button has been made bigger. There's a new multi-selector joystick, too, which Sony says is easier to control, while the exposure compensation dial now gets a lock button.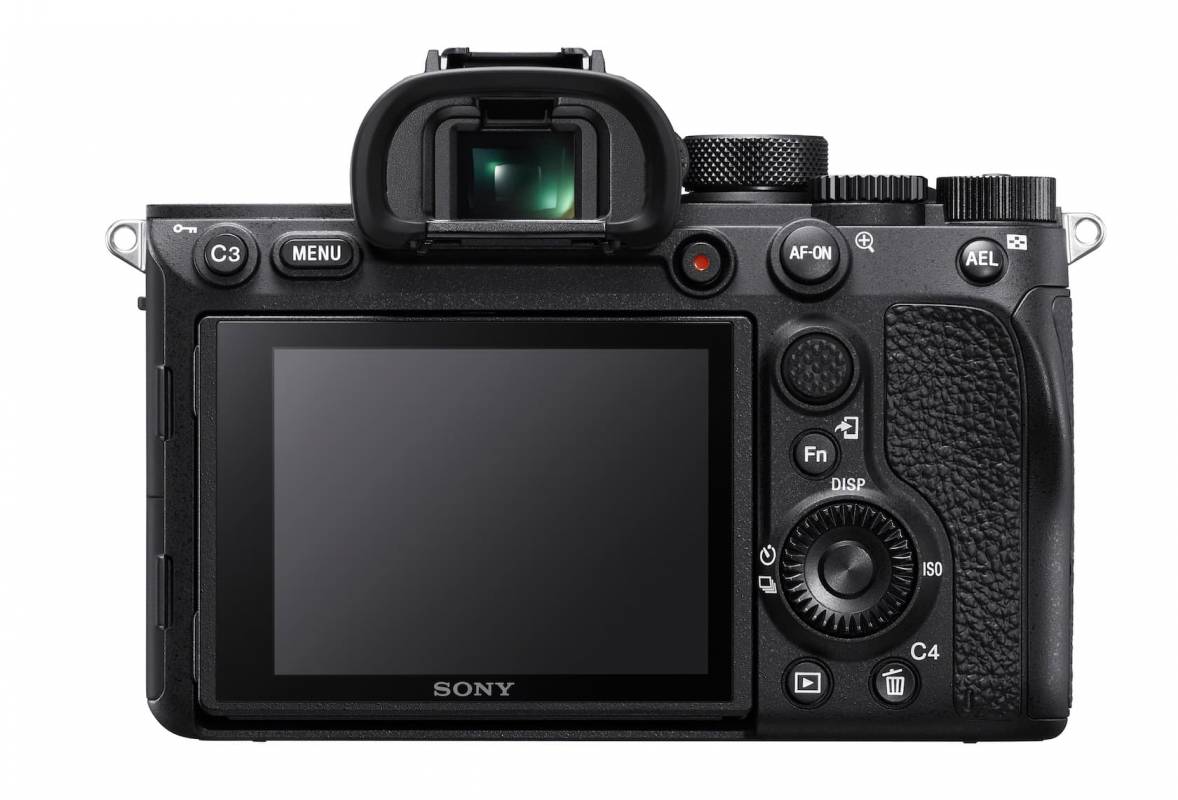 The viewfinder uses a 5.76 million dot UXGA OLED panel, which Sony claims is the highest in any camera and around 1.6x the resolution of the A7R III's EVF. It can be switched between 60fps and 120fps refresh rates. Using the EVF, the standard battery is good for up to 530 images, Sony says; that climbs to up to 670 with the LCD. You'll also be able to add grips with up to four batteries, or power the A7R IV via USB.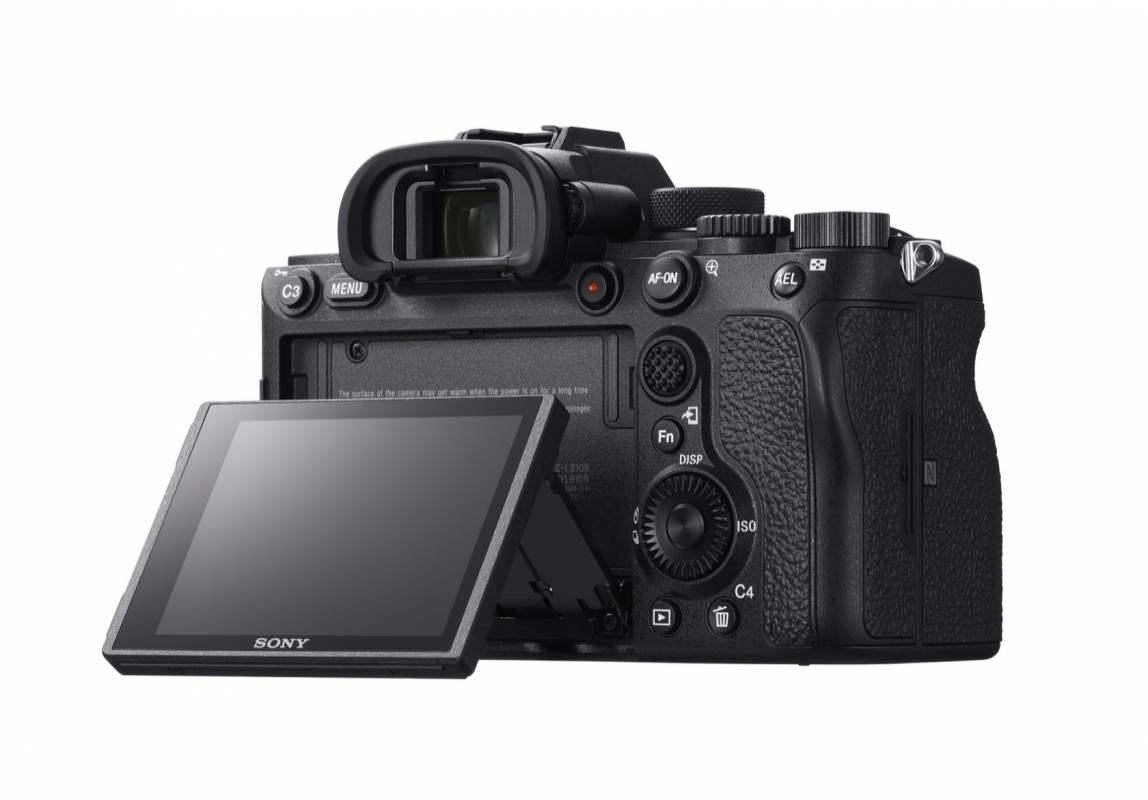 Perhaps most exciting for pro-users is the addition of two USH-II compatible memory card slots. As well as offering more media storage flexibility, the cards can also be used to save more camera settings data than before. "Almost all" of the settings, Sony says, can be stored on a memory card, with backups from up to ten cameras saved and then restored to another camera.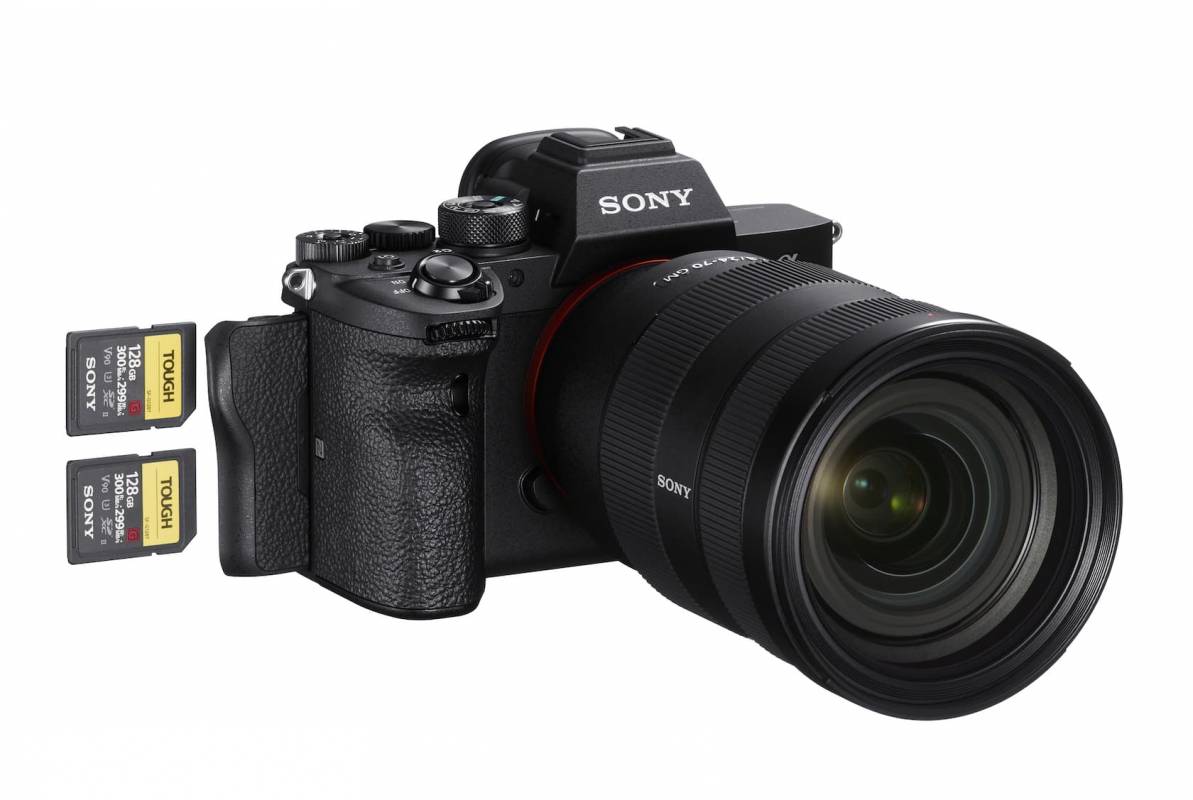 On the connectivity front, there's both WiFi and and a USB Type-C supporting SuperSpeed USB 3.2 Gen 1. Sony says the latter should deliver almost twice the transfer speeds as the old model. There's also FTP data transfer with background transfer support. The WiFi now supports 2.4GHz and 5GHz bands, and there's wireless PC tethered shooting for the first time. When used with Sony's mobile app, you'll be able to transfer images from the camera even if it's turned off.
Sony A7R IV price and availability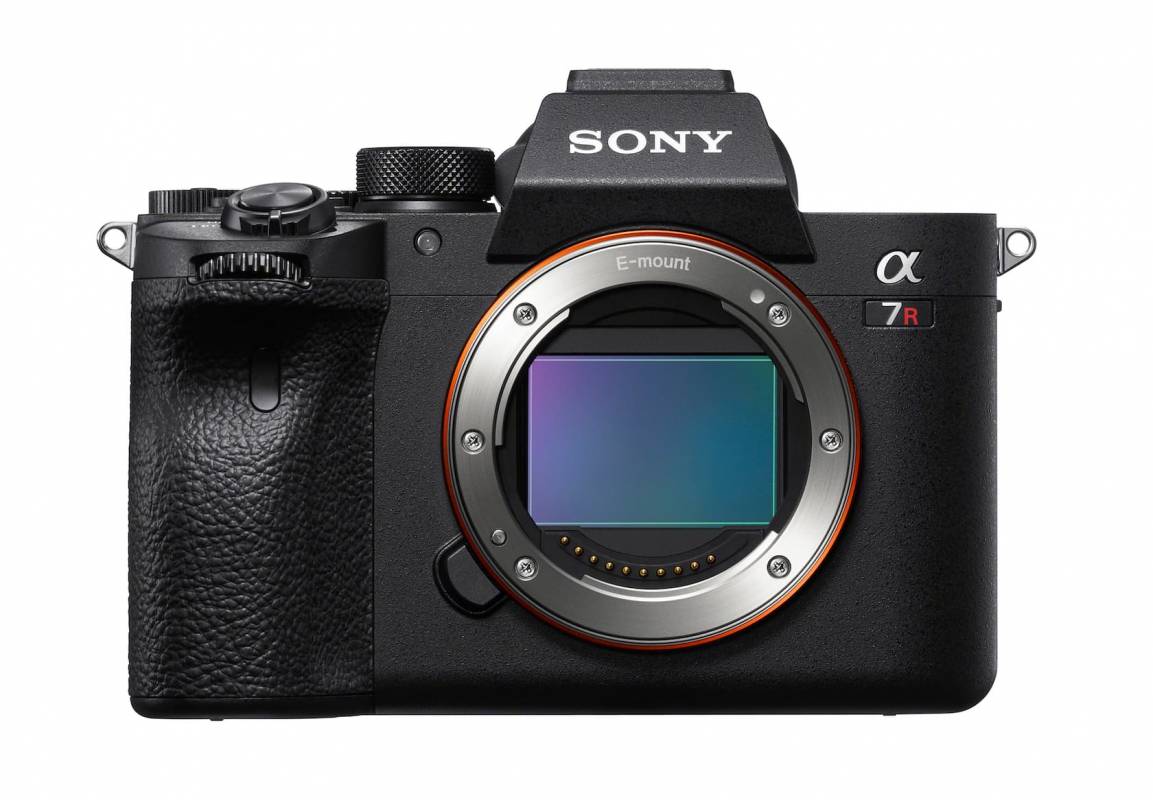 Sony says the A7R IV camera will ship in August in Europe, where it will be priced at approximately 4,000 euro. In North America, the Sony A7R IV will ship in September 2019, for approximately $3,500 US and $4,500 CA.
A new VG-C4EM Vertical Grip will ship in September 2019 in North America for approximately $400 US and $530 CA, while a new ECM-B1M Shotgun Microphone be approximately $350 US and $470 CA. The new XLR-K3M XLR Adapter Kit will ship in October 2019 for approximately $600 US and $800 CA.