The 7 Best Laptops for Writers of 2019
Find the best laptops for portability, budget and more
The Rundown
–> Best Overall: Buy ASUS ZenBook 13 at Amazon, "Best overall balance of portability, features, and performance."
–> Best Budget: Buy Lenovo IdeaPad Premium 15.6" at Amazon, "Great value with Lenovo's solid reputation and build quality."
–> Best On The Go: Buy 2019 Retina MacBook Air at Amazon, "The pinnacle of portability and slimness."
–> Best Splurge: Buy HP Spectre x360 at Amazon, "One of the most durable screens you'll find on a laptop."
–> Best Battery Life: Buy ACER Aspire E 15 at Amazon, "Boasting a solid 15 hours of battery life."
–> Best Large Screen: Buy Dell Inspiron 17 at Amazon, "It's very affordably priced compared to most laptops in its size range."
–> ?Best 2-in-1: Buy Microsoft Surface Book at Amazon, "Take away the keyboard and it becomes an unencumbered tablet device."
Best Overall: ASUS ZenBook 13
As writers ourselves, we appreciate how ASUS' ZenBook checks almost all of the boxes, providing the best overall balance of portability, features, and performance, while still managing to come in at an affordable price. While some of our other picks may be better choices for users with particular needs, the ZenBook 13 provides a well-rounded experience, making it an easy top pick.
First, the 13.3-inch full HD screen uses ASUS' "Nano-edge" display, making it virtually bezel-less and thereby reducing the overall footprint. It also has a backlit keyboard that's comfortable to type on, and altogether it weighs just under 2.5 pounds. An 8th-gen 1.6GHz Intel Core i5 processor offers plenty of power under the hood, combined with 8GB of RAM and a 256GB SSD.
Battery life is also impressive, boasting up to 14 hours, plus fast-charge technology that can take you back up to 60 percent capacity in under an hour — there's no way you should ever run out of power with this one. As an added bonus, it also offers a built-in fingerprint reader for extra security, letting you lock down your work with a more complex password, absent the need to type it in every time you open the lid. With a sleek, lightweight aluminum body, it's a portable and affordable little workhorse that looks handsome, too.
Best Budget: Lenovo IdeaPad Premium 15.6"
Money can be tight for many aspiring writers who are just getting their sea legs. Fortunately, a laptop for basic writing doesn't require a lot of horsepower, so there are some surprisingly high-quality but still inexpensive options available. Our top pick among these is Lenovo's IdeaPad, an excellent value with Lenovo's solid reputation and build quality behind it.
The IdeaPad makes few concessions to strike the performance-value balance that it does. And, for a Windows 10 machine, that is admittedly rare. The use of a quad-core AMD CPU instead of the more typical Intel chip helps, but with a 3.1GHz base frequency, it's definitely no slouch. The screen, while large, also falls short of "full HD" quality at a resolution of only 1366×768, or around standard HD. However, you're still getting 8GB of RAM plus a whopping 1TB SSD, and while the latter isn't the fastest we've seen, it's more than fast enough for writing and nothing to complain about at this price.
Oh, and did we mention that it even packs in a DVD-RW drive? Now that's something we don't often see included in today's ultra-slim laptops. While it adds some extra heft (the IdeaPad comes in at almost 5 pounds) some of that can be chalked up to the larger 15.6-inch screen. Yet, the whole thing is still under an inch thick, so it's still portable enough to take on the road.
Best On The Go: 2019 Retina MacBook Air
Since its introduction over 10 years ago, Apple's MacBook Air has been the pinnacle of portability and slimness. More recently, it has shifted from luxury MacBook status to the economical base option. For writers on the go, it's still our top pick, however, since it is both lightweight and premium, thanks to its "unibody" casing. Milled from a single block of aluminum, its chassis touts a sleek aesthetic despite its rugged design.
Its specs are potent, too. You'll see Apple's gorgeous True Tone Retina Display in person, with its 2560×1600 native resolution at 227 PPI. On the inside, a 1.6GHz dual-core Intel Core i5 CPU can turbo boost up to 3.6GHz, and ardent multitaskers will appreciate the 8GB of RAM. We'd recommend the 256GB SSD model for serious users, as the 128GB might prove to be a little cramped if you want to keep the bulk of your research on-hand.
The built-in battery will give you 12 hours of working time, and Apple's integrated Touch ID sensor and T2 security chip will secure your work. While it isn't the least expensive option you'll find, you get what you pay for in both style and substance: a durable little powerhouse you can slip into your bag and take nearly anywhere.
Best Splurge: HP Spectre x360
If you've got the money to spend, HP's Spectre x360 is solid combination of power along with some pretty cool advanced features — it's a 2-in-1 touchscreen device, which means you can open it up and use it like a normal laptop, or fold it right over to use it as a tablet, with an HP Active Stylus included in the box as well.
The 13.3-inch WLED-backlit touch screen uses Corning Gorilla Glass, so it's one of the most durable screens you'll find on a laptop, and it's full 1080p HD. Inside you'll find an 8th-gen 1.8 GHz Intel Core i7 CPU that can boost up to 4 GHz, plus 16 GB of RAM and a 512 GB SSD for more storage space than you're likely to need.
Despite its 2-in-1 convertible nature, the Spectre x360 also boasts a very comfortable keyboard for touch typing, and pretty amazing 14-hour battery life considering everything that's packed in here. It also still comes in at just under 3 pounds in weight, and includes a pair of Thunderbolt 3 / USB-C ports and a standard USB 3.1 port, plus all of the usual wireless connectivity options that you'd expect.
Best Battery Life: Acer Aspire E 15
If you need a laptop that will get you through marathon writing sessions, Acer's Aspire E15 is a great choice, boasting a solid 15 hours of battery life, even despite the inclusion of a dedicated NVIDIA MX150 GPU.
It's also got one of the more unique looks we've seen, with a more utilitarian design that's offset by an obsidian black brushed metal chassis. It also still manages to find room for a sturdy backlit keyboard with a full key layout — including a numeric keypad — and a smooth and responsive trackpad that rivals Apple's MacBooks.
The 15.6-inch screen is full 1080p HD, with LED backlighting, and the 1.6 GHz 8th-gen Intel Core i5 CPU can boost up to 3.4 GHz, and it also packs in 8 GB of RAM and a 256 GB SSD, along with a collection of four USB ports, HDMI, and the less commonly encountered VGA and Ethernet ports. There's even a DVD-RW drive in here as well.
Best Large Screen: Dell Inspiron 17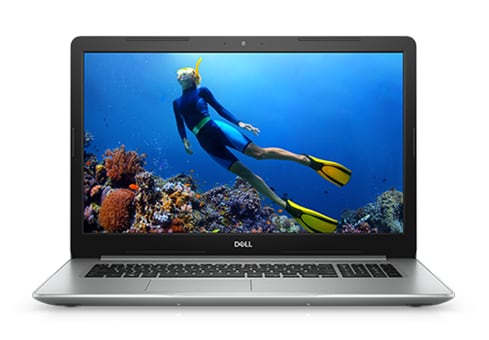 For certain writers, screen real estate is crucial when plugging in an external monitor isn't an option. Where most lower-cost laptops live in the 13-15 inch range these days, there are compelling 17-inch options that land in "workstation" or "gaming" laptop territory.
For that reason, Dell's Inspiron 17 is an easy choice. It's affordably priced compared to most laptops in its class, and while you will sacrifice some portability to account for the larger screen, the backlit keyboard is a net gain. And the full numeric keyboard, a seemingly endangered artifact of the past, is here in full force — to the applause of math-minded accountants and stockbrokers alike.
It yields enough room for some pretty serious specs, too. Its 8th-gen Intel Core i5 processor can hit clock speeds of up to 3.4GHz. The 8GB of RAM, 1TB SSD, and four USB ports are merely an added bonus. Unlike many smaller laptops, the RAM is also user-upgradeable, and the bigger size means you get an optical drive and a LAN port for those times when a wired network connection is the better (or only) option.
Best 2-in-1: Microsoft Surface Book
If your writing involves a lot of sketching or illustrations, and you can't quite make up your mind between a laptop and a tablet, Microsoft's Surface Book 2 is still the best device in its class. Other 2-in-1 devices, still primarily laptops at heart, force users to deal with awkwardly folding keyboards. Microsoft solves this by letting you remove the keyboard entirely, turning the device into a completely independent tablet.
This means that you get the best of both worlds. It still runs Windows 10 in either configuration, so you're not hopping between various operating systems and apps. Inside, it not only packs in a 1.76GHz Intel Core i5 CPU but features a vibrant 13.5-inch 3000×2000 Pixel Sense display along with 8 GB of RAM and 256 GB of flash memory storage as well.
Take away the keyboard and it becomes an unencumbered tablet device, where you can use Microsoft's Surface Pen to make handwritten notes, draw sketches, or just doodle around. The Pen, of course, works with the keyboard attached as well, and the experience is the most seamless we've seen from a 2-in-1 device.