Pokemon Go's December Community Day Brings Back All Previous Featured Pokemon
Pokemon Go is closing out the year with a two-day Community weekend event.
We're a little over a month away from 2020, which means only one Pokemon Go Community Day remains before the new year arrives. Niantic has now announced the first details for December 2019's Community Day, and like last year, the developer is doing something special for the final event of 2019.
While most Community Days only run for three hours, December's will be a two-day affair. The event takes place on December 14 and 15 and runs from 9 AM – 9 PM local time each day. During both days, all of the featured Pokemon from every previous Community Day this year will spawn more frequently in the wild, while the featured Pokemon from 2018's events will appear in Raids. On top of that, you'll have another chance to learn each featured Pokemon's Community Day move if you can evolve them into their final form before the event ends.
Finally, special bonuses will be available each day during specific windows of time. You can see all of the Pokemon and bonuses that will be available during December's Community Day weekend below. You can also read more details about the event on the official Pokemon Go website.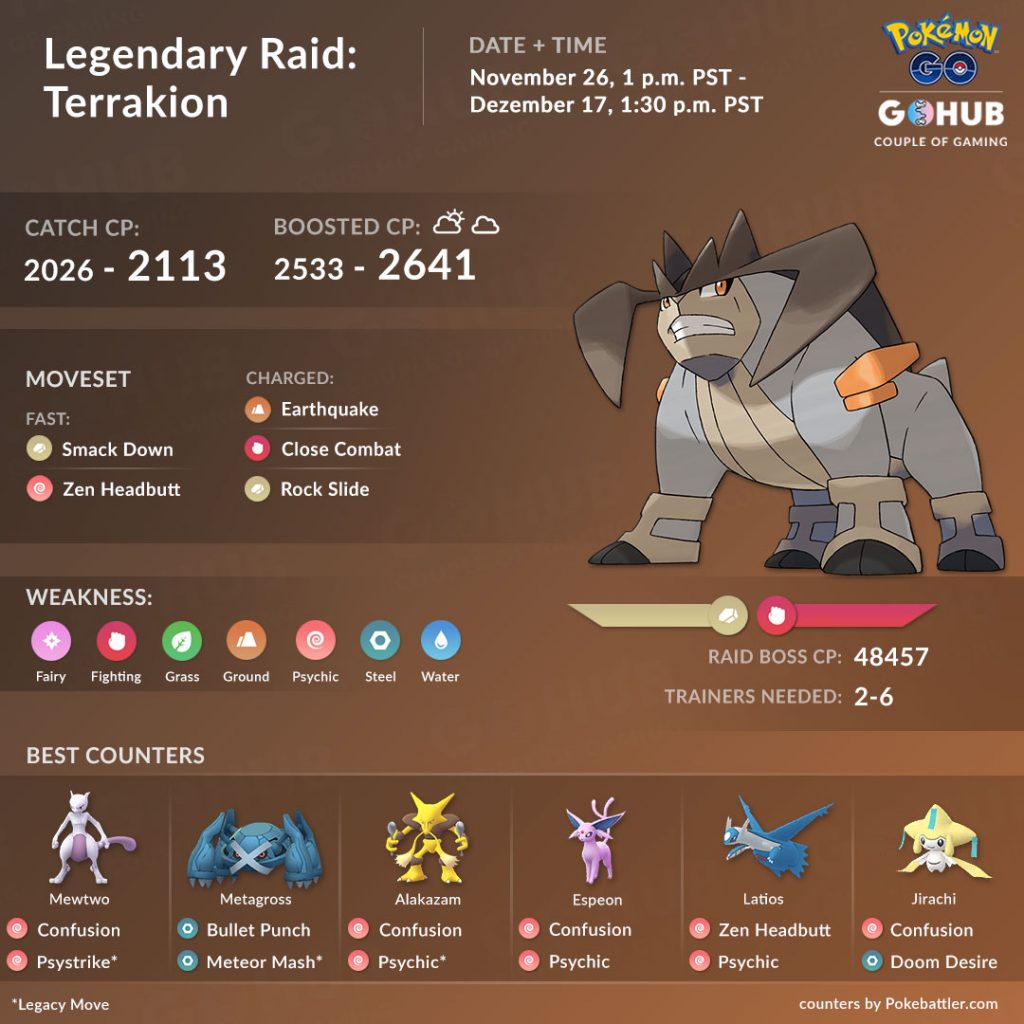 Before December's Community Day arrives, Niantic still has a few Pokemon Go events lined up for November. From now until November 26, the developer is holding a Super effective Week event, during which Pokemon that are effective against Team Rocket will appear more often in the wild and Raids. After that, the Legendary Pokemon Terrakion is set to make its debut in Pokemon Go starting November 26, and the game's first-ever Friend Fest kicks off on November 27.
Pokemon Go players also have a chance to catch their first Galarian Pokemon. To celebrate the release of Pokemon Sword and Shield on Nintendo Switch, Galarian Weezing appeared for a special Raid Hour event following November's Community Day. While that Raid Hour has since ended, you'll still have a chance to encounter the Galarian Pokemon in four-star Raids.
Pokemon Go December 2019 Community Day Weekend Details
December 14-15: 9 AM – 9 PM local time
Pokemon appearing more frequently in the wild: Totodile, Swinub, Treecko, Torchic, Mudkip, Ralts, Slakoth, Trapinch, Bagon, Turtwig, and Chimchar
Pokemon appearing in Raids: Bulbasaur, Charmander, Squirtle, Pikachu, Eevee, Dratini, Chikorita, Cyndaquil, Mareep, Larvitar, and Beldum
Pokemon that may hatch from eggs: Bulbasaur, Charmander, Pikachu, Dratini, Totodile, Mareep, Swinub, Larvitar, Treecko, Torchic, Slakoth, and Bagon
December 14-15: 11 AM – 2 PM local time
Bonuses: 2× Catch Stardust, 2× Catch XP, and 1/2 egg hatch distance