Samsung Galaxy S10 Lite review
The Samsung Galaxy S10 Lite is undoubtedly a confusing member of its smartphone lineup in India, which already has a lot of products at varying price points. But as we've seen in the past, it doesn't seem to bother Samsung, as it goes ahead with bringing two new Lite flagships just weeks before its S20 series.
It may seem that Samsung is unclear with what it is trying here. In reality, the S10 Lite is probably the most focussed device its ever brought to markets, especially in India. Its sole objective is to grab a piece of the growing premium smartphone segment and end OnePlus' streak. And now that we look back, the sub-Rs 40,000 segment hasn't seen very competitive smartphones from the segment. The S10 Lite changes that by bringing a package that seemingly sports all the essentials that users have come to expect in this price range, along with a trust factor that only Samsung can boast of.
It also serves another purpose which Samsung will eventually hope to upsell in the future — get more people to try out its flagship experience at a never-before-seen price point. And it does a darn good job at that.
Price and availability in India
In India, the Samsung Galaxy S10 Lite is priced at Rs 39,999. It comes in a single configuration with 8GB of RAM and 128GB of storage, Colour options include Prism White, Prism Blue and Prism Black. It can be purchased from Flipkart and other offline retailers.
What's 'Lite'?
With the S10 Lite, Samsung has cherrypicked what elements make it to the phone. As to not tread in the real flagship's market, yet be compelling enough in a segment that is populated by flagship killers. Here are the most notable omissions in comparison to the Galaxy S10 and others in the same price range.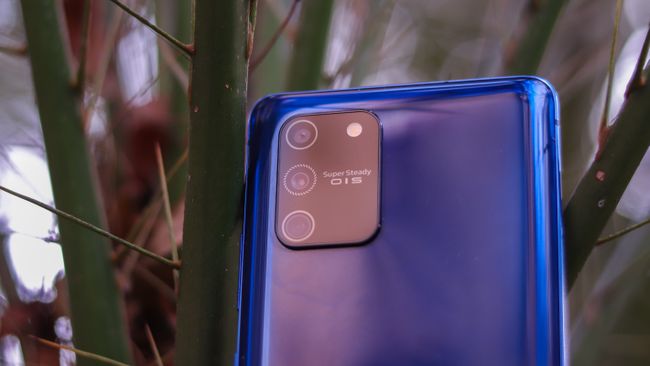 These "compromises" will shape your decision if the S10 Lite deserves your money or cuts too many corners.
The back is not made of glass
Max display brightness is a little lower than the S10 series
The display is flat and tops out at 1080p
Absolutely no water resistance
No telephoto camera
Single, downward-firing speaker
Design and built
With that out of the way, let's talk about what the phone does offer. The moment you pick it up, you'll realize that it's not a true glass body, something which Samsung's real flagships have spoilt us with. Instead, the S10 Lite is clad in a new material called Glasstic, which is supposed to have the shatter-resistance of plastic and scratch-resistance of a glass. Honestly, unless we'd know that, we would call it plain plastic. But for what its worth, our unit has no scratches on it yet. It just doesn't feel too premium to wield.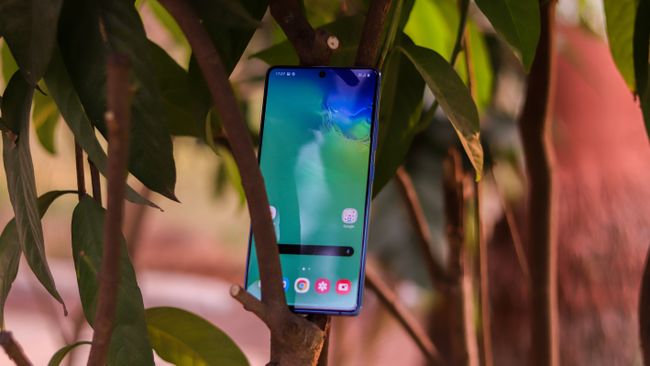 On the back, it has a camera layout that is similar to the new flagship S20 series, with all the lenses placed in a rectangular island in the corner, a trend that Samsung is adopting for all its new smartphones. With this, the S10 Lite won't seem outdated from the get-go.
The rest is pretty standard fare, with the power and volume buttons on the right, the USB Type-C port on the bottom, beside a single, downward-firing speaker. The back curves slightly on all four sides for improved ergonomics.
Display
Within that frame, we get a 6.7-inch Super AMOLED display with an Infinity-O notch in the centre. It's a pretty great display in terms of max brightness and colours, and seems a few notches behind what the flagships had. As always, blacks are rendered perfectly and the colours have just the right amount of punch. It also supports HDR10+ content to take brightness and contrast balance to the extreme and it does make the right content look stunning.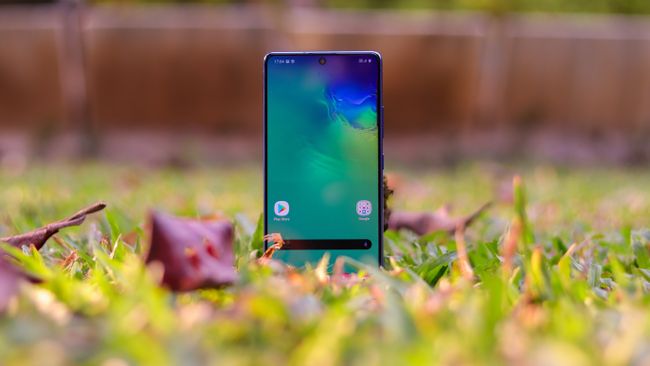 It has a resolution of 2,400 x 1,080 pixels, which gives the panel an aspect ratio of 20:9 and is really enjoyable. More vertical real estate is ideal for most of our apps as you scroll through more content, and gives a wide-screen experience while gaming or watching movies.
The glass on top is also gently curved to the sides, making swiping easier. However, the S10 Lite suffers from terrible palm-rejection, which we presume gets amplified because of the 2.5D glass. This is unusual as even other Samsung phones with real curved displays handle accidental touches better. You'll definitely notice this while using gestures for navigation. Considering the size of this phone, there are many instances where two hands will be needed, which just becomes a messy experience.
If we were to nitpick, the display's refresh rate is only 60Hz. Sure, they probably wanted to have that feature exclusively for the new S20 series (at least for a bit), but all of the S10 Lite's competitors cross that threshold at relatively lower prices.
Performance and Gaming
The place where the Samsung Galaxy S10 Lite will really win hearts, especially in India, is the processor powering it. It is powered by the Snapdragon 855 SoC, which brings the total number of Samsung phones with a flagship Snapdragon chipset in India up to two, the other being the Galaxy Fold. Exynos chipsets have long been known to lag behind their Snapdragon counterparts in terms of processing power and efficiency, so this is a welcome change.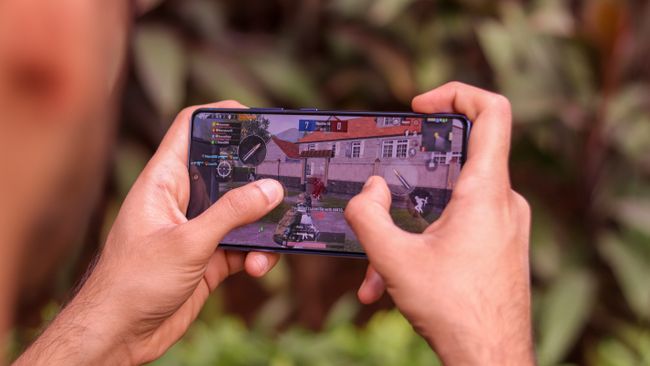 While almost a year old, the octa-core Snapdragon 855 is still one of the best processors available to Android OEMs, and it shows with the performance and responsiveness. Apps open swiftly and stay in memory for a while. Loading times in heavy games are low. There were no stutters either.
Gaming is pretty enjoyable too, and we were able to have a consistent gaming experience at over 30fps for the most part. There is some heating across the back at times, but not to alarming levels. Frame drops were rare but not missing.
We think it's safe to say that the S10 Lite is the best performing Samsung phone to have ever landed in India, thanks to optimizations and upgrades on both hardware and software fronts.
Audio
On the other end of the content consumption spectrum, we have a single loudspeaker on the bottom. While it gets plenty loud and stays clear, it is very easy to muffle, regardless of the orientation of the phone. The lack of a secondary speaker is felt while gaming or watching videos.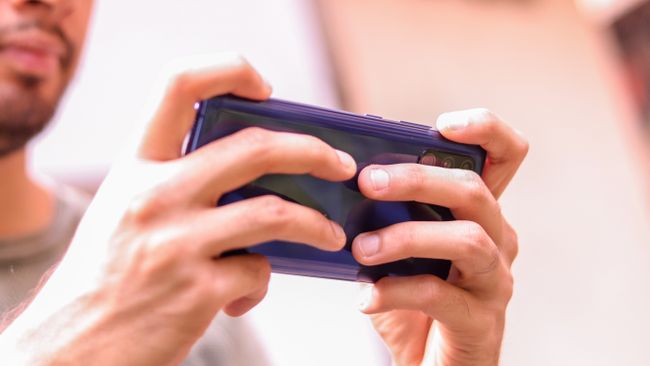 There's no headphone jack either, but Samsung graciously supplies a pair of Type-C earphones in the box. These are not AKG-branded but are instead the older basic ones that Samsung has been including since years.
Software
Samsung reinvented the wheel with OneUI, bringing a much more cohesive and mature software experience. OneUI 2.0 refines that to an experience that feels less cumbersome by stripping down the unnecessary elements such as extra services, pre-installed apps, sounds and even animations. This makes the S10 Lite feel fresh and responsive, just how any flagship should. Gone are the days when the interface would seem overwhelming with oodles of options that you might not need.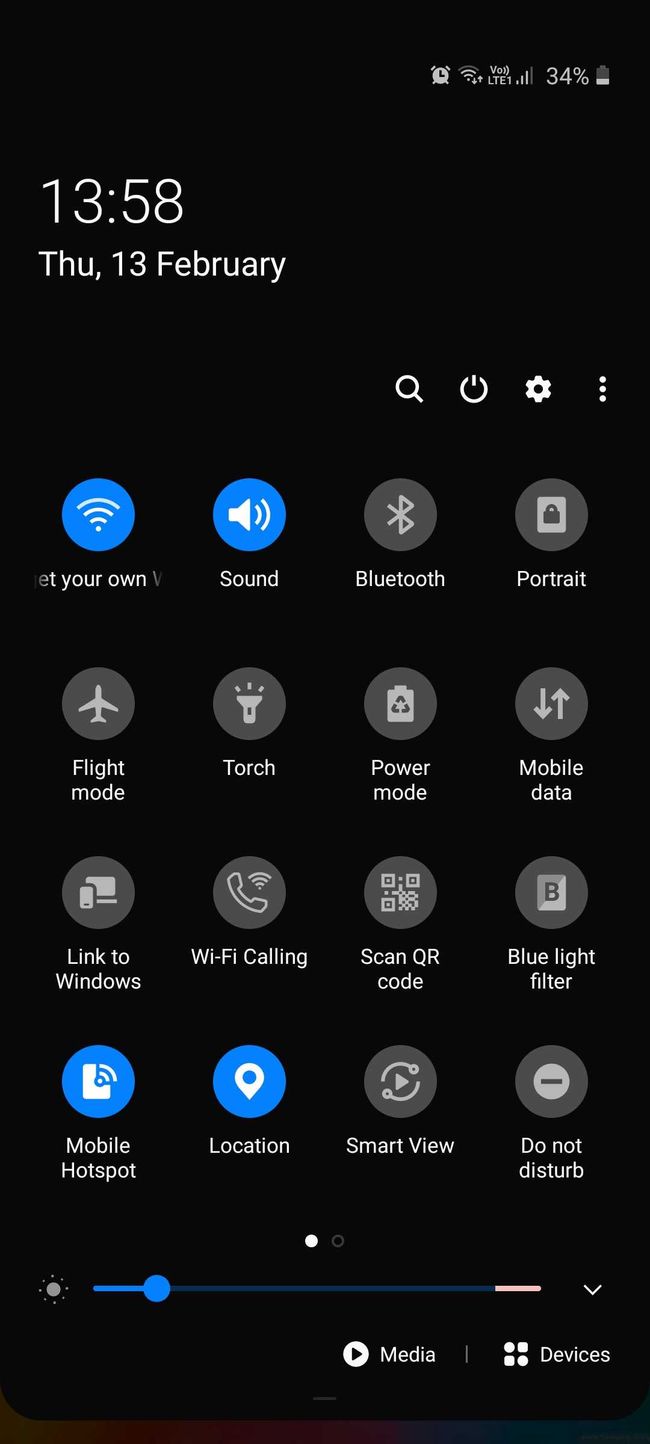 Gesture-based navigations are also available which are now similar to what Android 10 natively has. Full-fledged Samsung Pay is also here and can be used at any credit card terminal. You can also share the WiFi you're using via a mobile hotspot, for instances where a limited number of devices can connect or you need a boost in range. Multi-window and floating apps also make the cut.
Samsung is moving in the right direction with its approach to a better software experience but is not without its missteps. For example, Samsung Pay and going to the home screen are both accessed by a swipe up from the bottom. This gets even worse if you bring down the notification shade while gaming, and is guaranteed to minimize your game. Occasionally, Bixby gets summoned when not needed. Creating and managing a Samsung account to unlock more features is a different level of pain.
Biometrics
You must've noticed that the S10 Lite does not have a physical fingerprint scanner on the back. That is because it ships with an in-display solution. Thankfully, it's not an ultrasonic scanner, which was irritatingly slow. Having said that, it is still relatively slow when compared to other recent phones, but nothing too bad.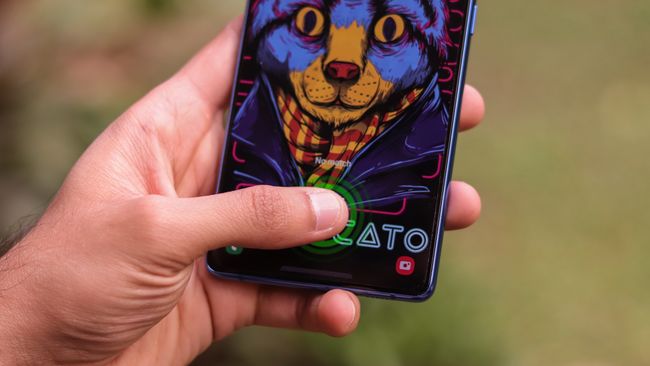 2D Face Unlock is also an option, but it too takes its time to take you in and is almost unusable in darker scenarios.
Camera
The S10 Lite is also Samsung's first flagship with a high megapixel primary sensor, sporting a 48MP f/2.0 primary camera, along with a 12MP ultrawide shooter and a 5MP macro lens.
The primary camera is probably the best in the segment with excellent dynamic range, accurate colour saturation and temperature and a fair amount of detail. Though, I'm yet to find a way to shoot at the full 48MP resolution and get even more details.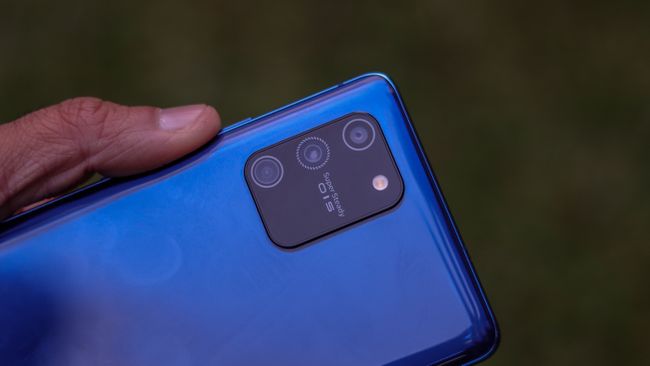 An aperture of f/2.0 may seem rather small at first, but we are clearly beyond the point where a deviation in one of the contributors to the exposure triangle will mess things up owing to better software processing. In fact, the inherent deeper depth-of-field actually improves focusing and makes macro shots easier, albeit with slightly lesser bokeh.
The ultrawide sensor has the dynamic range and detail do take a hit, but that is pretty common with these secondary cameras.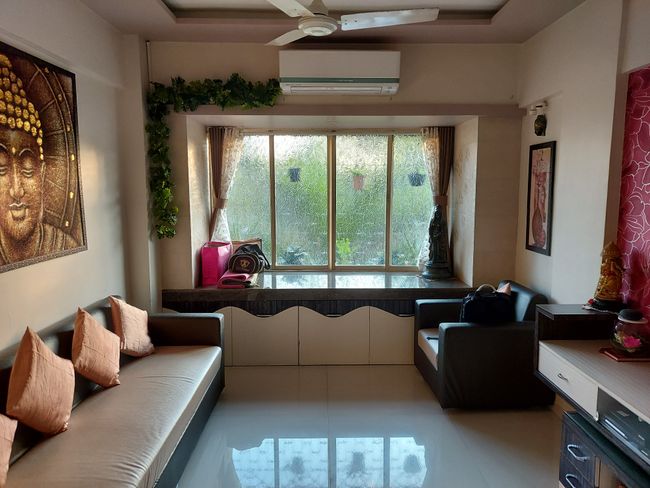 My biggest sore point with the camera is the lack of a proper pro mode. On the S10 Lite, you can only set the ISO and white balance. Not being able to change the shutter speed makes a pro mode worthless in our opinion.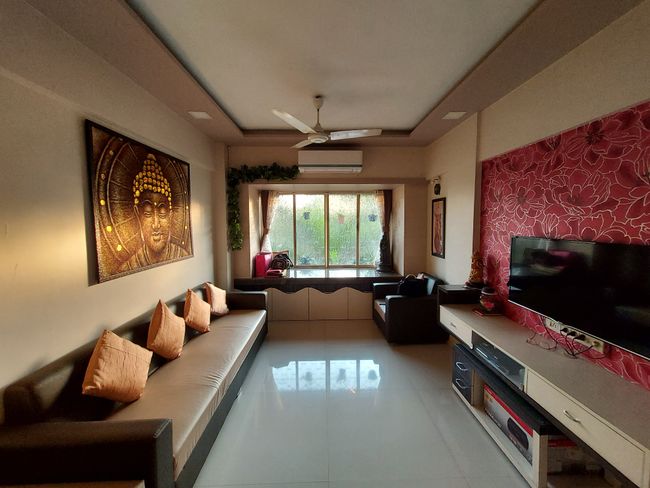 Portrait mode is available for both photos and videos, and the results are pretty impressive, considering that there's no depth sensor assisting it. Super Steady mode once again makes an appearance. It uses a new Tilt OIS mechanism which can compensate shakes by up to 3-degrees on all axis.
Selfies are handled by a 32MP shooter, it is slightly cropped in by default, but you can zoom out for a groupfie. There is some visible smoothening around facial hair which gives it a poor beauty mode effect.
Battery and charging
The Samsung Galaxy S10 Lite packs a big 4,500mAH battery in an unassuming chassis. Combined with the Snapdragon 855 and OneUI optimizations, we are looking at a full-day warrior that would almost always last for over a day. Moderate usage would give us 7-8 hours of screen-on-time.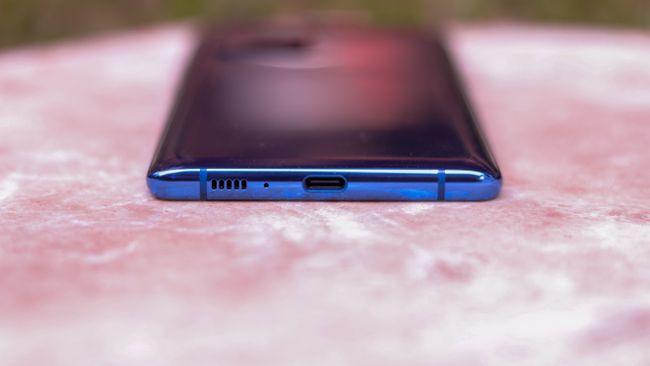 A 25W USB Type-C charger is included, which can charge the S10 Lite to full in about 90 minutes. There's also support for 45W fast charging, but the charger will have to be purchased separately.
Verdict
So where does that leave us with the Samsung Galaxy S10 Lite? It's very clear which segment, or rather which brand Samsung is going after with these new Lite flagships. In that effort, it has been able to create a phone that nails all the essentials that consumers in India would expect at this price, and skips those which are a little forgivable under the pretext of being "not very useful". Those extras are reserved for the actual flagships.
If you've waited for an affordable flagship from a tier-one brand, this is your best option. Without getting into the specifics, it offers better photography and battery experience which the OnePlus 7T notably struggles with.
It's an interesting time where the best Samsung phone to buy in India does not even cost Rs 39,000. The S10 Lite is a very smart move that read the market before understanding where it wants to stand. Right from the naming to the choices that make up the phone show how strong a grip Samsung has on the Indian smartphone market.