Canalys: Indian smartphone market grew 10% last year, Xiaomi was No.1
Well known consulting firm Canalys has today released its report for the Indian smartphone market's dynamic in 2018, and there are many interesting tidbits.
First off, handset shipments overall grew 10% last year over 2017 in the country, which is just one of six markets in the top 20 that posted full-year growth. In terms of absolute numbers, 12 million more smartphones were sold in the subcontinent last year than the one before that, which constitutes the best growth of any market in these terms.
Xiaomi took the crown, selling 41 million devices in India in 2018 for a 29.9% market share. It pushed Samsung into second place with its 35.4 million shipments and 25.8% market share. Rounding up the top 5 are vivo, Oppo, and Micromax – and yeah this means both Apple and Huawei are stuck in "Others" – a category made up of dozens of companies, that collectively managed to sell less units in India last year than both Xiaomi and Samsung.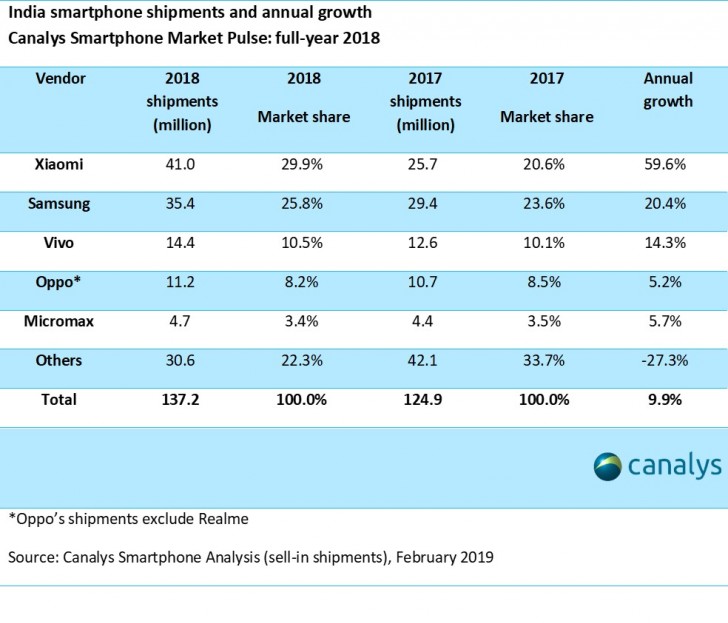 That's telling when it comes to the trends of that particular market. Note that Realme's numbers aren't included in Oppo's, which seems confusing but then again Realme insists it should be thought of as a separate company now so it got its wish.
Interestingly enough, India has become Xiaomi's biggest market worldwide – yes, even bigger than China. In the fourth quarter of 2018, it shipped 9.4 million smartphones to its home country, and 10 million to India. Speaking of Q4, if we look at the sales numbers for those three months alone, then Huawei does pop into fifth place, following a surprise performance – it grew its sales by more than four times compared to Q4 of 2017 (Honor is counted together with its parent).