The Netgear Orbi Voice is either a brilliant idea, or a crazy one. Perhaps it's both. It's a satellite add-on to Netgear's excellent Orbi Wi-Fi mesh networking kit, but not only does it help extend your wireless network around your home, it also has a speaker created by audio experts Harman Kardon built-in, along with Amazon Alexa support.
It's available as a single a satellite add-on, for existing owners of an Orbi setup, or as a pack that includes the Orbi Voice satellite and Orbi router, which is aimed at people who are looking to jump into the world of mesh Wi-Fi. It's also angled at Orbi owners who are looking to also buy a smart speaker that offers superior sound to the Amazon Echo and Google Home speakers.
Design and setup
Netgear's existing Orbi products are some of the nicer-designed mesh Wi-Fi devices on the market, and the Orbi Voice continues that trend. It's slightly smaller and rounder than the Orbi RBK50 satellites, and it's wrapped in a gray fabric, giving it a similar look and feel to the Google Home range of devices.
It's also an attractive and premium look, which means this isn't going to be a Wi-Fi device you feel you need to hide away – this is a Wi-Fi mesh satellite that won't look out of place in the home. In fact, it looks so much nicer than the standard Orbi kit that it's a bit of a shame Netgear doesn't appear to be redesigning the Orbi router that comes with the Voice in certain packs to match the look.
At the top of the Orbi Voice are four microphones with far-field voice recognition support for Alexa. The top also lights up to show that Alexa is listening to you.
As the Netgear Orbi Voice is a satellite extender, it doesn't have an Ethernet port for plugging in your modem. However, it does have two Ethernet ports for connecting wired devices to the network, along with a DC power port, a power button and a reset button. There's also a Sync button for connecting up to the Orbi router, or adding to an existing Orbi setup.
We already had the Orbi RBK50 network set up, so adding the Orbi Voice was a reasonably straightforward experience. All we had to do was place the Orbi Voice in an area where we needed a boost to the Wi-Fi signal, and where we also wanted an Alexa-powered speaker – of course this might narrow your choices a bit when it comes to where to place the unit.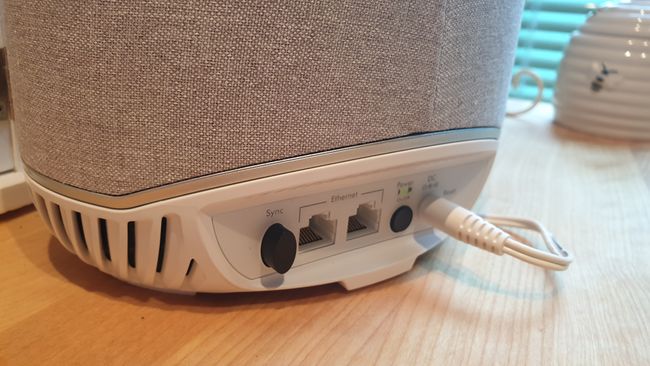 After plugging it in, we loaded up the Orbi smartphone app and selected 'Add satellite', and after a few minutes of searching it asked us to press the Sync button. We did, and after a few more moments the app found the Orbi Voice and added it to the system.
The app then asked us to link our Amazon account to the Orbi Voice so that Alexa could work. Here, things got a bit flaky, as the app appeared to be stuck in a loop asking for our language settings and permission to connect Alexa. We restarted the app and tried it again, and after a bit of fiddling about it worked, and Alexa was on the Orbi Voice.Advertisement
As with other Orbi products, there's little in the way of documentation included with the Orbi Voice – just a slim leaflet explaining how to connect Alexa, and what the LED lights mean when they glow certain colors. It's reasonably useful, but most of the help with setting up the Orbi Voice is accessed through the app, which is all well and good – unless there's a problem with the app itself.
Still, we were able to get up and running without too much issue. If you're starting from scratch and don't have an existing Orbi network, then the setup process is slightly more convoluted, as you need to plug the router into your modem first, set that up and then add the Orbi Voice as a satellite; again, this is all done through the app.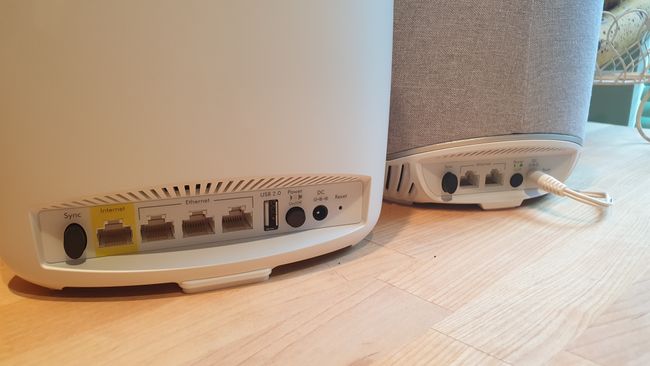 It also means you won't be able to buy the Orbi Voice and use it as a standalone smart speaker without buying the rest of the Orbi kit – this is first and foremost an add-on to the Orbi networking system.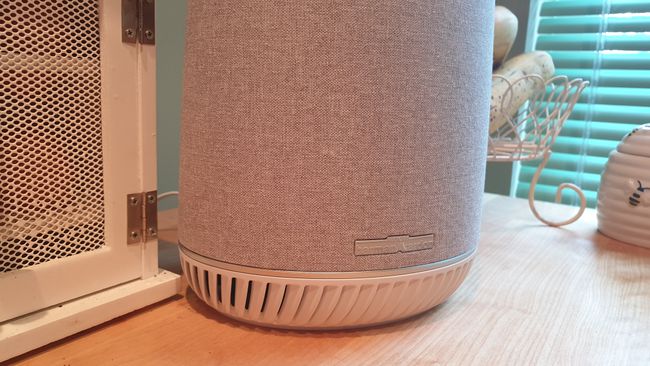 Verdict
The Netgear Orbi Voice is an odd product, one with a lot of competitors – and none at all. It's hard to compare it to smart speakers like the Amazon Echo and Apple HomePod, because it's not a standalone product, and it comes with networking hardware those speakers don't have.
It's also unique to mesh networking kits, as no other mesh Wi-Fi device (that we know of) doubles as a premium Alexa smart speaker.
That means the Orbi Voice is aimed at a very specific market. If you've got a Netgear Orbi setup already, and are looking to expand its range with a new satellite and were thinking of getting a new smart speaker, then the Orbi Voice is almost tailor-made for you.