How to Check MacBook Pro Battery Health
Maybe you have noticed a drastic reduction in your MacBook Pro's battery life recently or just wish to find out the actual condition of the battery of your notebook. Whatever could be your personal reason, checking MacBook Pro's (or any MacBook's) battery health is pretty straightforward. While most modern MacBooks come with batteries rated 1000 charge cycles, the older ones like MacBook Pro (15-inch Late 2008) and MacBook Air (Late 2008) feature batteries rated 500 and 300 charge cycles respectively. The methods I have mentioned below will help you determine if your battery has passed those charge cycle limits and are in need of a change if you want the best battery life for your Macs.
Check MacBook Pro Battery Health: Two Methods Explained
macOS makes it a lot easier to keep track of the MacBooks battery including the cycle count. And there are a couple of ways to get it done. Let me show you how it works!
Check MacBook's Battery Health from Status Bar
–> First off, while holding the option key, click the battery icon that is located in the status bar at the top right of the screen.
–> Now, you should see the battery health of your MacBook/MacBook Air or MacBook Pro. It would be shown as: Normal, Replace Soon, Replace Now, or Service Battery.
While this is the easiest method, it won't show you the specifics of battery health. If you want more information, you should use the method mentioned below.
Check MacBook's Battery Health from System Preferences
–> Click the Apple menu in the top left corner of the screen and choose About This Mac.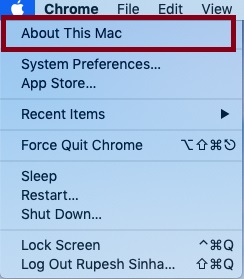 –> Now, click System Report.
–> Next, click on Power.
In the window, you can see plenty of info related to your battery. On this very screen, you can also check the cycle count that can provide a better picture of how much life the battery has still got. As you can see, the condition of my MacBook Pro is normal. And the cycle count is 152 which shows that the maximum full cycle is still a long way away.
Get In-Depth Battery Health Status Using Coconut Battery
While the above two methods should be enough for most users to determine if they need to replace Mac's battery or not, if you want even more detailed information, you can install a free Mac utility called Coconut Battery (free, in-app purchases). This simple utility will help you see the age of your Mac's battery, how often it was charged, and even more such relevant information. Not only that, you can even connect your iOS devices to your Mac to check their battery life status using the same app.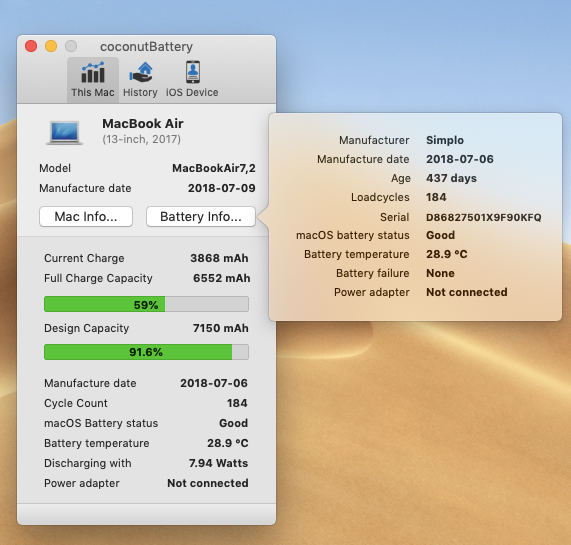 Keep a Track of the Battery Health of Your MacBook…
That's how you can keep an eye on the battery health of your Apple notebook. Though the battery of most MacBooks can comfortably deliver 1000 charge cycles, their lifespan may be reduced if you don't offer the needed care of the battery. Always avoid exposing your notebooks to ambient temperatures higher than 35° C as it can completely damage the battery capacity. Besides, never charge your device in the high ambient temperatures. With that information, we will end this article. Do share your thoughts in the comments section below.