Best Selfie Sticks For Taking Wonderful Selfies (2019)
Whether you're Instagram famous or not, chances are you've clicked selfies at least sometimes, and if you've done that, I'm sure you know how difficult it can be to click group selfies and fit everyone in the frame. Even with phones like the Pixel 3, which have a dedicated wide-angle selfie camera, it can be difficult to fit a lot of people, or a lot of view in your selfies. That's exactly where selfie sticks come in useful. So, if you're looking for a great selfie stick for your smartphone, GoPro, or even your DSLR.
Yoozon Selfie Stick & Tripod
If you are looking for a multi-purpose and functional selfie stick, with wireless capabilities, then this one from Yozoon seems to be the one you should pick. It is extendable up to the length of 26.6-inches, which is decent enough, but the 360-degree rotatable phone mount does seem to be a sweet addition for shooting or clicking pictures in different scenarios.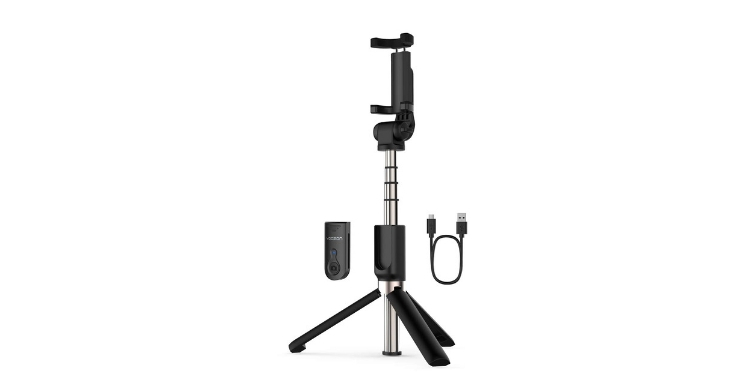 The Bluetooth remote is attached to the handle of the selfie stick, but can be popped out and handed over to friends to capture better pictures. It has a tiny 65mAh battery and is charged via a microUSB port at the bottom.
This is the most popular selfie stick on Amazon, with a 4.5-star rating and 1,361 reviews, which further proves that it's pretty good. The added benefit of buying this selfie stick has to be the ability to turn it into a sturdy tripod simply by unfolding the bottom.
Kungfuren Selfie Stick
If you think the Yoozon selfie stick is a bit of an overkill, then here's an affordable and equally feature-rich alternative from Kungfuren. The extendable stainless steel rods make this selfie stick quite lightweight, achieving a maximum height of about 32-inches. It measures at just 11-inch in length when retracted to make carrying it around convenient.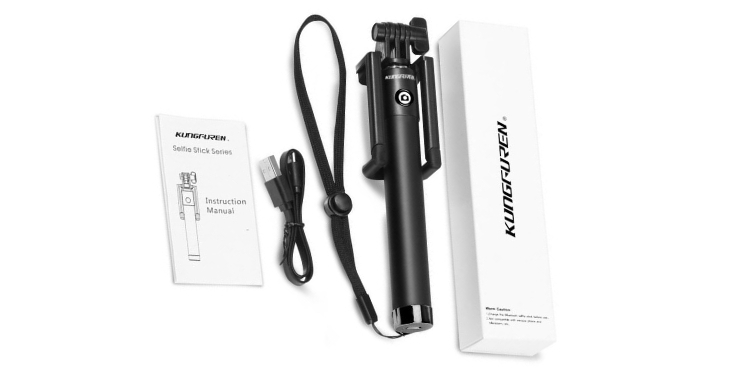 This selfie stick comes with a built-in Bluetooth remote control, which packs in a 95mAh battery that the company vows should last 50 hours. No, this selfie stick doesn't have a removable remote and I don't think it's especially necessary. The 270-degree adjustable phone mount may be a bit restricting when compared to Yoozon's but it still offers you a ton of flexibility.
Anker Compact Handheld Monopod
If you thought Anker only makes power banks and cables, well, think again because the company builds a sturdy and compact selfie stick as well. Most of the selfie sticks on this list are going to offer you the necessary functionality but Anker does the same while also extending a premium aluminum-alloy build to you.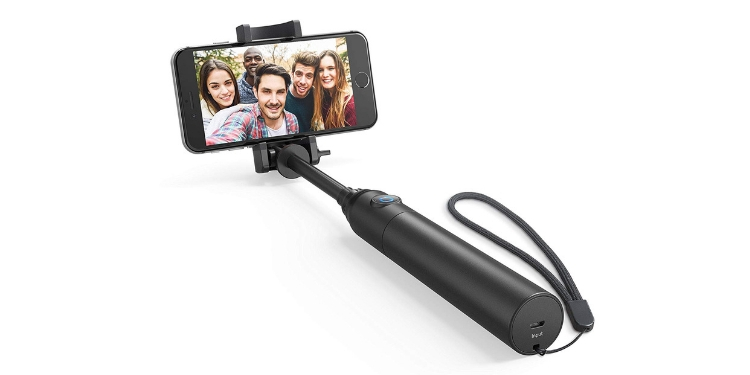 This selfie stick is extendable up to 29.7-inches and includes a flexible phone mount (that is compatible with phones with width up to 3.3 inches and can be used with the case) to enable you to capture selfies, or more importantly, group selfies at different angles. This stick here also features a built-in Bluetooth remote control with 20-hours battery life on a single full charge. Anker has also thought greatly about design as the phone mount covers the button when you'll retract it to avoid accidental presses.
Mpow Selfie Stick Bluetooth
This simple and wireless stick is one of the top-rated selfie sticks, with a 4.2-star rating and 6,500+ reviews, available online. The stainless steel body of the Mpow selfie stick can be extended up to 32-inch and the handle holds the built-in Bluetooth remote.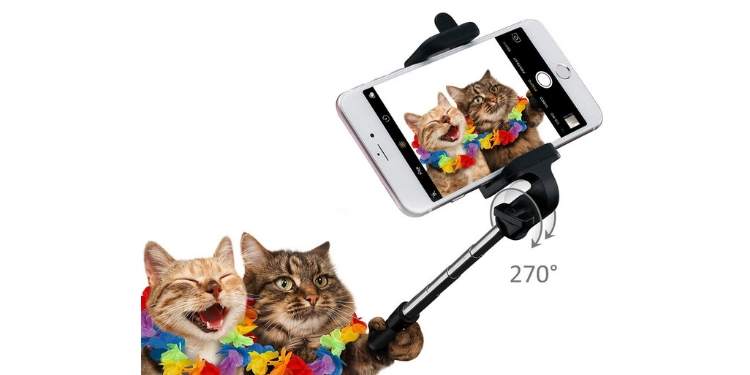 While all of this sounds familiar, the highlight of this simplistic selfie stick is that it comes along with a highly adjustable phone mount. The adjustable mount can be rotated up to 270-degrees to not only allow you to capture stunning selfies at different angles but also make it possible for you to use the rear camera to capture pictures.
Mpow Selfie Stick with 3-Level Fill Light
Selfie enthusiasts, it seems like we have found the absolute best selfie stick for you. This Mpow selfie stick is a more powerful variant of the aforementioned one and comes with a rechargeable 3-level fill light (low, medium, and high) which will come handy in low-light conditions or during the night time.
This Mpow selfie stick is extendable up to 37.4-inch, which is a good-enough length and can also be used as a monopod or tripod. Yes, at this price point, you're also getting 3 metallic legs to turn the selfie stick into a tripod and prop it up to click photos with the timer function on your smartphone. The selfie light will help improve the pictures!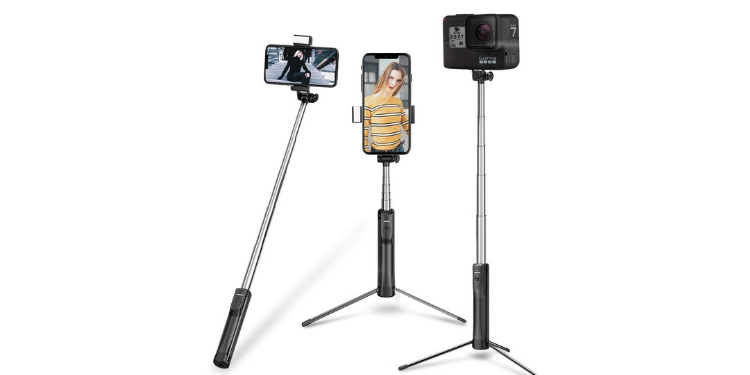 This selfie stick is also designed for and comes with a mount, for use with smartphones, however, it can be utilized to capture your enthralling adventures using a GoPro or any digital camera. The mount uses a 1/4″ screw and is compatible with most cameras out there. The Mpow selfie stick isn't waterproof, so we'd suggest you use it cautiously.
Fugetek FT-568 Bluetooth Selfie Stick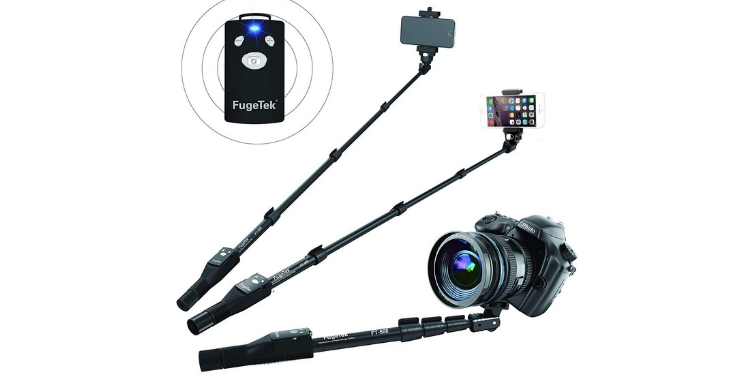 If you're looking for something multi-purpose, then the Fugutek FT-568 could turn out to be the perfect selection for you. This selfie stick is designed to aid smartphone users but can be used with action cameras or DSLRs as well. It comes with 2 mounts for smartphone users, one to help click selfies and other with a mirror to enable rear camera usage using this selfie stick.
The standout feature here is the inclusion of tripod-style release clips that allow you to extend this selfie stick up to 49-inch to help click better group selfies. The wireless Bluetooth remote comes attached to the handle and can be popped out for remote use. This remote offers a one-hour backup on a full charge, with 300 hours of standby, and that's awesome!
JETech Wired Selfie Stick
Amidst the crowd of wireless Bluetooth selfie sticks, the JETech selfie stick stands out by providing a wired solution for your selfie needs. It's a well-built and decent stick that will service your needs, but there's a catch – it works using the 3.5mm headphone jack.
This means all of your latest iPhones and popular flagship Android devices are out of the equation here as they don't sport a headphone jack.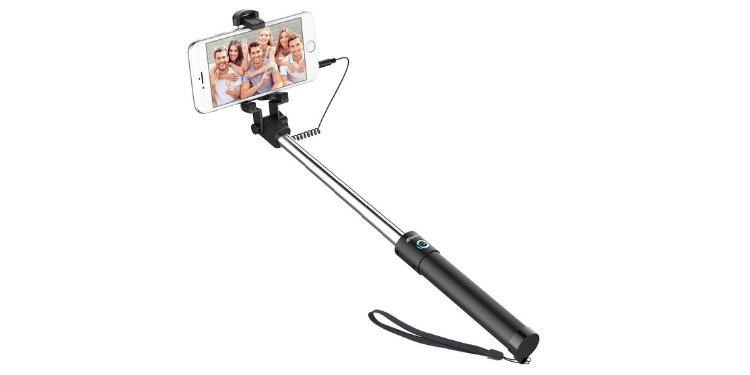 This is a simple plug-and-play selfie stick, which is extendable up to 28.7-inches and comes with an adjustable phone holder which may require some readjusting to keep the device from falling off — coming from experience. There's a button on the all-plastic handle to click pictures and it's that simple! This is a great alternative for budget phone users, who aren't looking to spend lavishly on wireless selfie sticks.
Fugutek FT-569 Selfie Stick and Tripod
Taking the selfie stick game up a notch, let me introduce you to the Fugutek FT-569. It seems like the elder brother to FT-568 and is a souped-up selfie stick, that also has the features of a tripod baked into it to offer a single handy solution to professionals. It's two awesome gifts in one, as Fugutek rightly puts it.
The Bluetooth remote, as you can see below, comes secured in the handle of the selfie stick and is said to offer one hour of usage on full charge. It also extends 300 hours of standby time to the users, which is great, but the zoom feature can be a little finicky.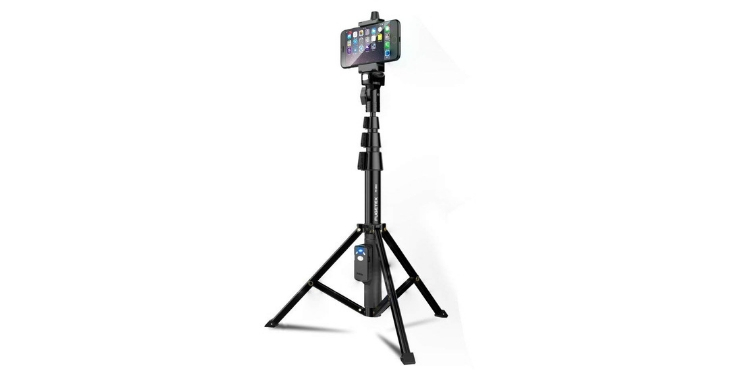 This selfie stick comes with tripod-like release clips, making the pole expandable up to a lengthy 51-inches. It's a product similar to what you may have seen popular YouTubers like Casey Neistat or Jesse Wellens use during their stunts. The tripod, on the other hand, comes with sturdy, non-skid feet for greater safety and reliability.