10 Best Racing Games For Android
When it comes to mobile gaming, racing is one category populated with some excellent games which offer a great experience. But the sheer number of options on the Play Store put users in a dilemma as to which game is best suited for their requirements. Well, if you are in two minds regarding which racing game to install, our list of the 10 best racing games for Android will surely come in handy.
The list includes both paid and free games with in-app purchases and range from resource-intensive titles with stunning visuals, a huge collection of cars and a ton of in-game content to lightweight titles which can run on low-end smartphones too. Also, the racing games listed below are not just your conventional on-road racing games, some also involve testing your ride's might on water and uneven terrain too. So, let's get straight to the list.
Best Racing Games for Android
Asphalt 9: Legends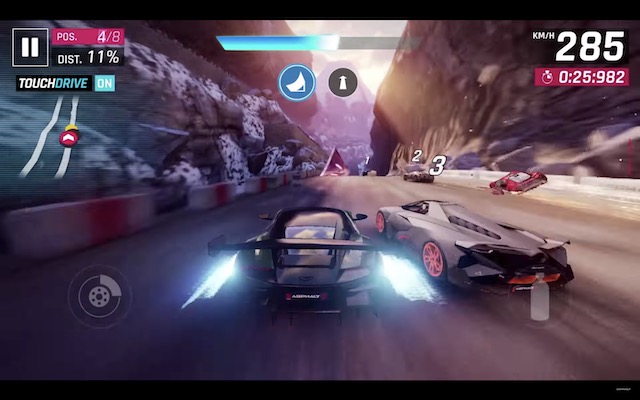 Asphalt 9: Legends is hands down one of the best mobile racing games out there. Carrying forward the legacy of the still awesome Asphalt 8 Airborne was never an easy task, but Asphalt 9: Legends succeeds in doing so with style, more content, added customization options and more hypercars than ever. The gameplay is smooth, the graphics look stunning with the addition of more neon-color nitro boost effects and the overall experience is simply unbeatable.
But what's new here? First, there is a new control mechanism called TouchDrive which relies on swipes to steer the car and makes the gameplay considerably easier, however, you can always revert back to the old tilt and tap-to-steer controls. Also, you no longer need to slow down and perform a drift to gain a bit of nitro juice, as the Asphalt 9: Legends will let you do so by just doing a 360-degree turn during the cruise to earn the boost without losing speed.
The Club leaderboard is another new addition and in case you are wondering, over 60 seasons and 800 events (with more being added regularly) will keep you engaged for a long, long time. There's a lot I can write about Asphalt 9: Legends, but then, playing a game is more fun than reading about it.
Beach Buggy Blitz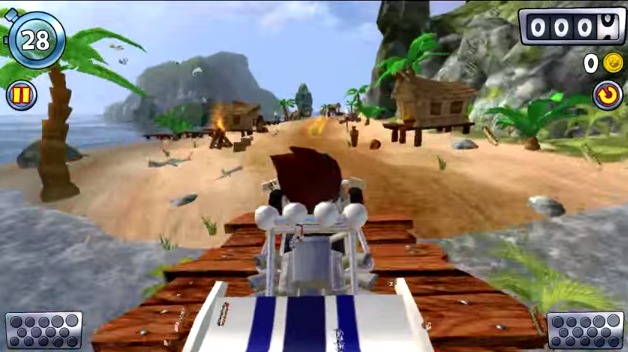 Customize your buggy and get ready to race against different players in this cute yet exciting beach racing game. Beach Buggy Blitz lets you race on a beautiful island with an amazing view. The game packs the most beautiful and mesmerizing graphics for a mobile game with authentic physics and realistic effects. The more you race, the more content you can unlock. Unlock different new cars with amazing power-ups and use them against your opponents to gain an edge during races.
Customize your buggies by painting them or upgrading different parts to boost their overall performance. If you have a Quad-core device then the game will feature even more graphics and amazing effects on your device. If you have a Quad-core device then the game will feature even more graphics and amazing effects on your device.
Real Racing 3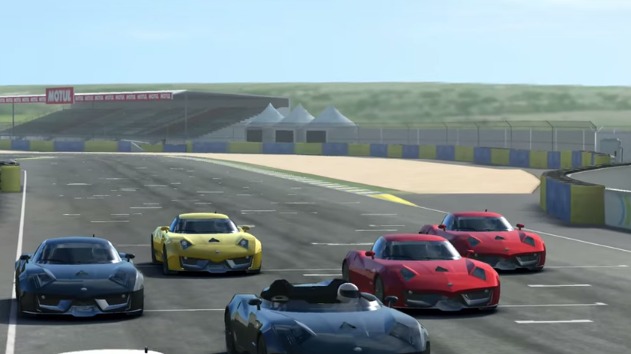 Get ready for the most realistic and authentic racing academy game on your android smartphone. The game has received several awards and it's considered one of the top racing games for mobile devices. Real Racing 3 offers various officially licensed cars and tracks from all around the world. The game includes more than 100 supercars from top manufacturers like Lamborghini, Mercedes, Ferrari, Porsche, etc.
The best thing about the game is that it offers multiplayer races with your friends where up to 8-players can go against each other in heated races across beautiful race tracks around the globe. You can also play against your friends who are on other platforms because Real Racing 3 offers cross-platform multiplayer gaming which makes it a great multiplayer racing game for smartphones. This game requires an additional 1.5 GB of data to be downloaded on your android device.
Need for Speed: No Limits
Need for Speed No Limits is exclusively a mobile game that has only been released for mobile platforms like Android and iOS. The game features realistic and aesthetically pleasing graphics with the most exciting and adrenaline-pumping gameplay. This game gives you the ability to customize your car to the fullest by tweaking every little part in the car.
You can make a lot of different combinations with different parts of the car. Collect exotic cars and customize your car to make it stand out and feel special. Race through different tracks at different times of day, race in the broad daylight or race at night, the main goal, however, is to become the street champion in car racing. Need for Speed No Limits requires a Quad-core device to run flawlessly.
Riptide GP: Renegade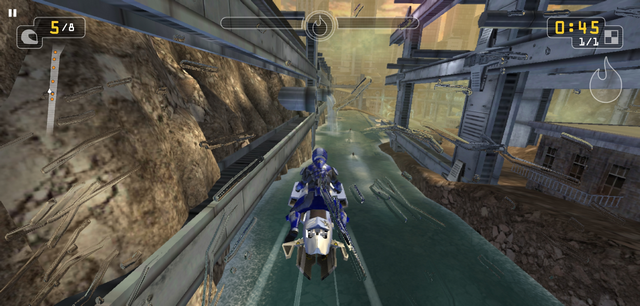 Riptide GP: Renegade takes the race to water tracks and improves upon the well-received Riptide GP2 in many ways. The latest entrant in the Riptide series further enhances the fluid controls (tilt and tap-to-steer) and brings a fresh new storyline which shifts from the competitive racing arena to the underground racing circuit, adding new tracks, hydro jets, and more customization options. Additions like police chase make the career mode even more thrilling because after all, you are playing as an outcast trying to cement his legacy in the illegal hydro jet racing circuit.
In addition to the conventional 8-player online multiplayer mode, there is also a competitive 4-player split-screen mode in which you can test your skills against friends on the same device using gamepad controllers. Also, you can also race against the ghost of your in-game friends to set new records. What I particularly loved in Riptide GP: Renegade are the aggressively designed hydro jets, death-defying stunts and new track designs which grant it a different identity and makes it one of the most exciting mobile racing games out there.
Jet Car Stunts 2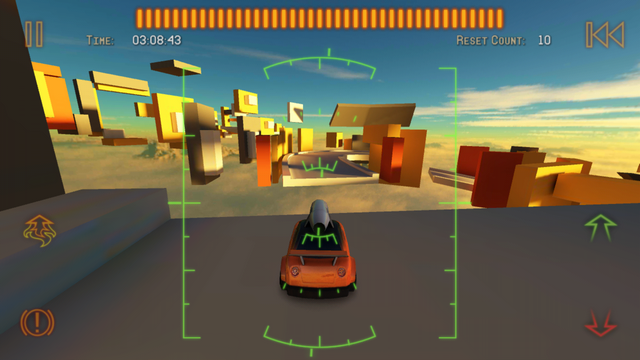 Jet Car Stunts 2 is all about aerial stunts, but these are not your run-of-the-mill elevated track exploits. Instead, you have a rocket fitted on your vehicle to fly and land on physics-defying aerial tracks which are bent at different angles and slopes to make safe landing one hell of a tough task. But being a challenging game is not the only exciting part. Jet Car Stunts 2's tilt steering controls are one of the smoothest I've ever experienced in a mobile game, which makes it a gratifying experience playing it.
But there is more to the game than just tough tracks, crazy stunts and buttery smooth controls. There are a total of four game modes (platforming, time trial, freestyle, and racing) with 120 different levels and 7 types of cars, each with its own advantage and abilities, to choose from. There is also an option to create a custom track and share it with friends. As for my personal opinion, the freestyle mode is the best one in the game as it allows you to nail stunts and aerial tricks that are hard to find in other games.
Jet Car Stunts 2's Play Store listing clearly states that the game will challenge players, and after having played it for some time, I can promise you that it will certainly test your patience and skills.
CSR Racing 2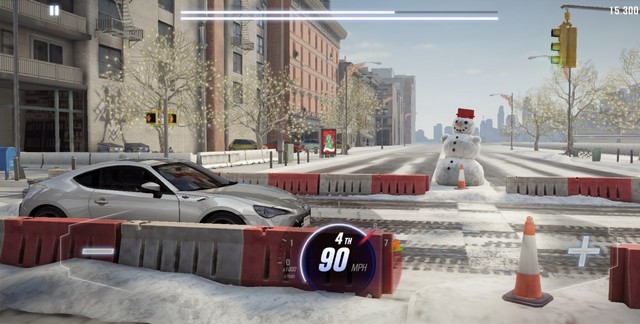 If showing off aerial tricks and performing stunts is not your thing, CSR Racing 2 is the perfect racing game for you. The drag racing game is perfect for those who long for a more technical approach to racing than just auto-accelerate, boost and steering. CSR Racing 2's visuals are stunning, the gear-shift mechanism is seamless and the rich customization options at your disposal will certainly teach you a thing or two on making a gas guzzling machine that will leave opponents in the dust.
CSR Racing 2 features all the bells and whistles of a good racing game with multiple modes driven by a story around dominating the drag racing circuit, online multiplayer challenges and a collection of over 200 cars which consists of classic as well as modern era beasts from Bugatti, Lamborghini, and Koenigsegg among others. As good as the real-time street racing mode is, what you'll certainly love is the story-driven 'crew mode' which pits you against gangsta racers which also involves some interesting verbal exchange that further enhances the feeling of victory after you outpace them and show them who's the real boss.
Asphalt Xtreme: Rally Racing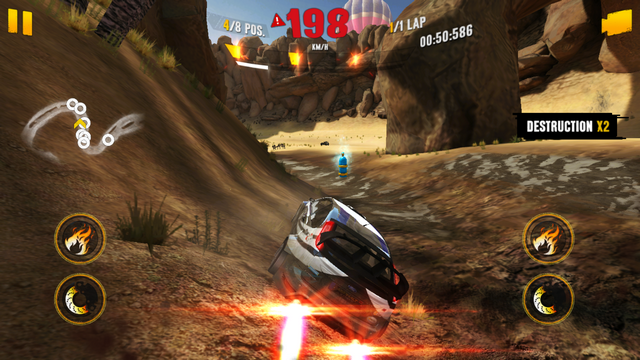 There are not many rally racing games out there, but what you get from Asphalt Xtreme is simply the best and more than you can ask for. Rich visuals? Check. Smooth steering? check. Challenging obstacle-ridden tracks? Check. Sheer mayhem? Check. The game takes the rally racing concept to an extreme level. And the best part is that if you have played an Asphalt series game before, you will find yourself at home with the controls and the raw gameplay experience in Asphalt Xtreme: Rally Racing.
What I particularly loved about Asphalt Xtreme is that it's not a rally game on just a superficial level. One look at the design of the cars, track design, and the upgrades are more than enough to showcase the amount of work and the attention to detail paid in making the game a true rally racing title, and the results speak for themselves. An engaging career mode, multi-player mode and time-limited events, as well as daily missions, will give you enough opportunities to flex your rally racing muscles and buy some dirt track monsters.
Horizon Chase – World Tour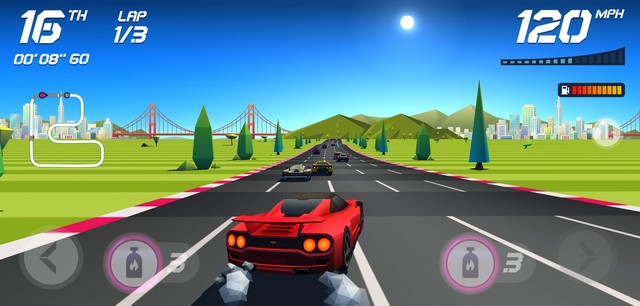 I'd call Horizon Chase- World Tour an oddity in a sea of mobile games which vie to copy the chart-toppers in one way or the other. How so? Well, Horizon Chase's overall gameplay experience is something which strongly resembles the one you'd get on a classic PC or a Nintendo console. Being just 34 MB in size, the game won't gobble much of your smartphone's internal storage and will run smoothly on even a low-end Android smartphone. But there are some elements that will truly impress you about Horizon Chase.
First, there are a total of 8 different control mechanisms, which also include support for a gamepad controller. The retro-esque, blocky visual elements with solid colors actually look good and personally, I appreciate it over games with choppy visuals that try to mimic realistic elements. There is no fancy drift trick here, but turning around sharp corners is as smooth as it can get. In case you are wondering, there is a full-fledged career mode as well as some bonus levels, aside from a large collection of cars with the same retro designs. I highly recommend Horizon Chase if you want to try a racing game with a different twist.
Gear. Club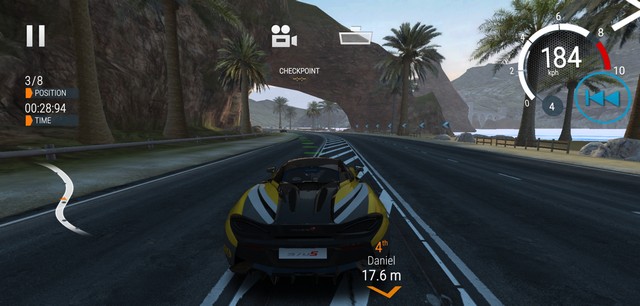 Asphalt 9: Legends and Need for Speed: No Limits not cutting it for you? Well, here's another heavy hitter. Gear. Club is one of the most visually impressive racing games out there. A good example of it is the fact that you can see the shadows of the surrounding objects and the change in the ambient lighting reflecting clearly from the car's shiny exterior. Another thing that goes in favor of Gear. Club is the super-fluidic control mechanism which lets you steer the car in a silky smooth fashion without any frame drop or stutter whatsoever.
There are hypercars aplenty and a ton of races, events and championships to show your racing chops, while the customization options are also diverse enough to not leave you wanting for more. Gear. Club has all the elements that make it a solid contender for the title of the best racing game on Android, but its sheer size (2.50 GB) and the resource-intensive nature means running it on a low-end Android device will be a disaster. But if you have a powerful enough smartphone, Gear. Club will provide you a great experience.
That sums up our list of the 10 best racing games for Android, which cater to a diverse class of gamers ranging from casual to hardcore ones. A majority of the games on the list are quite resource intensive, so make sure that you run them on a smartphone with an ample amount of internal storage and a decently powerful processor to get the best experience. If you think we missed any notable racing game that was worthy of inclusion on our list, drop the names in the comments section below.